An Update on Cheyenne Silver
posted 01/12/06 - FURTHER NEWS ON CHEYENNE HERE 6/16/06 update here

A few weeks ago, YK Productions informed us that Cheyenne Silver, popular model and star of their film Mystere and the Disciples of Dido, had been in a terrible car accident.

Since then, fans have contacted us wondering about her condition. Finally, Bryan J. Kinnaird at YK Productions had some news to share.

From YK Productions:

Happy New Year... let me give a quick statement to Fanboy Planet regarding Cheyenne Silver's condition.

Cheyenne Silver was released from a Trauma Center in Denver, Colorado on 12/23/05, and is recuperating at home. Cheyenne has been very touched by the concern of so many fans.She will be in a neck brace for six weeks and is healing quite well.

Production on the Villikon film will resume in April '06 and Cheyenne Silver will continue in the role of Mystere but in how great a capacity is still unclear. Her #7 vertebra was broken but she has had very positive neurological tests.

Bryan Kinnaird and Director Shian Storm have formulated a new plotline for the film featuring a greater role for two existing characters, the addition of more characters from the comic book series, and an alternate vision for telling the story with existing footage and a new scenario for the film's ending.

YK Productions will release more information very soon...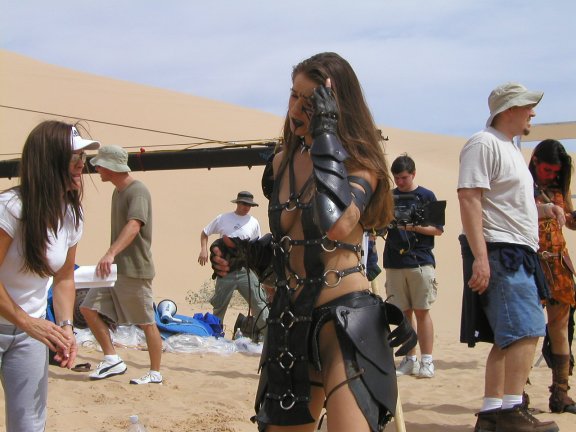 Between shots.