Cheyenne Silver Update!
Shooting Finished on The Villikon Chronicles - Genesis of Evil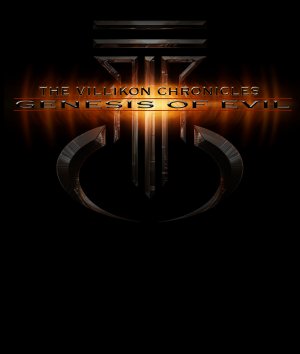 The new logo for the new title.
Since so many people have written asking for status on the health of Cheyenne Silver, whom we interviewed a couple of years ago, I've been in contact with Bryan J. Kinnaird, her mentor, for a few months.
Today, after I queried how the production on his film starring Cheyenne (now back to her birth name, Cara) was doing, he sent me back this exclusive information and some pretty good pictures from the set.
Enjoy, and know that Cara seems well recovered and perhaps the retitled Genesis of Evil will give her mainstream career the boost it needs. It also doesn't hurt that she gets co-executive producer's credit, something I didn't know before. Sure, it sounds like a cliche, but she truly is a sweet person who before the accident occasionally took the time to contact Fanboy Planet and see how the site was doing.
On a side note, I think that the new title has a nice directness to it that shouldn't confuse potential moviegoers in the way that Disciples of Dido might have. Sure, the original title was a wee bit more literate, but would also have brought in people looking for the British popstar. Good change, guys. Seriously.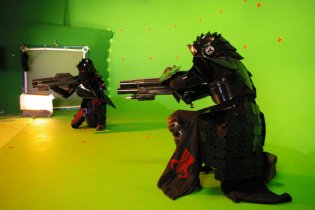 some greenscreen work
photo by Mark Greenawalt
From YK Productions:
After nearly a year and a half, principal photography finished on the long-awaited film adaptation of the cult classic graphic novel series THE VILLIKON CHRONICLES. Through travesties, tragedies, script changes, and cast additions, filming wrapped in June 2006.
Cara Fawn (a.k.a Cheyenne Silver) returned to finish the production after the near-death experience she suffered late last year. For the first time it is being announced here at Fanboy Planet that Cheyenne Silver has gone back to her real name, Cara Fawn. Previous production titles were also scrapped in favor of THE VILLIKON CHRONICLES: GENESIS OF EVIL.
*Fanboy Planet has obtained EXCLUSIVE excerpts from "Thank You's" that went out to cast and crew after the completion of principal photography...
Dear Cast and Crew,
I would like to thank you all for joining this venture and dedicating yourselves to the advancement of bringing a motion picture adaptation of THE VILLIKON CHRONICLES to life. The canvas of a theatrical movie screen is where I always envisioned it would be.
...I've appreciated the supportive camaraderie amongst all departments through the many different chapters this production has written during the course of nearly 10 years.
Again, through the professionalism and sincere investment of time, talents, creative expression, dedication, patience, work ethic, attention to details, donations, diligence to your crafts, and true passion for filmmaking, we've observed a transformation of ideas. A story and its artwork born before our very eyes into what will be a visually stunning achievement, and after all, isn't that what it's all about?
Bryan J. Kinnaird
YK Productions/Silent Nemesis Workshop, LLC
Executive Producer "The Villikon Chronicles: Genesis of Evil"
Writer-Creator "The Villikon Chronicles"

I wanted to thank all of you for your hard work on this project. Filmmaking is by nature a collaborative effort, and this could not have been accomplished without all of your combined talents. You've done something extraordinary...
There is always a high and then a lull after principal photography. Everyone gets excited about how well things went, and then there are long periods where it seems nothing is happening... the website will reflect the the new title of the film and some behind the scenes stuff in a few weeks...
I'll keep you updated, as we finish each stage.
Shian Storm
Director "The Villikon Chronicles: Genesis of Evil"
To a most excellent cast and crew! It has been my greatest honor and privilege to work with such remarkable and talented people. None of this would be possible without the combined efforts of all. Together, we've made history and birthed a miracle at the same time. The Miracle is a SFI-FI story that against all odds came into being... It lives because you all beleived it could be real, despite the adversity or the seeming unrealistic ambition of what was possible...You represent the best things in people. Your actions and performances represent nothing short of the highest degrees of professionalism and superior abilities. I will remember these days forever...
Roy Young
YK Productions/Silent Nemesis Workshop, LLC
Co-Producer/Production Designer "The Villikon Chronicles: Genesis of Evil"
I too would like to express my gratitude - it is truly amazing to see how immensely The Villikon Chronicles has grown - from a few creative minds with imaginations vast enough to see a much greater picture... to a team of true professionals who have chosen to see the vision, and have had faith enough to become part of a legend. You will not regret your hard work and hours of endurance... Thank you. I have really enjoyed coming back to filming, working and sharing memories that will last forever.
Cara Fawn
a.k.a. Cheyenne Silver
Co-Executive Producer/ "Mystere"
"The Villikon Chronicles: Genesis of Evil"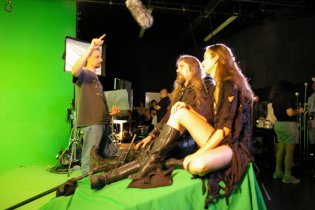 Shane Scott Stevens and Cara Fawn
photo by Mark Greenawalt
Credits:
Directed by
Shian Storm
Produced by
Tonia Madenford
Written by
Bryan J. Kinnaird
Adapted from the Motion Picture Screenplays
"THE VILLIKON CHRONICLES" and "THE CRUCIBLES OF MYSTERE"
by Bryan J. Kinnaird
Based on "THE VILLIKON CHRONICLES" Graphic Novel Series
Created by Bryan J. Kinnaird with Artwork by Roy Young
Executive Producer
Bryan J. Kinnaird
Co-Executive Producer
Webb Pickersgill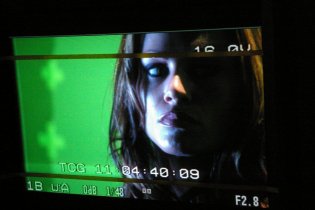 Lynnette Brooks
photograph by Mark Greenawalt
Co-Executive Producer
Cheyenne Silver
Co-Producers
Roy Young
Steve Wargo
Mark Greenawalt
Director of Photography
Alex Mitchell
Lynnette Brooks
as
Sector Lieutenant Amanza Rezectar / Bremusa
Shane Scott Stevens as
Lord Jasta
and starring
Cara Fawn
as
Mystere
with
Shane Dean as
Commander Malcolm Vismal
Heather Phillips as
Lykopsis
Garth Williams as
Commodore of Science Simon Magnus
Christina Leigh as
2nd Commander Tabina Tanzer
John Dollard as
High Admiral Nefarious Skryton
and
Aaron Ginn-Forsberg as Sentinel Zy
John Stevens as Sentinel Rol'vag