Academy Awards 2014:
The Nominated Shorts -- Documentary
David J. Fowlie has taken the time to do something many film fans don't do -- watch all the Oscar-nominated short films. On Friday, we posted his breakdown for animation. Monday, it was Live-Action, and now... here's David...
Out of all the nominated shorts, the five nominees in the documentary category are likely to be the films that will resonant the most with viewers. Due to their length, it's important for these films to waste no time in connecting viewers to their subject matter and the best way to do that is to focus on a specific human element or a particular person.
This year's nominees definitely have that common thread. From civil unrest in the Middle East to a terminally ill hospice facility in an Iowa penetentiary, the point of view is up close and personal, often hitting the audience in the jugular or tugging on heartstrings (sometimes both), as we're introduced to people who have stories to tell. The films here expose social and political issues, profile fascinating individuals and tackle challenging prejudices, in a manner that is mostly thought-provoking and sometimes quite haunting.
While these shorts offer an expected variety, there are unfortunately only two that come from outside the U.S. That's frustrating since there's an oppotunity here to highlight five films from five different countires, but this also seems to happen often, leaving me hoping for more diversity each year. After all, the best films that transport us and open our minds are the ones that expose us to different people in far off lands, places we will probably never see ourselves.
For some reason, the Oscar-nominated Documentary Shorts are the hardest to seek out and watch. you can scour the internet or find a indie theater that might be showing these films, or wait till some of them make their way to Netflix or HBO. However you find them, the important thing is that you do eventually chck them out. The goal in reviewing these five films is to picque your interest and put them on your radar.
KARAMA HAS NO WALLS (2012)
directed by: Sara Ishaq
Yemen/United Arab Emirates/26 min.
On March 18, 2011, on a day known as Juma' at El-Karama (Friday of Dignity), Anwar Al-Muaati left his home and joined hundreds of other youths at "Change Square" in Sana'a for a peaceful sit-in demonstration with the goal of ending the 33-year reign of President Ali Abdullah Saleh. They set-up tents and left their weapons at home, hoping the unified act would topple a corrupt regime. Anwar would never come home to his father. Instead, he became one of 53 murdered, among the critically injured men and children that day.
Using footage from 17 year-old Nasr Al-Namir and 23 year-old Khaled Rajeh, two filmmakers who witnessed the carnage around them as they ran with the crowd, Director Sarah Ishaq puts us on the chaotic Yemen streets, where rocks are thrown and bullets are sprayed onto the crowd by government-funded soldiers and thugs. Through their lens, we watch as authorities set flame to a wall that was erected to block off the protesters from the rest of the neighborhood, an action that kicked off the violence.
Intercutting the violence are close-ups of individuals whose loved ones were killed or maimed, like grieving Anwar's father. We also hear from the family of 11 year-old Saleem Al-Harazi, who survived getting shot in the face at the cost of his eyes. Ishaq captures the bloody casualties, the heartbreaking retelling of identifying a dead child in a mosque strewn with bodies. Many have become desensitized to gruesome footage of unconscionable acts such as these, but seeing it humanized here makes this the most powerful and harrowing of all the shorts nominated.
Rating: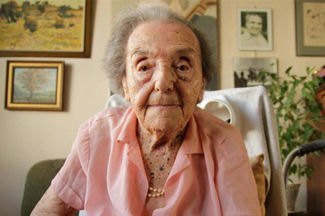 THE LADY IN NUMBER 6: MUSIC SAVED MY LIFE (2013)
directed by: Malcolm Clarke and Nicolas Reed
UK/39 min.
In a North London flat, there resides a 109 year-old woman who can be heard passionately playing piano like clockwork every day. She is Alice Herz Sommer and not only is she an accomplished pianist (don't tell her that), but she's also the world's oldest Holocaust survivor.
Directors Malcolm Clarke and Nicholas Reed, start with her current piano playing and then recount the woman's past with old black and white photographs and videos. For someone who's lived over a century, she has a lot of life to cover. We learn when she was first exposed to music, how she started playing piano and most intriguing look at her experience in a Nazi prison camp. Talented musicians such as herself received different treatment than the rest of the prisoners, making her experience much different from many of her other friends and family. We also see her reflect on her husband and her son, both of whom she's outlived.
Through it all, she's managed to keep a positive attitude, taking immense joy in music and the friendship of other women close to her age. "The Lady in Number 6" is an affective documentary of a woman worthy of reflection.
RATING: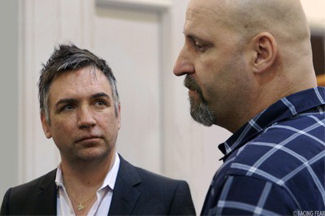 FACING FEAR
directed by: Jason Cohen
USA/23 min.
Years ago, two totally different individuals collided on the mean streets of Los Angeles. As a young teen, Matthew Boger had been ostracized and kicked out by his mother for being gay and had uprooted himself to L.A., hustling his way up and down Hollywood Blvd. At the same time, young Timothy Zaal, a zealous skinhead would cruise around the same area with his white supremacist friends, looking to physically intimidate anyone they saw fit. Boger became one of their victims and was brutally beaten and kicked and left for dead. All he remembers was Zaal's face and 6-inch high mohawk.
25 years later, Boger is now the director of a Tolerance Museum in L.A., a place where guest speakers come to discuss any hardship they've overcome in their lives or any changes they've made to combat challenges. When a completely reversed Zaal is invited to be a speaker, the two soon realize who the other is and an extremely uncomfortable and difficult path of forgiveness develops. There's no getting around it, "Facing Fear" is an impacting documentary. It reminded me of "Five Minutes of Heaven" with its story of guilt, forgiveness, pain and, of course, fear. It is probably the most inspiring of all the nominees.
RATING: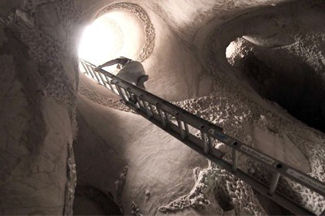 CAVEDIGGER
directed by: Jeffrey Karoff
USA/38 min.
Director Jeffrey Karoff takes us to New Mexico and introduces us to 65 year-old environmental sculptor Ra Paulette, whose been digging and piling rocks for over 25 years. He actually builds caves into the earth. These aren't just caveman caves; there are carefully and artistically carved walls and arches and working wooden doors that lead us in and out of these amazingly expansive custom-made caves.
"Cavedigger" is a good example of a film exposing you to a talent you never knew existed. Ra has built these caves on commission since 1986 and has only recently considered hanging it up. His activity has gone from a hobby to an obsession over the years, much to the dismay of his wife.
The documentary is best when Karoff focuses on the artist at work in his element, but when we veer away and give his ex-wife and best friend some screen time, the film starts to lag. In fact, the whole thing is a bit too long. I didn't mind the meandering pace and relaxing twangy soundtrack, but I did find myself editing as I watched the picture.
Rating: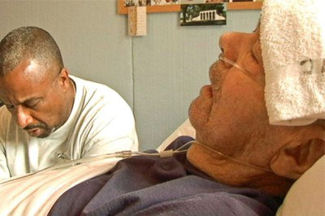 PRISON TERMINAL: THE LAST DAYS OF PRIVATE JACK HALL
directed by: Edgar Barens
USA/40 min.
For three years George William "Jack" Hall served in the United States Army during World War II. He received medals for his duty, among them a POW medal. Now, this frail 82 year-old man is the focus of an HBO Documentary Films short, written and directed by Edgar Burns, as the terminally ill veteran spends his last days in hospice care at Iowa State Penitentiary, a maximum security prison.
After the war, Hall came back to the States and wound up killing a dope dealer, earning him a life sentence. "Prison Terminal: The Last Days of Private Jack Hall" offers a look at the newly developed hospice infirmary at the prison, which is funded through donations and maintained by other inmates with life sentences, focusing on the fourteen days that Hall was in hospice care. What transpires is a quiet and touching look at the compassion and love Hall received from the nurses, his fellow lifers and his adult son. Barens shares that almost 20% of prisoners are elderly and many of them serving life sentences will die alone in their cells.
Not so with Hall, a changed and fragile man who questions whether he'll go to heaven or hell, because of the amount of men he's killed. While its encouraging to learn that a few prisons have started these hospice programs to care for the terminally ill, watching Hall die makes for some emotional viewing that will leave viewers reflecting on their own life.
RATING:

This article also appears at David's own site, Keeping It Reel!