Academy Awards 2014:
The Nominated Shorts -- Live-Action
David J. Fowlie has taken the time to do something many film fans don't do -- watch all the Oscar-nominated short films. On Friday, we posted his breakdown for animation. Today, we're running with Live-Action, and tomorrow, we will have Documentary. Now... here's David...
Short films should be just that – short. Not more than 30 minutes. They should be one-and-done too, meaning the stories shouldn't necessarily leave me hanging or wanting more. (That's not to say they shouldn't make me want to spend more time with the characters – that's something different). Now, these are just my own personal criteria. Others may not agree with me. That's fine, because applying this line of thought has worked well for me in the past, so it's something I've stuck with.
Some of the Live-Action Shorts nominated for an Academy Award have followed my formula, while others have definitely left me wanting. Regardless, once again we have five well-made shorts that have intriguing, compelling or amusing approaches, evoking a variety of tones – from whimsically endearing to intensely harrowing. What's most refreshing about these Shorts? None of them are from the U.S., which exposes us film enthusiasts in the States with a look at international talent we would otherwise not know about. Let's take a look….
HELIUM (2013)
directed by: Anders Walter and Kim MagnussonDenmark/23 min.
Here's a short about a relationship between Alfred (Pelle Falk Krusaek) a dying young boy in a hospital and Enzo (Casper Crump) a kind-hearted janitor. Playing off the boy's obsession with blimps, Enzo tells the boy of a magical place floating in the sky called Helium, a place where you can relax and play with friends or family who are no longer living.
Although the subject matter is saddening, this is still a hopeful, often amusing (thanks to Crump's portrayal) tale that surprisingly has a fantasy element to it. Directors Anders Walter and Kim Magnusson provide us with characters that are easy to connect to and care about. While this film definitely follows my criteria, it doesn't necessarily feel completely different or original.
Rating: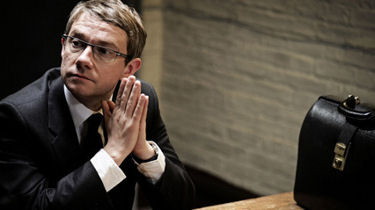 THE VOORMAN PROBLEM (2012)
directed by Mark Gill and Baldwin Li
UK/23 min.
Voorman is a patient in a UK prison who has developing quite a following amongst his fellow prisoners, because he claims he is a god. He's a problem for the warden, hence the title of this light and humorous short directed by Mark Gill and Baldwin Li, which is the only nominated short to actually have some recognizable name actors in Martin Freeman and Tom Hollander.
Freeman plays Dr. Williams, a thorough psychologist who is brought to the prison at the behest of the warden in order to evaluate the disheveled Voorman (Hollander). If the inmate is insane, he can be shipped off to the asylum and the warden would be done with his problem.
While it sounds like it could be an intense battle of the minds, it's actually quite humorous. This is a curious and clever short with engaging characters and an unpredictable storyline. But, the biggest problem with "The Voorman Problem" is it's too short. It could easily be turned into a feature-length film.
RATING: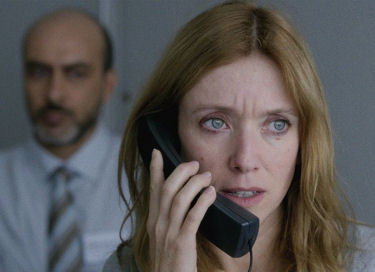 AVANT QUE DE TOUT PERDE (JUST BEFORE LOSING EVERYTHING)directed by Xavier Legrand and Alexandre Gavras
France/29 min.
"Just Before Losing Everything" tells the story of Miriam (a fabulous Lea Drucker), a mother of two and wife of an abusive husband, Antoine (Denis Menochet, "Inglorious Basterds"). He doesn't know it, but she is taking their children and leaving. When we meet her she is at the supermarket where she works, hoping to collect any money before they leave town. Tension builds though when Antoine stops by looking for Miriam. As some of her co-workers cover for her, Miriam and her kids must rendezvous with a friend outside the store in a way that attracts very little attention.
Filmmakers Alexandre Garvas and Xavier Legrand (who also wrote the screenplay) waste no time with introductions or explanations (a good thing when it comes to making a short) and instead dives us right in, at the height of the main character's dilemma. It's an impressive immersion that allows the viewer to figure for themselves what exactly is going on with this desperate woman. The directors are all about "show don't tell", like in how we see Miriam's bruises on her thigh and torso while she's changing, knowing that the abuse inflicted by her husband is hinted at. We also see how her manager and co-workers have urged her to file charges, yet she doesn't respond. Maybe it's because she had no time for a response, but it doesn't seem like she plans to and in this urgent short we won't find out why either. This adds a curious and interesting element to Miriam.
"Just Before Losing Everything" is like eavesdropping on someone else's crisis. It's similar to why we slow down as we pass a traffic accident. Someone else's tragedy grabs our attention and triggers our imagination. Who are these people? How did they end up where they are now? These are the kind of questions I asked as this short developed and by the time it ended I did want more, but I understood – this is where I get dropped off and I can only hope everything turns out alright for Miriam and her children.
RATING: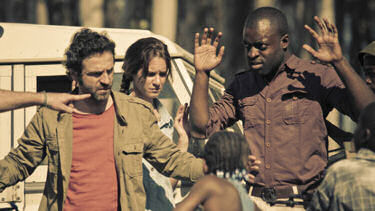 AQUEL NO ERA YO (THAT WASN'T ME) (2012)
directed by Esteban Crespo
Spain/26 min.
The most harrowing short is "That Wasn't Me" written and directed by Esteban Crespo and it's also the most problematic. Alejandre Lorente plays Paula, a Spanish aid worker, who's traveled to a an unnamed war-torn African province with her boyfriend doctor (Gustavo Salmerón), when they are kidnapped by a General (Babou Cham) and his child soldiers. They are threatened at gunpoint and witness cold-blooded murder at the hands of a young boy named Kaney. That same boy narrates the film, only he is older and laments his homicidal actions.
As he recounts this particular event before an auditorium of predominately white listeners, we see more gun violence as well as torture and rape in this volatile world. The subject matter here is in no way subtle. In fact, it's overwhelming and actually kind of exploitative. It feels like something from an episode of "24" with its gunfights and explosions and bad guy stereotypes. There is palpable intensity and heightened emotions, but it's just too much at times. It is powerful but it's a challenge to connect with these characters when the storyline is so very formulaic. Still, this feels like one that just might take the Oscar, but I'd prefer "Just Before Losing Everything" win.
Rating: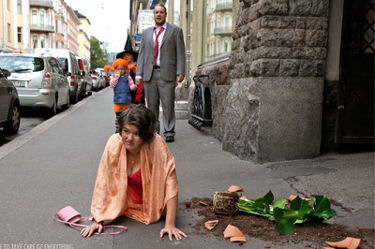 PITAAKO MUN KAIKKI HOITAA? (DO I HAVE TO TAKE CARE OF EVERYTHING?) (2012) directed by Selma Vilhunen and Kirsikka Saari Finland/7 min.
The most kinetic and manic of all the nominees comes from Finland and is a both a delight and quite funny. The story is quick (it's the shortest Short of them all) and straightforward, but it conveys a great deal of honesty.
A family of four frantically wakes up late the day they are supposed to attend a wedding. Mother and wife, Sini (Joanna Haartti) kicks into high gear, putting out every family member's fire as they scramble to get ready. Nothing goes right though – her husband lost the wedding gift, their daughter's dresses are still in the wash, so they wear Halloween costumes and by the time they actually make it to the church – a real twist slaps them and the audience upside the head.
This is a very light and relatable story written by Kirsikka Saari and directed by Selma Vilhunen with, fittingly, a primarily handheld approach that feels like we're getting tossed around and dragged along with this crazy family.
RATING:

This article also appears at David's own site, Keeping It Reel!