Academy Awards 2014:
The Nominated Shorts -- Animation
Each year the Academy nominates fifteen short films, five selected and placed in three categories – Animation, Live-Action and Documentary. The likelihood of anyone seeing these shorts before they receive an Oscar nomination is slim. It takes them getting the nomination for these creative, transportive and informative films, to earn the recognition they deserve. These three categories wind up being my favorite of all the Oscar nominees, because they open viewers up to new filmmakers, different styles and stories from parts of the world we may have only thought we knew about. So, let's take a look at all the films in this year's Shorts categories. Today we begin with Animation.
The animated shorts that have been nominated in this category typically showcase a variety of creativity, offering a wide range of tone and style. There are no restrictions in animation. It's a medium that can defy logic and constraints and often times can convey more emotion and beauty than any live-action film. In recent years, one or two of these shorts have been somewhat on the scary side, geared more toward adults, but the nominees here are all for the most part quite family-friendly. Here's my rundown of the five selections nominated this year.
POSSESSIONS (2012)
directed by Shuhei Morita
Japan/14 min.
Japanese director Shuhei Morita made a name for himself back in 2005 with the short "Kakurenbo: Hide and Seek" and his latest short, "Possessions" is probably the most trippy of all the nominees in this category.
Similar to a fable, it's a story about a man who seeks shelter from a storm in an old shrine located in a dense forest. Once inside, he finds that the empty shrine houses old artifacts that come to life once they are spookily-possessed by goblins that taunt the traveller (who reminded me of Kikuchiyo in "Seven Samurai"), preventing him from leaving the shrine. The gruff character is at first shocked and bothered by the inanimate objects that have come to life in bizarre fashion, but he soon realizes he must adapt and overcome, proving to be quite a resourceful and calm character. The title refers to a folk legend that has objects gaining souls after 100 years have passed, often playing around with those who possess them.
This is one of the only shorts which uses a variety of animation styles to tell its story. From cel-shaded CGI to flat shapes that resemble Japanese renderings, the images are striking and carry an impressive sense of depth and weight. The protagonist may have virtually no lines and is almost a one-note characterization, but it is still one of the oddest of the nominees and may be one of my favorites.
Rating: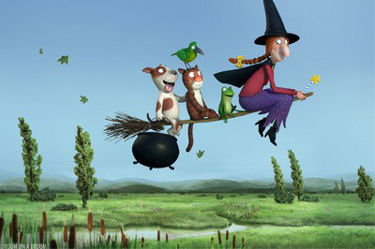 ROOM ON THE BROOM (2012)
directed by Max Lang and Jan Lachauer
UK/27 min.
For those familiar with previous Animated Short nominees, you may recognize the names Max Lang and Jan Lachaur. Lang directed "The Gruffalo", which was nominated back in 2010 and, his latest, "Room on the Broom" has very similar animation style and animal characters.
Here, Lang is joined by animator Lachauer, as they adapt a children's picture book by Julia Donaldson and Axel Scheffler (who also wrote and drew the book "The Gruffalo" was based on). "Room on the Broom" tells the simple story of a care-free witch with a cat and the misadventures her generous heart gets them into. Like "The Gruffalo" the short employs popular actors to voice the characters, such as: Gillian Anderson, Rob Brydon, Sally Hawkins and Martin Clunes, with narration by Simon Pegg.
It's a fun and good-natured short that has expressive animation with detailed textures and vivid colors. It does suffer from a formulaic storybook mode that it seems content with. Nothing wrong with that, it just limits itself to a certain demographic audience.
RATING: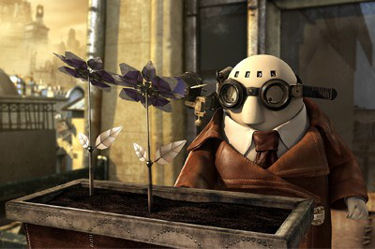 MR. HUBLOT (2013)
directed by Laurent Witz and Alexandre Espigares
France/11 min.
From France comes "Mr. Hublot", which is highly-influenced by steampunk and will most likely win an Oscar. It's just a hunch, but the intricately detailed world created by Laurent Witz and Alexandre Espigares offers a beautifully-rendered cityscape with fluid movement and clever sound design.
It's about an isolated character named Mr. Hublot (who looks like an evolved Minion from the "Despicable Me" movies), who has an odometer in his head and where's goggles, whose most prominent character trait is a humorous case of OCD. Mr. Hublot takes in a robot pet, which spins his structured life out of control.
This is another short that relies on sound effects and music to tell a dialogue-free story. That's a decision that allows viewers to completely immerse themselves in this character's world. Although, I didn't completely connect with this character and his world, it is nevertheless quite infectious with its light and easy to follow tone. It's a short that has already won several animation awards, so I wouldn't be surprised if it did win an Oscar.
Editor's Note: Mr. Hublot will also be playing at Cinequest in San Jose. More later!
RATING: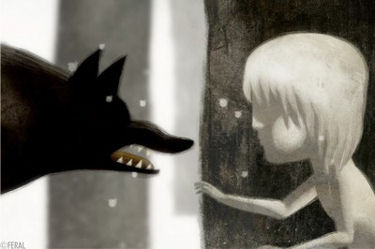 FERAL (2012)
directed by Daniel Sousa and Dan Golden
United States/13 min.
I've noticed over the years, that as I watch these Oscar-nominated Shorts, I gravitate towards an animation style that feels like a painting or a drawing that has come to life. "Feral" feels like such a short.
Directed by Daniel Sousa and Dan golden, "Feral" is a take on the age-old "boy-raised-by-wolves" storyline. It's a playful story, yet there's an intriguing uneasiness about, which I liked. Most of the figures, like the wolves and a hunter who takes the boy out of his savage element, are quite exaggerated, except for the boy who has round delicate features – even when his feral teeth come out.
While the story of a savage boy getting acclimated to human life isn't anything really all that new, the charcoal renderings and ghost-like images that come to life in primarily black, white and grey tones are quite memorable.
This is yet another silent short, that relies on dialogue-free sounds and music to heighten the emotions and accentuate the tone. It's a fitting approach to this somewhat abstract yet artfully crafted piece and along with "Possession" it is probably my favorite of the nominees.
Rating: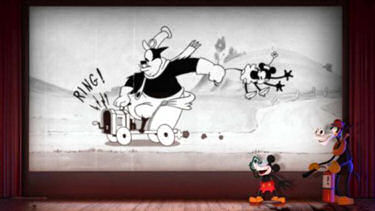 GET A HORSE! (2013)
directed by Lauren MacMullan and Dorothy McKim
United States/7 min.
"Get a Horse!" is a throwback to Old School Disney, with a black-and-short featuring a Mickey Mouse rendered in his earliest animation style. Mickey hops on a horse-drawn musical hay wagon that has Minnie and several farm animal characters, like cow and horse, as they frolic their merry way across the countryside. Impatient antagonist Peg-leg Pete comes sputtering along behind them in his motorized jalopy and becomes enamored by Minnie.
Insistent on having her, the rest of the short turns into a chase and all-out fight between Pete and classic Mickey and his pals. In the process the silver screen is ripped and characters topple into a theater, becoming both colorized and three-dimensional. Chaos, mayhem ensues amid the silly physical comedy.
This is a short that played theatrically in front of the successful Frozen (which is also Oscar-nominated) and is probably the first exposure for many to this Mickey. For others, it will brim with nostalgia.
As for Oscar consideration, this short isn't really offering anything new beyond that. Although it's fun, it feels like Disney just wanted to have a horse in the race (pun intended), but this is not worthy of the award.
RATING:

This article also appears at David's own site, Keeping It Reel!