Corey Tocchini Comes Home With Sparks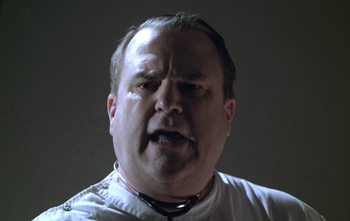 Living the Hollywood dream from Fairfield, entrepreneur Corey Tocchini has run the successful Before The Movie theater advertising service for several years. But now he is not only associate producer on the independent superhero movie Sparks, he's making his big-screen debut alongside some of his favorite actors.
Sparks was a graphic novel created by writer Christopher Folino and actor William Katt (Carrie, The Greatest American Hero). When the two turned it into an innovative motion comic, Before the Movie did a feature on the project. Tocchini immediately saw its potential as a movie.
The feature film version brings together two of Hollywood's rising stars in Chase Williamson (John Dies at the End) and Ashley Bell (The Last Exorcism) as costumed vigilantes Ian Sparks and Lady Heavenly. When the evil Dr. Matanza (Katt) destroys Sparks' career, he teams with the mysterious Archer (Clancy Brown) to seek payback, if not redemption.
In addition to Katt and Brown (Highlander, The Shawshank Redemption), the film also features Clint Howard (How The Grinch Stole Christmas) and Jake Busey (Starship Troopers). Sharing a pivotal scene with Brown, Tocchini appears as Dr. Crane, who saves Sparks in an emergency room and gets into a tense stand-off with Archer.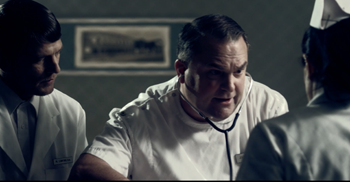 "This was a bucket list thing for me," said Tocchini, "and it was awesome being on the set with people I have long admired."
The admiration has been mutual. "We would not have made Sparks into a feature film if it wasn't for the encouragement and guidance of Corey," said Folino, who wrote and co-directed the film from his graphic novel. "He has believed in the project and has guided it for five years, helping bring it into theaters throughout California and beyond."
William Katt added, "He's been one of the champions of the project and his commitment to producing and bringing entertainment is in his family's blood."
Tocchini looks forward to seeing his work come to fruition on March 7th, when Sparks will open at the Roxy Stadium 14 in Santa Rosa. On that Friday night, the theater will have a special showing with the cast and crew, including Howard, Busey and Katt.
You can purchase tickets for Santa Rosa here.
You can see a complete and up-to-date list of screenings at the Sparks website, where more seem to be added every week! If nothing else, Folino will breathe down Kevin Smith's neck... and if that seems appealing to you, you should buy tickets.
If this isn't playing at a theater near you, then I'd like to remind you that Sparks (subtitled The Rise of Ian Sparks) will be arriving in stores on DVD on Tuesday, March 18th.
Either way, it's a fun ride, a little grim, a little gritty, a little romantic, a little sexy, and all to a great score.
Check out coverage of Sparks' earlier incarnations here...