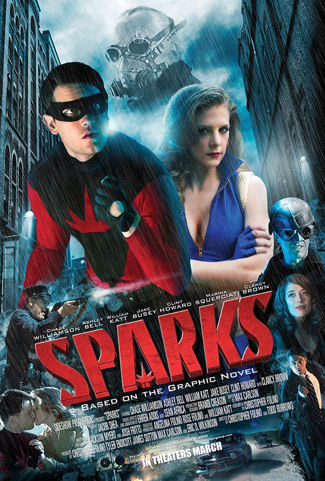 Sparks Defends America!
(In Theaters, Anyway...)
Want proof that a movie can play at film festivals and gain a foothold in the public consciousness?
Last year, the independent superhero film Sparks (full disclosure: original graphic novel edited by myself, Derek McCaw, so yes, I'm tangentially involved and excited) had its world premiere at Cinequest in San Jose. An audience favorite, it went on to play and win awards at the Omaha Film Festival, the Chicago Film Critics' Association Film Festival, and the Lake Charles Film Festival (which, by the way, has the coolest trophies).
And now... Sparks could be coming to a theater near you!
The action drama we call Sin City meets Smallville has booked a limited theatrical release, starting March 7th, 2014. (Actually, it already opened in Dubai!) It will be playing in select theaters in the greater Los Angeles area (including the Laemmle in North Hollywood) starting March 14th.
Then it goes forth into global release --- including the U.K., western Europe and much of Asia. Unfortunately, our promotional budget does not allow for me to fly to those theaters. It does, however, allow me to drive to a special event in Santa Rosa, CA on March 7th.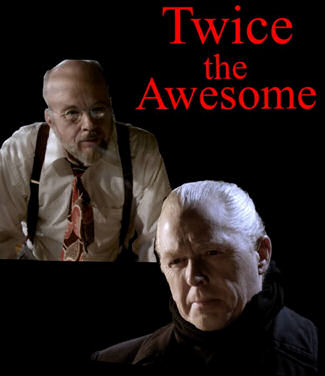 Yes, there will be a signing of the Sparks graphic novel at Outer Planes Comics & Games, 519 Mendocino Ave. in Santa Rosa from 4 to 7 p.m., followed by a screening of the film at the Roxy Cinema 14 at 8 p.m.
Both will be attended by cast and crew, with confirmed William Katt (The Greatest American Hero, Pippin, House, Carrie), Clint Howard (The Ice Cream Man, Star Trek: The Corbomite Maneuver) and Sparks creator/writer/director Chris Folino. Many more will likely be attending.
Lurking in the background will be Derek McCaw, so if you want to create some sort of unofficial Fanboy Planet party for Sparks, I'm in.
You can purchase tickets for Santa Rosa here.
You can see a complete and up-to-date list of screenings at the Sparks website, where more seem to be added every week! If nothing else, Folino will breathe down Kevin Smith's neck... and if that seems appealing to you, you should buy tickets.
If this isn't playing at a theater near you, then I'd like to remind you that Sparks (subtitled The Rise of Ian Sparks) will be arriving in stores on DVD on Tuesday, March 18th.
Either way, it's a fun ride, a little grim, a little gritty, a little romantic, a little sexy, and all to a great score.
Check out coverage of Sparks' earlier incarnations here...