So Much Casting News, So Little Time...
before school starts and I have to work again...
posted 8/9/04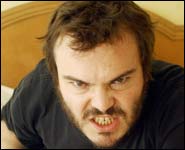 I know what you guys have been saying about me.
Last week the internet went crazy with casting news and rumors, and thanks to a combination of laziness and running around and doing other things, I managed not to post anything that could be invalidated the very next day. (Ms. Wynter, please call us, we love you.) Now that the dust has settled (or has it?), here's what has happened in the past week, most of which should have everybody jumping up and down in excitement.
Green Lantern: Black Is Not Back!
In this week's edition of Entertainment Weekly, Jack Black lightly scoffs at the story that he would be playing Green Lantern. For those of us at Comic-Con, it would be well to remember that Bob Wayne scoffed, too, but the implication there was more about development hell.
Black claims that he had a conversation with somebody who had the rights, and expressed interest, but there is no script. Let us infer there is even no identification of which Green Lantern would be used. (Aw, heck, let Phil LaMarr work out and play John Stewart...)
At any rate, the actor/comedian says he'd be interested "...if the script was good," but that it's not a done deal.
Fanboy Planet Analysis: Black is no dummy. He has heard the rumblings of fandom, a fandom he himself occasionally dabbles in. If this had not been a done deal, it would not have been announced in the trades. And I know that the DC editorial staff was informed of the done deal. So what happened? One word: Catwoman.
Superman
Much has gone down in the rumor mill last week. Fansite Superman-V.com reportedly had it on good authority that director Bryan Singer has offered the role of Superman to current Smallville Clark Kent Tom Welling. Should Welling turn it down, Singer wanted Third Watch's Eddie Cibrian. If this report from the fansite is true, hell would still likely freeze over before Welling would accept the role. He has stated repeatedly that it holds no interest for him. But careers have been built on such webs of lies before...
Putting a fly in that ointment, however, is a posting that appeared on Aint It Cool News over the weekend. According to that site, Warner Brothers is holding an open casting call for the role of Superman. By appointment only, the search is allegedly still nationwide. I'm putting my money on Vivien Leigh.
The only definite thing we can say about the Superman process is that last week Fox Studios kicked Bryan Singer off the lot. His production company, that is, because the studio had given him a two-year deal with the understanding that he would actually be making more movies for them. Instead, Singer jumped over to Logan's Run, then Superman, both at Warner Brothers, throwing X3 into turmoil. So long-suffering girlfriend Fox threw Singer's stuff out of the apartment.
No word on if and when he can get his records back. And that favorite t-shirt? Pretty sure Fox burned it.
We Have Our Lord of Evil...
Everyone absolutely agrees on Lord Voldemort. For Harry Potter And The Goblet Of Fire, now filming under the direction of Mike Newell, they couldn't just CG in a malevolent presence. Producers needed a living breathing man. And they found him in Ralph Fiennes. (It's not the only evil Lord Fiennes will be playing -- according to the internet movie database, he's voicing Lord Victor Quatermaine in Wallace and Gromit: The Curse of the Were-Rabbit. I don't know which excites me more.)
This series has turned into a who's who of British actors, and those that have turned expatriate must be kicking themselves for not yet finding a place in the franchise. Yes, Anthony Hopkins and Tim Curry often cry into their beers over this.
The Return of Wonder Woman
This one's for my father-in-law.
Lynda Carter, she of the recently released Wonder Woman - The Complete First Season, has just been cast as the principal of Sky High, a school for the offspring of superheroes learning to get a handle on their powers. The Disney film stars Kurt Russell and Kelly Preston as the heroic parents of a student.
Please, oh, please, let her twirl around and transform just once.