...And Wynter Makes Four?
Invisible Woman Cast?
posted 7-10-04
updated 7-14-04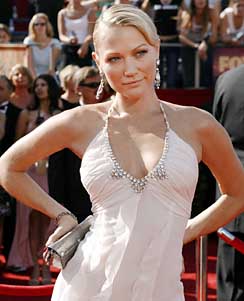 Oh, to be an unstable molecule...
Everybody got their containers of Morton's Iodized Salt ready?
An anonymous scooper e-mailed Fanboy Planet this afternoon claiming to have inside information on the Fantastic Four movie.
First, the script's great. Well, we all hope that, so I'm not going to comment.
And second, running in from left field and at no time mentioned in any of the trade papers' speculating, not only has The Invisible Woman, Susan Storm-Richards, been cast, but she's Sarah Wynter. Not Jessica Alba. Not Rachel McAdams. Not Kerry Russell.
Certainly, the Australian actress (you saw her last year regularly on 24) is much closer in age to Ioan Gruffudd and Michael Chiklis than the named candidates, but since when has the Hollywood casting machine ever cared about the creepiness and unlikelihood of a young girl falling in love with a guy in his thirties?
Then again...she looks the part. She's a decent actress. And sorry, but Jessica Alba is not Susan Storm.
If the trades break this story on Monday, you guys remember you SAW IT HERE FIRST!
UPDATE: As of 7/14/04, The Hollywood Reporter says it's Jessica Alba. Who are we to disagree? Our scooper was wrong, though boy, it would have been nice to be right. Or at least to have not written a sentence like Jessica Alba is not Susan Storm.
Because she is.
It's no disrespect to Miss Alba -- she's smoking hot and can act. And she's smoking hot. So clearly, that weighed heavily.
Did you hear that Michael Bay will be playing Dr. Doom?