Comic-Con 2015:
Friday: When You Hear It's A Carnival
One thing about Comic-Con that repeated in almost every conversation was how it felt somehow slightly less crowded. Numbers wise, that was likely an illusion. But the landscape of Comic-Con, which had already been spreading out over the past few years, extended even further this year.
If you tried, you could spend an entire day without going to a panel or even setting foot inside the Convention Center itself and still be able to say you had a full day at SDCC, because of how many outdoor events were going on.
We've already covered the FX Fearless Arena, which was easy to spot for people heading between the Convention Center and the Hilton Bayfront. But further beyond and out toward the marina, yachts doubled as exhibits, and Adult Swim had set up a carnival. That stretch of green was once the place you'd stop to get a moment's peace. Now I'm not sure where that would be.
Cross the bridge back over to Petco Park, where Walker Stalker Con once again held its Walking Dead Experience (and MTV threw a party for "Nerds"), and another carnival celebrated various upcoming shows and movies, and sold the expected carnival food.
It's all fun, but... well, I'll let the Hilton Bayfront speak for me.
Because sometimes you start to feel... The Strain...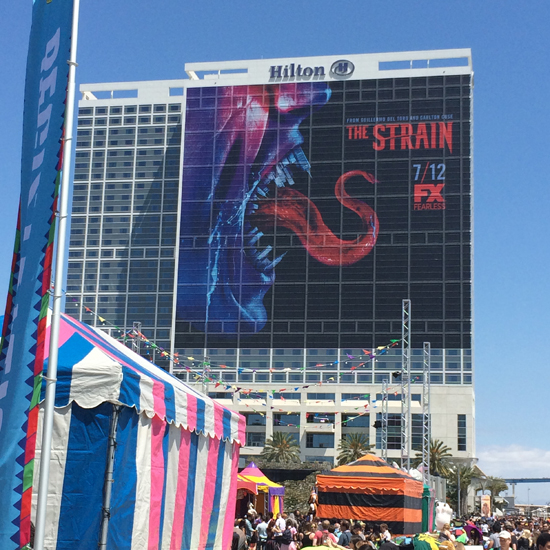 You can play "Smack Up The Uvula"....
Welcome to the Meatwad Dome... which could probably be something said for a few restaurants in the Gaslamp...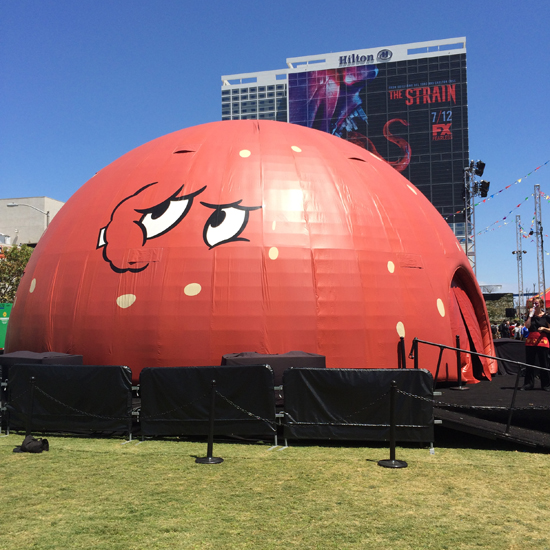 I don't know if I want to explore Rick and Morty, nor have them explore me...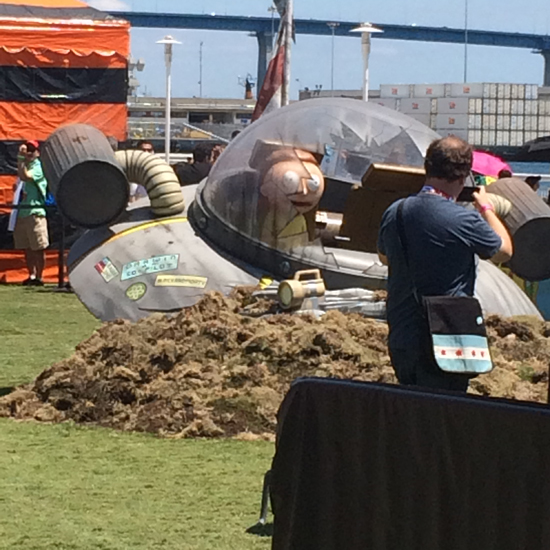 Yes, play with some believed pixel characters, still likely more entertaining than Pixels.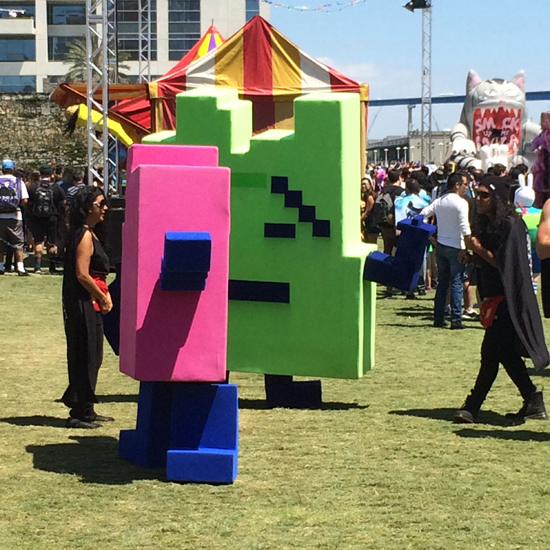 A dock installation offered drones for sale -- "Comic-Con From The Sky!" -- I did not encounter any of these actually on the floor, but heard rumors of one or two floating through Hall H. Does anyone else have stories of them?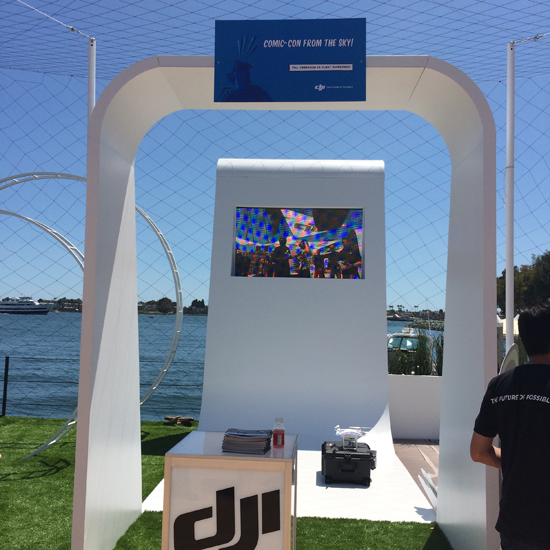 I will only accept these if the person controlling them stands below cosplaying as Corsair and claiming this is Sikorsky of Marvel's The Starjammers. Alternately, I might accept a person cosplaying as the Mach-5, but it's a stretch.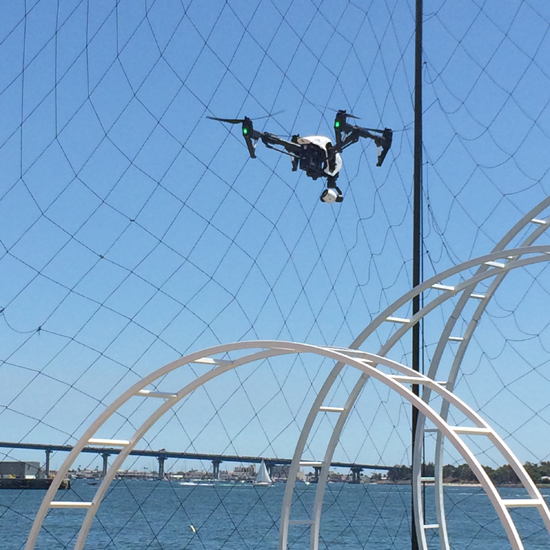 I'm still hoping that Fox's Scream Queens is more of a thrill ride than this... but people were lined up for the drop.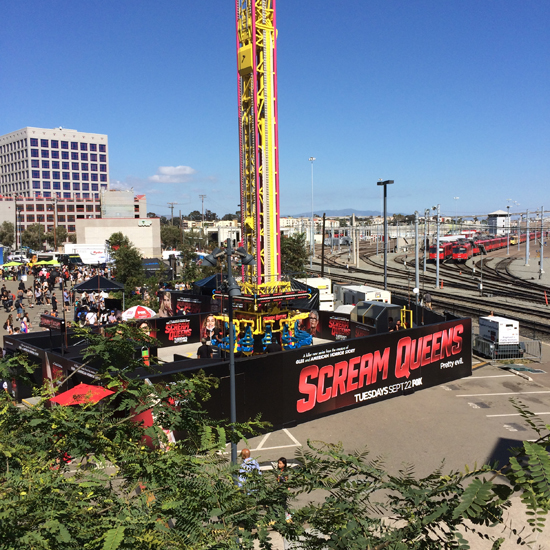 My son has forgiven me going to Comic-Con and seeing many things, but somehow this is the straw that broke the camel's back. I'm assuming Sony will tour the country with these.... or at least set one up at the Schulz Museum in Petaluma...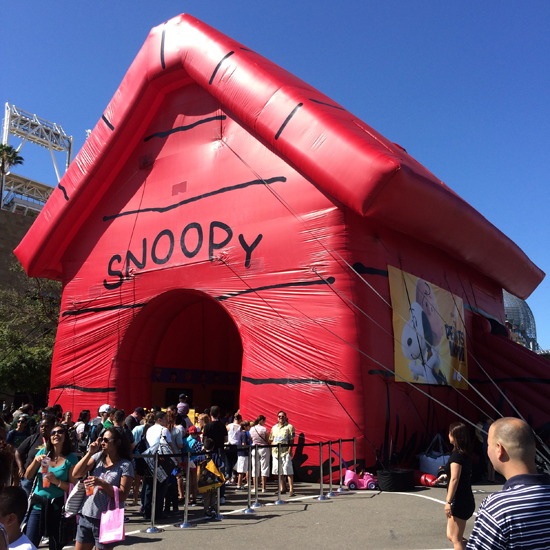 TV Guide just turned a yacht into their booth -- hosting a non-stop summer party...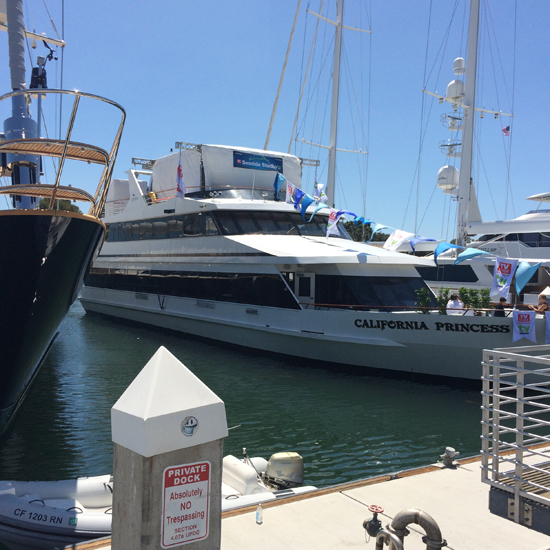 All day long, a nerd rock music festival played in the children's park further down Harbor Boulevard and away from the Convention Center. The "Bad Ass Music Festival," aka BAMF! featured bands like Kirby Krackle and The Double-Clicks, and was open to non-attendees as well. On Friday, after the Star Wars concert, I wandered over to check out their Dance Party.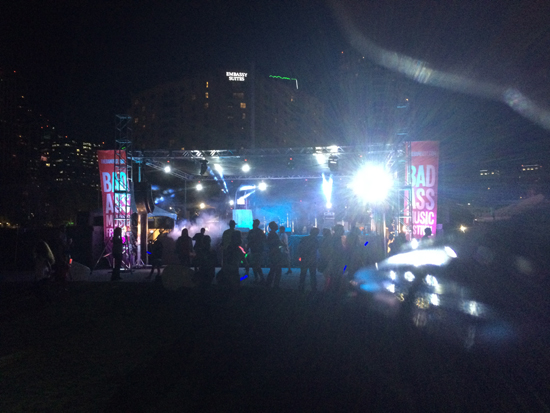 This is the most excellent DJ ever.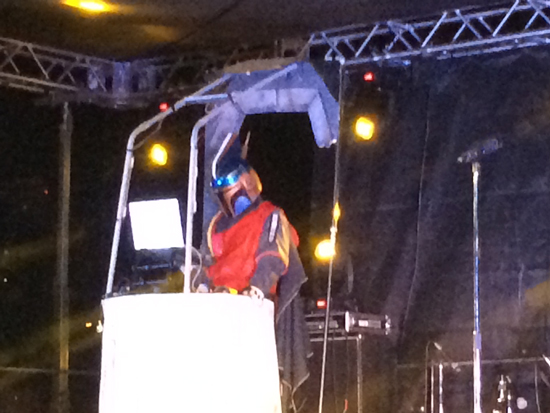 And, of course, the parties spill over into the streets... for instance, this new club Were Wolf had a bit of a haunting...