Comic-Con 2015:
The FX Fearless Arena

Why do people love coming to Comic-Con? It's the experience, the ability to say "I was there," or "I did that." Because every Comic-Con has exhibits, installations, and experiences that make each one unique.
This year, FX has installed what they call the "Fearless Arena" on the lawn space between the convention center and the Hilton Bayfront. Only one of the experiences there really requires a conquering of fear, but all of them have a nice twist that ties in with a variety of shows coming up on the network.
Last year, FX also had the nice touch of offering free sunblock, since you're going to spend a lot of time outside. (We've been lucky in the mornings this year -- it's been overcast and cool, but it does heat up in the afternoon.) But sunblock doesn't come completely free -- you do have to be reminded that It's Always Sunny In Philadelphia.
After registering to enter the area, you will be directed to a Virtual Reality experience from The Strain, about to debut its second season. Though the line might be the longest, because VR does take time, it's the strongest of the offerings, and not for the faint-hearted.
Ushered into a warehouse facade, attendees sit down on saddle chairs and don Samsung Gear headsets, powered by Galaxy Note 4. (My first time using those, and they're impressive. The future is HERE, people!) Once you've focused the lens, the experience plunges you into an escape from the infected vampire-like creatures from the FX horror series.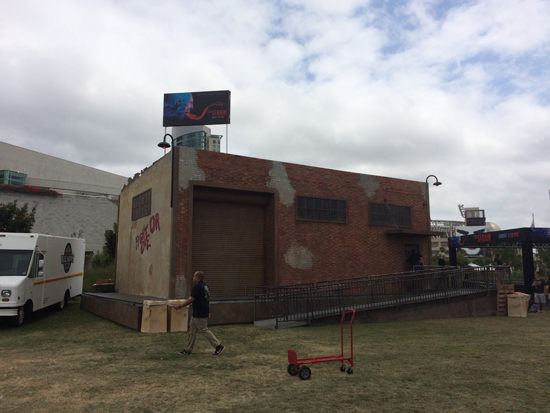 I'm fascinated by VR technology, and try to experience every one that Comic-Con has to offer. Last year, Legendary had a Pacific Rim experience that was truly transporting, and where The Strain might not quite measure up in visuals -- by nature of the show, its lighting is dimmer, all the better to scare the crap out of you -- it makes up by moving forward the ways in which a VR experience can actually have a narrative.
No coincidence, I suppose, that both projects have Guillermo Del Toro attached.
Bearing in mind that it is designed to scare you, The Strain experience is absolutely worth the wait.
Should you get thirsty, FX has also provided water fountains with an Archer backdrop. The spigots are replicas of Pam's dolphin puppet. It shouldn't be disturbing, but it is. Disturbing and refreshing.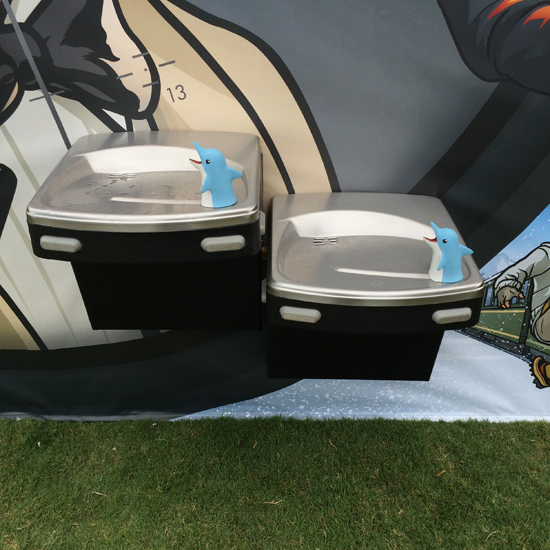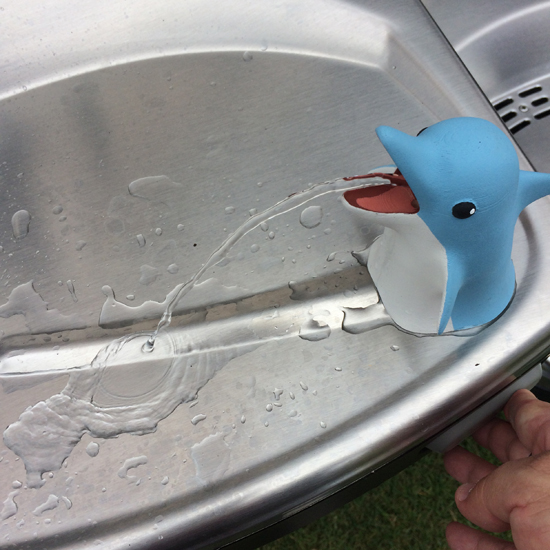 Passing the fountains, attendees approach a competitive maze (though not too twisty) themed to their new series The Bastard Executioner. Created by Kurt Sutter, the mind behind Sons of Anarchy, The Bastard Executioner leaves motorcycle gangs behind and journeys to 14th Century Wales, where a retired knight finds that though he has laid down his sword, he will be forced to pick up the axe. Heads will roll, but not during this experience.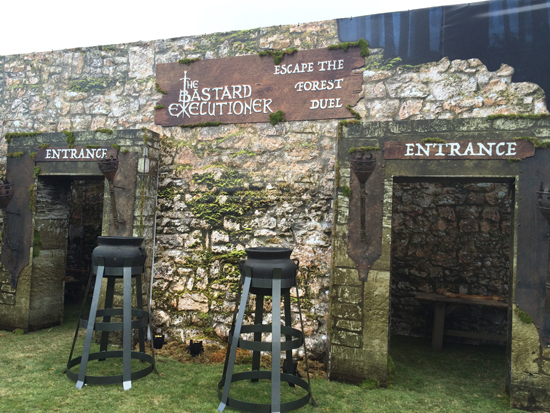 Attendees enter in pairs to compete, and the winner gets a hoodie tee shirt advertising the show. I'll be wearing mine later, but I'll admit I did not win the feat of strength, as I was sent in against a construction worker. A writer's strength may all be in his mind. Take it as thou wilt.
Circling around, the next installation is for American Horror Story's fifth season, Hotel. Entering the hotel facade will send you to check in to a room among a group of eight. A money machine (fake money?) will blow cash your way, and whoever grabs the most out of the group is eligible to win a $100 gift card. It won't even cost you your soul.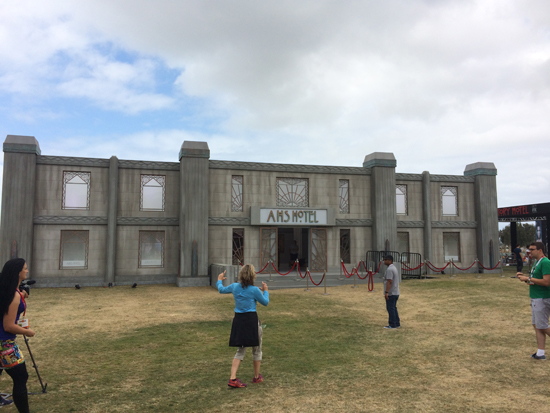 The last exhibit is a giant snowglobe with a waffle house inside it. Attendees can climb in and get the photo op of being trapped inside, all to raise awareness for the coming second season of Fargo. Like American Horror Story, it's an anthology series, so it will be interesting to see how crucial the waffle house will become.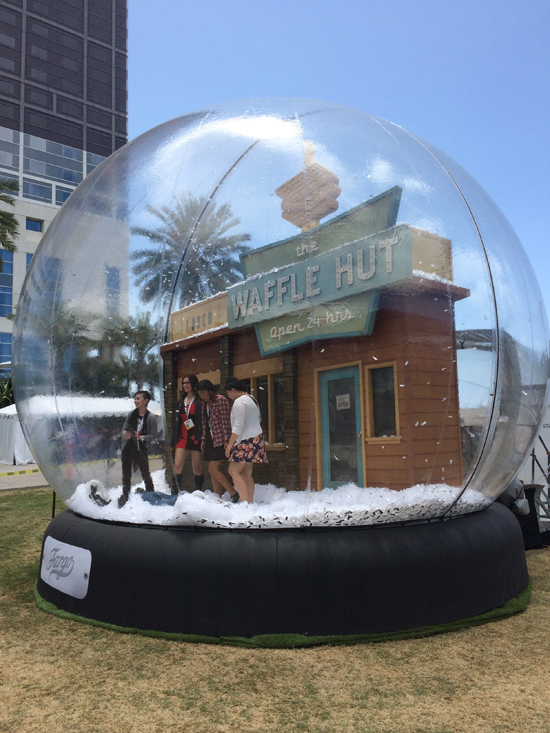 After every experience, an attendant will give you a trading card -- and you can ask others for cards on the shows that do not have exhibits, such as the upcoming Denis Leary dramedy Sex Drugs & Rock & Roll.
All of the cards have codes to access 12 free days of "FXNOW," the network's new online service.
Let us know what you think, via email, Facebook, or Twitter @FanboyPlanet.