Comic-Con 2015:
Star Wars Under The Stars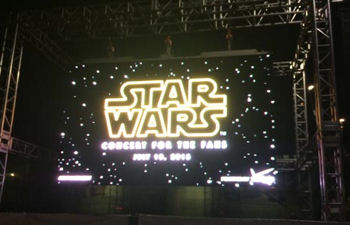 Every year, there are those events at Comic-Con that remind you why 130,000 plus people descend on San Diego. It's not just the panels, though they're fun. It's that you have an experience that you can't duplicate anywhere else.
As a fan, you get to make a memory of being with other fans, sharing something that says, yes, I was there.
Star Wars fans have plenty of those. From the beginning, Lucasfilm has come to Comic-Con. (Mark Hamill might not have been at the very first one, but he has come to plenty since, and not just to promote projects.)
Friday night, Lucasfilm, now owned by Disney, acknowledged how Comic-Con attendees have supported them over the years with one of those "only in San Diego" moments.
Hall H featured a hotly anticipated Star Wars: The Force Awakens panel, of course, which fans had camped out to see. They were rewarded by appearances from most of the major cast. New cast members John Boyega, Adam Driver, Daisy Ridley, Oscar Isaac, and Gwendoline Christie joined the original "Big Three" Hamill, Carrie Fisher, and Harrison Ford onstage, led of course by Director J.J. Abrams (who once again provided doughnuts to those who waited in line all night) and Producer Kathleen Kennedy.
When the audience Q&A began, fans buzzed when they realized that the convention's camera revealed Peter Mayhew (Chewbacca) sitting near the microphone. Abrams acknowledged him, and it is a sign of the dedication of both fans and filmmakers to this franchise that the original Wookie actor has returned to play the character, even though his knees still obviously cause him pain.
To some, maybe anybody could be in that costume. But not to fans.
They showed the following behind-the-scenes reel:
You can feel the buzz around this film. Even Ford, looking pretty good despite a plane crash just a few months ago, seems strangely energized by The Force Awakens.
And then, as the panel ended, Abrams announced one more surprise -- everyone attending the panel would be going to a free concert.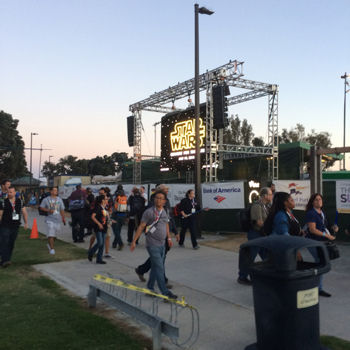 At first, people laughed and didn't quite believe him, sort of parodying a Steve Jobs "...just one more thing" moment. But it was true. Convention staff handed out black badges emblazoned "Star Wars 1976-2015 Guest" and the crowd was ushered out of Hall H and behind the convention center. (Yes, emptying it out for the first time that day and leaving Kevin Smith's next panel a bit bereft.)
The crowd moved past the Adult Swim Carnival and the few dock and yacht exhibits to the strip of land beyond the moorings, where the San Diego Symphony usually performs its summer concert series. (Another cool feature of San Diego -- a summer concert series in the harbor.)
A perforated tab at the bottom of the guest badge allowed congoers to get a commemorative lightsaber, as detailed as the Kenner toys back in the 90s. (Yes, they existed in the 70s and 80s, but those weren't as good.)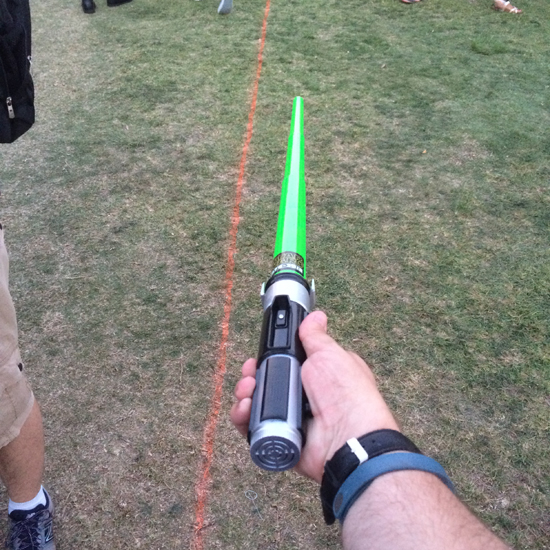 It was the perfect touch for a Star Wars concert. Instead of waving lighters in unison, it was lightsabers. And for this fan, that was the moment this became "only at Comic-Con."
As the sun set, people waved their sabers, buzzed happily, and snacked. (The Symphony had their snackbars open -- I don't know if the food was Star Wars-themed.)
And then... the lights on the band shell changed. "Ladies and gentlemen, Kathleen Kennedy and J.J. Abrams..." Hooting and hollering accompanied the applause and multi-colored glow from the crowd.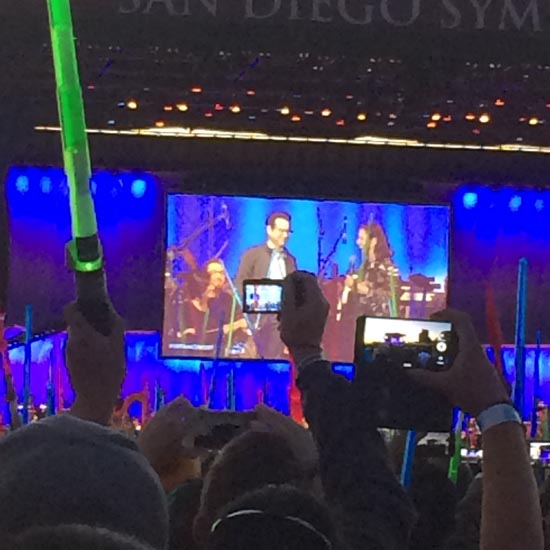 Abrams then once again introduced the cast members one by one, each getting their chance to play to the excited crowd. Isaac seemed pretty jazzed to be there, but none of the other new cast members could touch Boyega's enthusiasm, running back and forth across the stage engaging with fans. And that's what makes a Comic-Con moment work, too -- believing that those up there love what they have to present as much as we do.
Of course, the new kids were followed by the originals. Fisher's smile lit up the night. Hamill entered knowing he was among his people. And Ford -- he entered using his lightsaber as a crutch, with a trademarked pained expression, before smiling big and welcoming the crowd.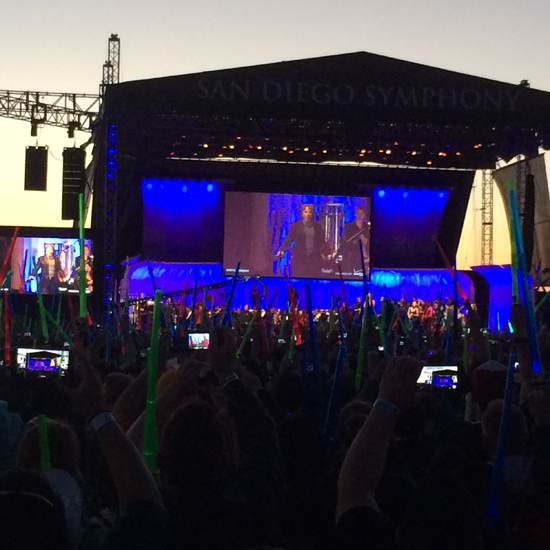 John Williams appeared on the video screens with a message of thanks for the fans. Sure, it was to be expected, but it still heightened the emotional connection. He introduced the San Diego Symphony, and conductor Sameer Patel, to perform a suite of pieces from all six previous films.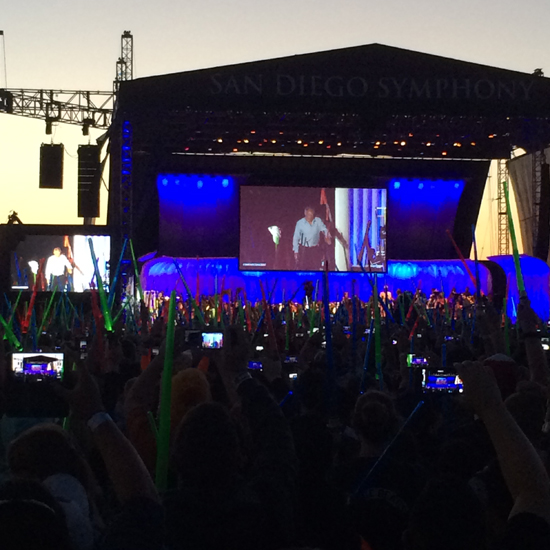 As the symphony played, the video screens alternated between shots of the musicians and scenes from the films. This was a crowd absolutely INTO the musicians -- when was the last time you have seen a crowd go nuts for the french horn player? But they wildly applauded him during "Leia's Theme."
As they ran through several recognizable pieces, I felt the twinge that I need to watch these films again. Yes, even the ones I don't like -- or thought I didn't like. Maybe you just need to let them wash over you in the right spirit to be ready for The Force Awakens.
But one piece was held back. And after "Leia's Theme," it happened. The stage went dark. A video came on with highlight pictures of fans throughout the day, ending with a thank you message.
And then... DUNH! That familiar opening strike... and to our left, out in the harbor, a boat began a spectacular display of fireworks. Hearing that march, seeing those lights, and sharing it with 6,000 fans... only at Comic-Con.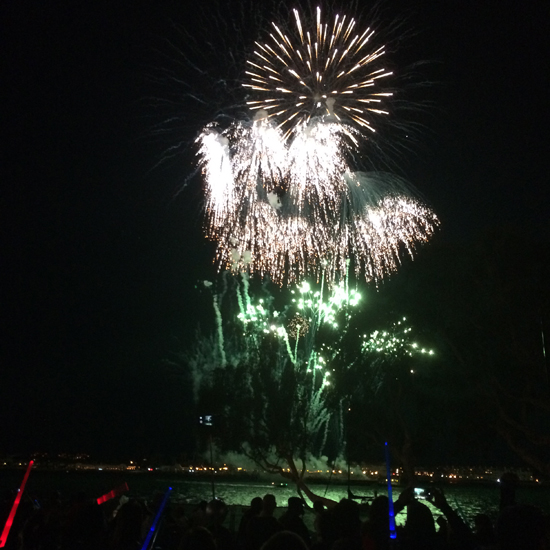 For more pictures of the cast members, and of the fireworks show... click here. And may the Force be with you.
Let us know what you think, via email, Facebook, or Twitter @FanboyPlanet.