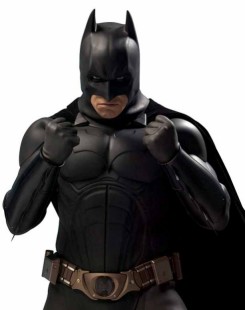 Just get to the bat, people...
WonderCon 2005:
Hollywood at the Moscone
It wouldn't be WonderCon without sneak peeks at the upcoming summer films being prepped for release. While War of the Worlds brought more of what one would expect from a gigantic summer blockbuster from the likes of Cruise and Spielberg, the high gloss sheen that accompanies all well polished action fare, the big news stirred from camps that seem to hit closer to "fanboy status" than the likes of a big budget remake of the H.G. Wells classic. Sure, everyone loves a good invasion flick, and the return of Spielberg to "alien" territory does have a sort of allure to it, but how can this ever compete to the return of "the bat" to the silver screen? More on this in a bit.
The first film-related panel held on Saturday was Disney Presents: The Hitchhiker's Guide to the Galaxy. Admittedly, I've never read Douglas Adams' series, although it has held its place on my extremely lengthy "to-be-read" list, I'd just never gotten around to reading any of the books…yet.
The behind the scenes footage screened on Saturday has made one thing clear, however; this film looks like it is going to be one hell of a ride. It looks funny, it looks intriguing, and it left me itching to see more. The mere fact that the aliens in the film are all puppets designed by the Henson workshop and were treated akin to actors on the set was enough for me to get behind the film. When director Garth Jennings mentioned that the intent was to minimize the amount of time actors spent acting with a tennis ball on a stick in front of a green screen, the room seemed to breathe a sigh of relief.
Bottom Line: "Don't Panic," it would seem like Guide is coming along well.
Next up was Sony Presents: The Cave, a thriller involving "a pack of divers who become trapped in an underwater cave network." Yawn. Star Cole Hauser (2 Fast 2 Furious, and Tears of the Sun) was on hand to present some never-before-seen footage of The Cave to WonderCon audiences. Cole was amicable enough, describing how much of a pleasure it was to work on the film "yadda, yadda, yadda."
The proof is in the pudding, and the "never-before-seen footage" was pretty substandard fair. Frankly, I had never seen footage from The Cave, so anything would've been "never-before-seen footage," and ultimately it didn't really impress me. The implications of "hell" were a little too reminiscent of Constantine for me, whereas the overall suspense of being trapped in an underground cave just looked, well, too processed to really elicit any feeling of rush or thrill.
Bottom line: Don't Bother.
Maybe it was the anticipation of Batman Begins, perhaps it was the hope of seeing something that would tip the scales in favor of Fantastic Four, whatever the case may be, Paramount Pictures Presents: War of the Worlds went by in a blur. I remember it being there at WonderCon because I was handed a promotional hat and t-shirt to help jog the old memory banks post 'Con, but aside from that the overall experience was nothing short of ordinary.
Sure, Spielberg has a track record a mile long, and Cruise is always fun to watch, so no matter what something has to hit with War of the Worlds, I just don't need to have the anticipation bolstered to get me in a seat this summer. The film could be terrible for all I know, or it could be just the kind of charge that Spielberg needs to get back on track after The Terminal and (yes, I'll say it) Catch Me If You Can. Who knows. Either way, one sort of knows what will be on the table come July 4th, 2005 with the players being who they are, which makes for a "ho-hum" feeling surrounding this project.
Bottom Line: Who cares? That is, until it comes out of course.
Serenity. My biggest disappointment of WonderCon 2005? Universal Presents: Joss Whedon: Serenity. "What?" you ask. Well, I thought I could be slick and jump between the big ticket panels like those mentioned above and the smaller "comic oriented" panels like DC Comics: A Glimpse into the Future held across the hall. Wrong. With the gap between Hitchhiker's and The Cave I was successful, but the jump between War of the Worlds and Joss Whedon's Serenity proved less profitable. So my biggest disappointment comes in missing out on seeing Whedon first-hand, discussing his follow up to Firefly and announcing his one year extension on one of everyone's favorite comics, "Astonishing X-Men."
Bottom Line: Bummer. (Thankfully it looks like Derek was inside, so we can all get the scoop from him, in time.) (Give me time -- still have a day job...)
One thing is for sure, I'm not one to be kept down. This determination is what got me into Room 134/135 in enough time to catch the bulk of Spotlight on Kevin Smith. While hardly promoting anything other than himself, Kevin is always a joy to listen to. Discussing topics ranging from what his approach would have been had he helmed The Passion of the Christ to the outing of his brother's homosexuality and the bearing this has had on the bulk of his filmwork, Kevin is always candid, always funny, and hardly ever disappointing.
If promoting any film project at all, it would have to be his upcoming Clerks 2: The Passion of the Clerks and the second of his Evening with Kevin Smith DVD series entitled Evening Harder. The former is going to begin shooting soon, while the latter will be in stores in time for Christmas along with a "Tenth Anniversary" Edition of Mallrats.
Bottom Line: Yay!
That "Yay!" is two-fold. As much as it was a pleasure to catch Kevin on stage again, weaseling my way back into Room 134/135 meant that I was now in prime territory to catch Fantastic Four and Batman Begins.
First on tap was 20th Century Fox Presents: Fantastic Four with special guest Julian McMahon ("Nip/Tuck" and "Charmed") who portrays Dr. Victor von Doom in the film. Here comes another disappointment for the day, Michael Chiklis (The Shield) was originally scheduled to appear but was not present for some reason. It would have been awesome to hear some of his insight into playing Ben Grimm (a.k.a. The Thing) and possibly reassure some of those weary of the footage already screened for the upcoming film.
Instead we are left with Julian McMahon, who was polite enough to cite the original cartoons as a source of inspiration for him taking the role of Dr. Doom. However, some of his non-sequiturs during the Q & A Session of the panel raised more concerns regarding the film overall. When asked about his research process, and whether this included his reading of source material such as comics and trade paperbacks, Julian remarked that he was given only three days to really develop his character (most specifically a Latvian accent, which was ultimately discarded during shooting), so his research was limited to time constraints.
Busy shooting schedules are understandable, but admitting to using three or four differing accents throughout the film, and implying that it would be noticeable in the final cut, is hardly the type of promotion that 20th Century Fox is hoping for. When asked whether Galactus would make an appearance in the film, Julian was perplexed. Not only did he a) not have a clue who Galactus was, but b) didn't even know if he made an appearance in a film that he already shot and has obviously read the entire script for.
The whole thing was an embarrassment and ultimately wiped away all hope that had been building despite those initial concerns. Julian was obviously sent out there with a few key snippets to get across to the fans. One was that the origins were being adhered to, which ultimately proves incorrect in regards to Doom himself based on the excising of his Latverian ancestry and that he and Sue Storm were somehow romantically entwined.
Bottom Line: Brace for impact, cause this ship is due for a crash landing!
In a last minute audible, Warner Brothers pulled out all the stops and made, inarguably, the biggest splash at WonderCon film-wise. In what was originally billed as Warner Brothers Presents – Elisha Cuthbert, already a change from the originally billing as Paris Hilton failed to show citing scheduling conflicts, Warners turned what could've been nothing more than another underwhelming promotional stab for a moderate thriller into the biggest news of the day.
First they brought out uber-producer Joel Silver to present Elisha Cuthbert, star of his latest release under the Dark Castle branch, House of Wax. Yes, it's yet another remake of a Vincent Price horror film in vein with House on Haunted Hill and Thirteen Ghosts, and this time around Cuthbert, Chad Michael Murray, and Paris Hilton star in what will likely be another underwhelming retread of a classic. Sigh, right?
Hold on a second because after Silver and company left the stage we were all treated to Batman Begins' own Christian Bale. That's right, the American Psycho himself showed up to promote his upcoming bat-flick, and boy if it wasn't payday for Warners.
Bale not only provides the legitimacy lacking in the Fox presentation for Fantastic Four, but he seems genuine in his knowledge of source material and the desire for fans to see an accurate portrayal of Batman on the silver screen. Crediting such influences as Frank Miller, Alex Ross, and Jeph Leob for inspiration to play the role, Bale immediately captured the attention of every single fan in the room and held it until walking off stage.
The big thrill for Bale doing Batman? The Batmobile. Not only was donning the cape and cowl "one hell of an honor," but also a source of inspiration as well. It seems that the cowl was so tight that it proved to be one of the more excruciating aspects of filming. Bale, instead of giving in, turned this discomfort into the source of rage needed to channel the spirit of the bat for this incarnation of what he deems "American mythology." Bale stressed the importance that both he and director Christopher Nolan felt in keeping the true spirit of the graphic novels intact. His depth of knowledge in regards to bat-lore was astonishing, and only re-assured that Batman Begins will be something special indeed.
After his Q & A, audiences were treated to six minutes of footage from the upcoming film, all of which looks remarkable. From Bruce's early childhood, the discovery of the cave and bats beneath Wayne Manor, the death of his parents, guardianship by Alfred (Michael Caine), Bruce's travels across the globe to Tibet to seek help from Ra's Al Ghul (Ken Watanabe), his training with Ducard (Liam Neeson), and ultimately a showdown with the Scarecrow (Cillian Murphy) in which the Scarecrow douses Batman with a flammable liquid, lights him on fire, an watches as Batman jumps out of the window in flames.
Bottom Line: Do I need to say it? Buy tickets now! Oh, House of Wax? Skip it.