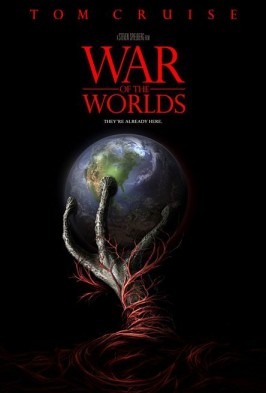 They're not aliens...they're Swamp Things!
WonderCon 2005:
War of the Worlds
Just like Saturday at Comic-Con in San Diego, Saturday at WonderCon turns into movie day. The major studios invade Moscone Center, trotting out exclusive film clips and occasional stars to get fandom hyped up about the summer's releases. Among the films promoted this year were Disney's Hitchhiker's Guide to the Galaxy, House of Wax, Fantastic Four (of course) and Kevin Smith whooped it up for Passion of the Clerks. He's not exactly a major studio, but when it comes to fandom, he is his own franchise.
But I left it to Mario to attend Kevin Smith. The big man and I have been at odds ever since I mistook his wife for a publicist back in 2000. Also, Goodson standing up at a screening of Jay and Silent Bob Strike Back and opining, "that sucked" with Kevin only a few rows back didn't help. Let the new guy face him.
Instead, I stumbled in on the War of the Worlds presentation. Not a movie that had me really intrigued (I'm much more interested in the alleged low-budget period adaptation that's being released in smaller houses this Spring), at least Spielberg and Cruise did what they could to treat fandom right - without actually giving us anything.
That's not true. I got a War of the Worlds baseball cap which came in handy during Saturday's on again off again stormy weather in San Francisco. Bless Tom Cruise.
The presentation began with an exclusive look at the Japanese trailer, which showed very little but was in Japanese so maybe they said something really cool that nobody in the audience understood. It was clear, however, that there was just as much footage from Close Encounters and E.T. in the trailer as there was W.O.W.
Then came the live guests: production designers Doug Chang and Rick Carter. They were in a very tough spot, the same one that Cillian Murphy and David S. Goyer had at Comic-Con last summer; the two men had to promote a movie about which they were forbidden to actually say much of anything about.
Chang confirmed that the aliens (this version does not specify them as Martians) will travel in the infamous tripod war machines of H.G. Wells' original novel. Though he could not describe the designs, he did share with the audience a sense of the difficulty that comes with trying to develop something that has never been seen before on screen. With video games and genre films so prevalent, it almost feels like every design has been taken.
Though most people accepted that the aliens would not be from Mars, a few die-hard fans of the novel and the George Pal adaptation seemed very perplexed at the change. Carter defended it, launching into a pretty good extemporaneous dissertation on the history of why Victorians thought there was life on Mars.
Both men seemed very excited by the quasi-documentary approach to the story that Spielberg has taken. That excitement got matched by Spielberg and Cruise in a short clip they prepared for WonderCon. Intense as always, even while being "candid," Cruise leaned forward and gushed over seeing eight minutes of footage. Even without special effects, he found his pulse pounding.
Of course, it was also likely that those eight minutes featured Cruise himself, so his opinion could be suspect. Much of what was shown to the audience Saturday was a lot of America's highest paid actor walking with great intent.
However, it was good to see two of the faces behind the scenes. Carter and Chang clearly love what they do. And for Chang, having started out as a stop-motion animator on Pee Wee's Playhouse, this job is a dream come true, doing CG for Lucas, Spielberg and Zemeckis. I put the emphasis on that last one, because Chang did.
And then came Whedon...