Star Wars Celebration IV --
Pics From The Floor
While most of the Fanboy Planet staff will be attending BayCon this weekend, our own Asia Bureau Chief Mish'al Samman has flown from Tokyo to Los Angeles to prove that he is the biggest Star Wars fan on our staff. He's taken some time out from his busy Rebel Orgy schedule to send us some thoughts and some pictures.
On Friday May 25th, the LA convention center opens its doors to Celebration IV, the five-day event that would mark the 30th birthday of Star Wars. Much like San Diego Comic-Con though, the first day of activities actually started the night before on the 24th. Star Wars fan club members were able to walk in, and enjoy the pre-show day, and get some shopping for those
pesky exclusives done.
Compared to Comic-Con, this event is much smaller, but in terms of Star Wars it is huge.
Spread across 3 main halls, CIV promises not only to give us dealers, artists, actors, costumes, and yes – a Gentle Giant Elvis trooper, but also a sneak peak to the future of Star Wars. So for day 0, I leave you with a couple of photos of the day, and a peek at Cartamundi.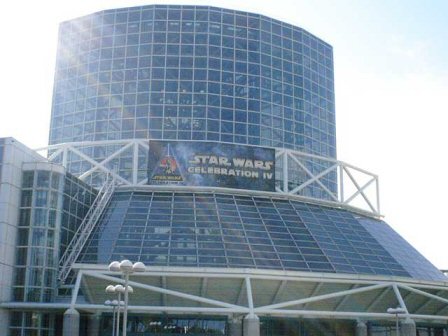 Launching from Los Angeles....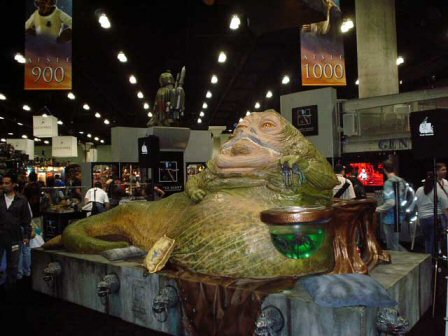 Yes, that's the world's second most awkward conversation piece.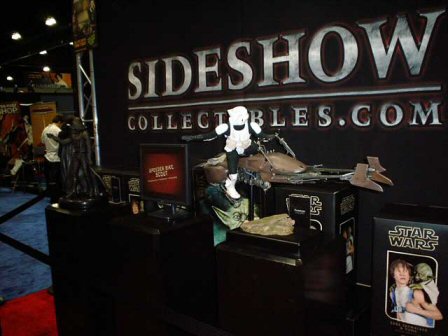 A peek at some of Sideshow's upcoming stuff...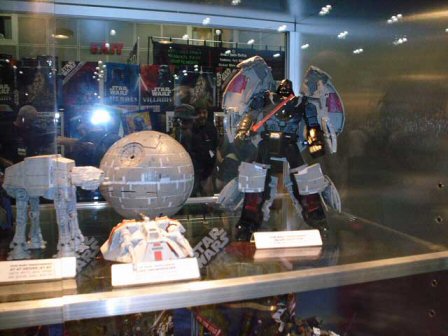 Dark Lords in disguise...um, as Death Stars, so it's really not fooling anybody...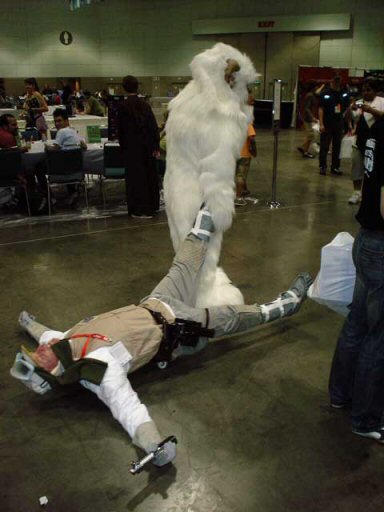 My vote for best costume ...and trust us, that Wampa smells bad on the inside.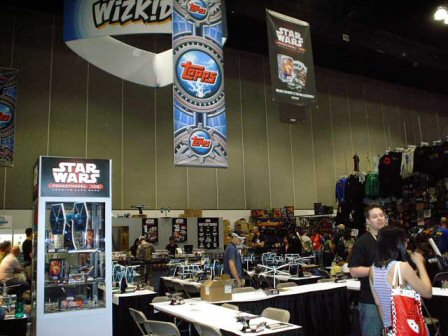 The gaming pavilion, with freshly patented WizKids games...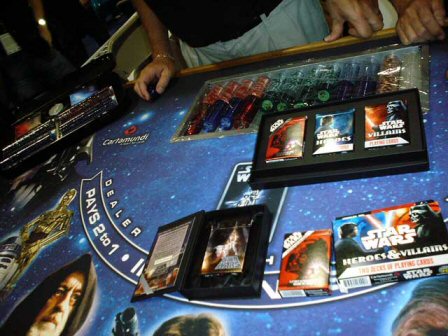 My greatest hope? Mish'al explains this game.
My greatest fear? He makes us play Strip Cartamundi.
Gallery 4 -- All Slave Girl Leia, All The Time...