Christopher J. Garcia's
Top Ten Film Festival Films of 2003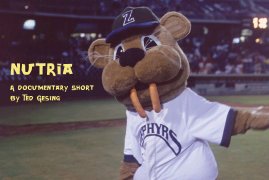 Despite appearances, this isn't a defense of the furry lifestyle...
This year I went to a bunch of film festivals. From Cinequest and Sonoma to the traveling arm of the Ann Arbor Fest to The Animation Show, I saw a lot of movies that would normally fly beneath the radar. Here are the gems of those viewings, well worth your time in tracking down.
10) Bitter Jester by Maija Di Giorgio- This was an awesome documentary about a stand-up comic who was on the verge of huge success when she had an on-stage meltdown. They don't show the breakdown, but supposedly she was tossing obscenities at the audience and not in a funny way. As a part of her therapy, Di Giorgio documented her attempt to get back into the business.
There are some great interviews with big name comedy stars like Richard Belzer, Phyllis Diller, George Carlin, and a depressing view of the world that Richard Pryor is forced to live in. The real stars are Maija and her crew, and especially her boyfriend / aspiring stand-up / maniac Kenny, who may be the most frightening man on Earth.
9) I Was a Mathlete Until I Met Margo Maris by Joe Denk- A fantastic short film that falls somewhere between Growing Pains and Freaks and Geeks. It was a punk rock love story in one breath, a sad tale of the alienation for the D+D set the next. It moved so well between the two, I was blown away.
8) Have You Seen This Man? By Anna Boden and Ryan Fleck- A Documentary Short that kicked my ass around the room. A New York City artist starts putting up signs about selling individual crackers, pencil erasers, whatever, all as a way to…well, I'm still not sure. This is funny, fast, smart and easily the best piece of art philosophy that I've ever seen on film.
7) Welcome to the Neighborhood by Gay Walch and Kurt Inderbitzin. It got my best drama of Cinequest tip, and it was a great film. The music by The Good alone is enough to get my attention, but the stories that it featured and the way it flowed earns it a top ten of the year vote.
6) Confessions of a Burning Man by Un Su Lee and Paul Barnett- A great documentary on Burning Man. You can read my review here. (And Garcia gets a bonus for earning Fanboy Planet its first moment in the quote whore spotlight, as newspaper ads feature us.)
5) Nutria by Ted Gessing- I saw this for the first time at the Ann Arbor Film Festival. This is what a documentary should do: entertain, inform, and ultimate, make you smile. It's hilarious at times as we watch people who love, hate, or cook these little Louisiana critters talk about why they are so cool, evil, or tasty.
4) The Backyard by Paul Hough- Read the review, buy the DVD!
3) Vampires Anonymous by Michael Keller- A fanboy movie if there ever was one. You can read my review here.
ah...the fabled Tiger Mask...

2) Mr. Rookie by Satoshi Isaka- Baseball movies are all the same: everything hinges on that final batter who the pitcher has never been able to strike out. Well, this one isn't much different, except that it's Japanese and the pitcher is Mr. Rookie, a masked player for the Hashin Tigers. It's a great story of a man stretched thin trying to do his regular office job and be the Japanese League's star reliever. There is great comedy and wonderful familial relations and this one would be nice to see in a US Video release.

1) Making Arrangements by Melissa Scaramucci- My roommate really wants me to get this on tape for the house. A great comedy that takes place in a flower shop. Few films make me laugh as much as I did on the first Cinequest screening of Making Arrangements. You can read my review here.