Christopher J. Garcia's
Top Ten Documentaries of 2004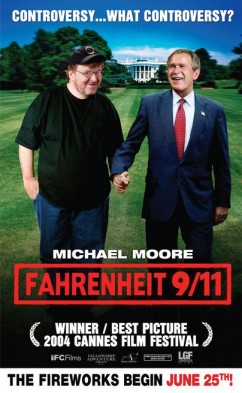 Let the healing begin.

So, it turns out that I've been ahead of the pack for a good long time. I'm a Documentary nut, always have been, and this year, for the first time in ages, the doc has finally come around to being a profitable venture.

Multiplexes were showing Super-Size Me and Fahrenheit 9/11 and making good money with them. There were a half-dozen others that got wide releases, including films like Michael Moore Hates America, Mayor of the Sunset Strip, and Metallica: Some Kind of Monster. A solid crop this year, and I managed to see more than ever at festivals and on video. Here, for Fanboy Planet readers, are the top docs of 2004, regardless of length. Admittedly, I missed a few really important ones (The Wild Parrots of Telegraph Hill, Super-Size Me, I Am To Bring You To Tears), but I saw about 50 and these are the tops of the pops.

10) Birdlings Two by Davina Pardo- It debuted at the Toronto Film Festival. It's a story of a dad and his filmmaker daughter. Well, it's not that simple. It's got a very 1969 thing goin' on, with use of an ancient computer animated film called Birdlings and all sorts of father-daughter talk. It's rather experimental and it's great at only 5 minutes. Easily worth searching out and it'll be at Cinequest in March.

9) Fahrenheit 9/11 by Michael Moore- F911 is the same thing as Triumph of the Will, a very well done piece of propaganda. On the other hand, whether Michael Moore admits it or not, the whole point of rushing it to release like he did was to cost George Bush the election, which didn't happen. Leni's little doc did what it set out to do, but that's neither here nor there. I had a real problem at times with Moore's obvious reaches, definitely tailoring his content to prove his point more than documenting the reality of the situation. Still, as much as I dislike his politics, he does make an engaging movie.

8) Chickens in the City by Christie Herring- This is one of my new faves and a big reason why I am saying that the Bay Area is the heart of the current short doc-making scene. This is a look at people who keep chickens in the city of San Francisco. At ten minutes, they pack a lot into a short space and make it work. It's a great little doc in a year when there have been a lot of great docs of all sizes. Highly recommended.

7) One Man Show: A Musical Documentary by Ira Rosenzweig- A great doc that was a highlight of Cinequest. One Man Show brought us the story of John Falcon, a genius who won forty-five million in the New York Lottery, but even if he hadn't, he'd have been worth a doc. He had done so many interesting things, including briefly running a greeting card company and putting on a one man show. Perhaps the highlight of the film was his mother, who really made me smile.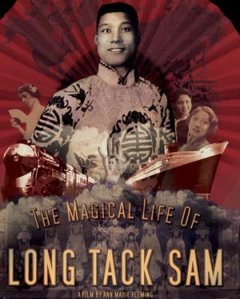 Michael Moore may hate America, but Sam didn't.

6) The Magical Life of Long Tack Sam by Ann Marie Fleming- This gorgeous combination of animation and traditional documentary styles worked so well for me that I had to see it twice during Cinequest and borrow the tape afterwards. Fleming's search for her great-grandfather is entertaining and shows how even a really famous guy can be lost to the march of time. You can read my full review here.

5) Long Gone by David Eberhardt and Jack Cahill- The most beautifully shot film I saw last year, Long Gone was one of the great films I caught at Sonoma Valley. You can read the review here.

4) The Last Zapatistas by Francesco Taboada Tabone. Man, what a story. A filmmaker set out to get the stories of the last remaining members of Zapata's army. He did it in the nick of time, as the interviewees were dying left and right, including one, the last remaining general who served under Zapata, who died on camera. A touching story and highly informative. If you like old people, this is the movie for you.

3) The Devil's Teeth by Roger Teich- The single best short doc I've ever seen. This year, interaction between man and animal was a big topic, and this story of a sea urchin diver who deals with Great White Sharks off of the Faralone Islands. There is some amazing underwater footage of Great White shot by the diver using a Hi-8 camera and no shark cage.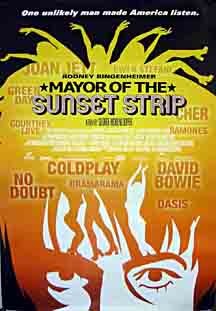 KROQ on!

2) Mayor of the Sunset Strip by George Hickenlooper- Oh yeah, a great doc about the Hollywood scene and the unlikeliest scenester, Rodney Bingenheimer. The music is great, the interviews are great, and seeing houses I recognized when they went to visit Rodney's childhood home of Mountain View, CA was sweet. Rodney is a character of excess, joy, solitude, inclusion, and sadness. If you'd written him as a character in a novel, it would never seem realistic.

1) Double Dare by Amanda Micheli- Wowwy wow-wow! This was an easy choice for me. The stories of Jeannie Epper and Zoe Bell are engaging and entertaining. The filmmakers followed my axiom: get a camera, find a subculture and shoot the hell out of it. Zoe's success with Kill Bill is a crowd pleasing moment that I think will hold me for the full year. You can read Jason Schachat's review here.