Cinequest 2004:
The Magical Life of Long Tack Sam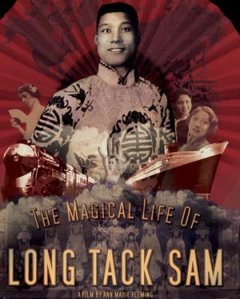 How much do you know about your great-grandfather? I only know that he was a hard working field hand who moved to Santa Cruz and promptly died. My great-grandfather wasn't a world-renowned magician, nor was he a globe-trotting Chinese man who traveled the world as an acrobat and taught magic to folks like Orson Welles and Laurel and Hardy.
Ann Marie Fleming's great-grandfather did, and she didn't seem to know much more about her ancestor than I did mine. The Magical Life of Long Tack Sam documents her world-wide travels to find out everything there is to know about one of the most important magicians and acrobats in history.
Born in China, Long Tack Sam began to study the art of necromancy from an early age. Either impressed with a touring magician or trained at whip's end by his brother, Long Tack Sam quickly became one of the best-known performers around the world. Touring from the US to Europe, back to China, then to Canada, Hong Kong, Austria, Australia and the US again, Long Tack Sam thrilled audiences with his show which incorporated traditional Chinese acrobatics with more western-style magic and singing.
Even more interesting than the tales of his act are the tales of his family. Sam married Poldi, an Austrian, after meeting her in a shop in the early years of the 1900s. The two had three children over the years, two of which became famous world-wide for performing in their father's shows.
There are interviews with Sam's children, grandchildren, and a few of his great-grandchildren. This group is shown, each of them with their profession attached to their name. Sam's descendants include musicians, a dentist, a filmmaker, dancers, and a bunch more. It becomes obvious that this is no ordinary family.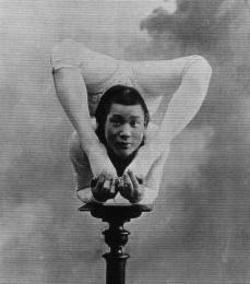 The strength of the film lies in two things: the fact that Fleming is an animator and that there was no accessible footage of Long Tack Sam's act. This allowed Fleming to reenact his show, and many events of Sam's life, by animating still photos. At worst, this technique can produce results similar to those that Terry Gilliam used in old Monty Python bumpers. At best, you get a multi-layered feel as the makers of The Kid Stays in the Picture achieved. This certainly falls towards the latter, as even though you never saw Sam doing his signature stunts, you left the theatre being able to describe them perfectly. It works particularly well when illustrating the classic needle trick, a trick that had been Sam's trademark that was eventually stolen from him by Houdini. There is also traditional animation, which works wonderfully to move the story along.
The film examines the origins of the Long Tack Sam mythos in a series of comic book styled scenes. There are three different versions of the story, all of which seem to come from reliable sources. The visual impression they leave is fantastic, and Ann Marie even had a comic book produced for the film which tells the most realistic story.
There is a slight problem with the focus. It's either a film about her travels to find her great-grandfather's story, or it's her great-grandfather's story. It's not always clear. Even with those problems, the style and the visual impact is enough to bring Long Tack Sam to a level that few documentaries achieve in the area of audience appreciation.