Daniel Cooney Talks The Tommy Gun Dolls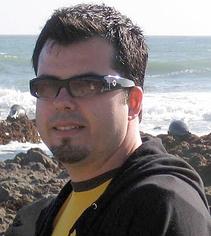 A few weeks ago, we ran a story on the Kickstarter campaign for a book called The Tommy Gun Dolls. As of this publication, there are a few hours left in the campaign, though it reached full funding within its first week. You still have time to be part of the book's launch!
Intrigued by the premise, and as a fan of creator Daniel Cooney's work, we had to reach out and get a little more information. Daniel took some time over the weekend to answer our questions.
Derek McCaw: First, tell me a bit about the story.
Daniel Cooney: It's a murder mystery set in San Francisco during the 1920s that centers around a group of burlesque performers in a mob owned speakeasy called The Frisky Devil and a cross-dressing grifter who goes by Frankie Broadstreet. They rally together to find the person or persons responsible for their friend's murder while on the run from the mob, corrupt cops, socialites, bootleggers and more.
Derek McCaw: Something about this project has obviously struck a chord, as you met your Kickstarter goal fairly quickly -- what do you think it is?
Daniel Cooney: I think it's a unique story that's a different genre from super heroes and people seem to really gravitate towards the idea of it. It also was a modest goal I set, focusing on just getting the book itself funded as well as shipping and rewards to the backers for their support.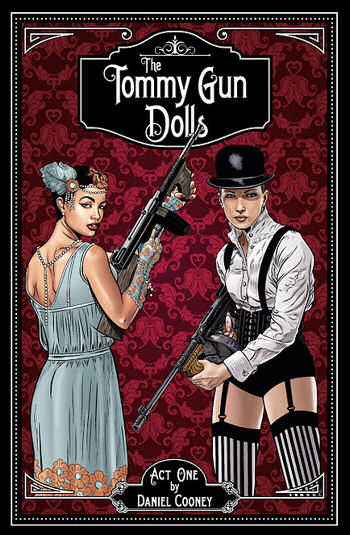 This campaign was about getting the book funded and delivering in just a few months from now. Often times, I see campaigns with too many promises that take time away from the book itself and I wanted to avoid that. There are a couple of rewards for portrait, full figure and background characters, but nothing that slows down production of finishing the book itself.
Derek McCaw: You've mentioned in press releases that it's inspired by a true story -- so what was it that caught YOUR attention?
Daniel Cooney: It was the main character, Frankie Broadstreet. She's based off a woman from the gold rush days named Jean Bonnet, an unusual woman liked to wear men's clothes and catch frogs to sell to the Bay Area's French restaurants.
She got into an altercation with a pimp defending a prostitute she befriended and she along with some of the other prostitutes, made off with his money and became the first female gang in San Francisco.
That story alone is worth a graphic novel to do someday, but I always wanted to do one set during the Roaring Twenties.
Derek McCaw: As you're telling the story, were there any moments from the real-life inspiration that made you stop and say, "no, that's TOO crazy"?
Daniel Cooney: (laughs) Yes!
Given the context of the story and the vocation of the characters, there were some scenes that felt a bit gratuitous, but my process during the development is to take your ideas as far as you can go and then go back to edit each scene making sure the content is relevant to the characters and the story itself.

Derek McCaw: Which characters have you enjoyed writing the most?
Daniel Cooney: Probably the two leading ladies, Frankie Broadstreet and Poppy Harlow. They both want to find their friend's murderer but for different reasons and there's tension between them both.
Poppy is a burlesque performer and in the nature of burlesque itself, you have to have a few laughs thrown in. It will be interesting to see how the readers respond to them.
Derek McCaw: You've mentioned this is volume one of a trilogy -- do you have any kind of timeline for when you'd like the whole thing to be complete and available?
Daniel Cooney: Yes, with Act One releasing this fall, followed by Act Two in the Spring and the story concludes in the fall of 2016.
I've worked very hard to clear my schedule from freelance and limit the number of commissions in order to deliver this story to the readers within the next year.
I'm excited to share it with and look forward to promoting it this fall at various conventions, book retailers and libraries. After all, it's a nod to the old pulp stories with a noir twist in historical fiction.
We thank Daniel for taking the time to answer our questions. You can find updated information about Daniel's work at cooneyart.com, where you can also find his convention schedule -- which does include San Diego Comic-Con in Booth 5530!.
Let us know what you think, via email, Facebook, or Twitter @FanboyPlanet.