Kickstart The Tommy Gun Dolls

Normally this is Ric's area -- and some of what he looks for in his Fanboy on Kickstarter column is based as much on the way it's presented as it is its content. I can't judge the presentation yet -- I only know that on May 1st I'm going to check this out because I like Daniel Cooney's work, and this project seems interesting to me.
Aside from being a solid creator, Daniel has been dedicated to arts education and an almost tireless presence at conventions. Perhaps he's best known for Valentine, an espionage thriller featuring a tough as nails heroine that you should be giving a look to, too.
We have a couple of mutual friends, and usually say hello when we're at the same convention, so I saw a little of this artwork a month or so ago and got really interested in this book. Take a look at some sample pages that Daniel has posted online, and be ready to check out the campaign on Friday.
Frankie Broadstreet, a cross-dressing grifter leads a pack of bawdy burlesque girls to avenge the murder of their friend in the jazz era of the roaring 20's.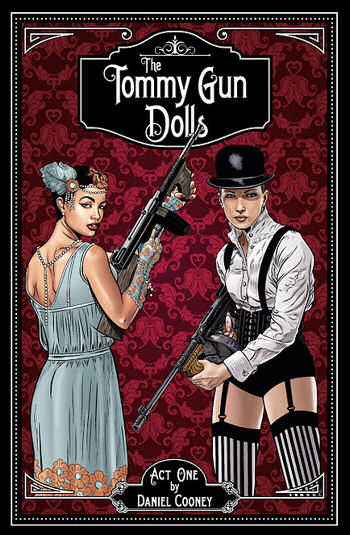 Inspired by a true story of San Francisco's dark underworld, a group of Prohibition-era burlesque dancers pursue their friend's murder by posing as masked bandits and knocking over the Mob's speakeasies. The Tommy Gun Dolls is a sordid tale told in the classic Noir tradition, with roots in San Francisco's historic Nob Hill Mansions of society's elite class to the seedy gang-filled streets of Chinatown, through the Tenderloin and neighboring North Beach.
According to author and illustrator Daniel Cooney, "I don't want to reveal too much of the story surrounding Frankie and the girls, but in the spirit of noir, there are surprises and twists throughout this highly volatile tale of masked maidens, murder, mayhem and bathtub gin."
Taking visual inspiration from illustrators such as Russell Patterson, Ethel Hays and Faith Burrows, who popularized the look and lifestyle of the 1920's flapper, and the writings of F. Scott Fitzgerald and Dashiell Hammett, Cooney crafts a tale of mystery and suspense at The Frisky Devil speakeasy.
You can back The Tommy Gun Dolls starting Friday -- check back for an updated link -- and see Daniel in person at Comic-Con International in San Diego starting July 9!