Platinum Studios Gets The Cow!
Top Cow, That Is...For Movies & TV
posted 7/21/2004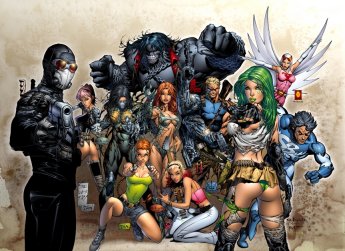 Well, they probably can't do Tomb Raider, though they'd probably do it better...

The Hollywood Reporter broke the news today that Top Cow Studios, the San Diego-based comic book company run by Marc Silvestri, will now be in business with Platinum Studios, headed by Scott Mitchell Rosenberg.

To comics fans, this is a pretty significant announcement. Though Top Cow has done a fair job of getting some of their properties placed with Hollywood studios, such as Fathom, Wanted and Rising Stars, Top Cow president Matt Hawkins thought that since the studio had a long history with Platinum, they should let Rosenberg's company do what it has been doing best for several years.

Silvestri and Rosenberg first did business together when the founding members of Image split from Marvel. At the time, Rosenberg ran Malibu Comics and helped the boys get off the ground, before they found their own footing and Rosenberg eventually sold much of the Malibu assets to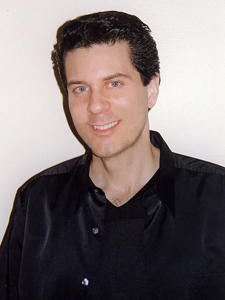 Scott Mitchell Rosenberg, who promises not to cast Jack Black as Jackie Escatado, no matter WHAT the focus groups say...

Marvel. Cleverly, he retained the rights to several projects, thus launching the Men In Black film franchise at Sony. In 1997, he formed Platinum Studios, a company devoted to turning comic books into film and television. Currently, they have Unique at Disney, Cowboys & Aliens at Sony, Nathan Never at Dreamworks and several other deals percolating.

And now with the Top Cow deal, Platinum Studios controls the film rights to a library that rivals the Marvel and DC properties. If you didn't register their name before, you will have to after today. Among those characters free for Platinum to use: Witchblade, The Darkness and Aphrodite IX. Though the Hollywood Reporter mentions Midnight Nation in their listing, it turns out that J. Michael Straczynski retains the complete film and television rights to everything he did under the Joe's Comics imprint. We apologize for assuming otherwise in an earlier posting of this article.

Expect a lot of activity around the Top Cow booth this weekend at Comic-Con -- it's no accident the Reporter broke this story today.

Now, Scott, how about that Prime movie that's been promised for so, sooooo long?