Two Over Ten Goes To The Movies...
Platinum Studios picks up Myatt Murphy's First Comics Work...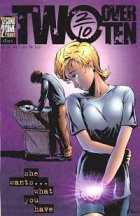 She wants what you have.
I just got an e-mail that perked me right up for two reasons. First, it came from Ian Feller, an acquaintance from CrossGen Comics who disappeared in that company's recent restructuring. He has resurfaced as a press liaison for Platinum Studios, the company led by Scott Mitchell Rosenberg that reps a lot of diverse comics properties in Hollywood, including Men In Black and Showtime's Jeremiah.
It's just good to hear Ian got a good job, but even better his first announcement is about another guy who showed Fanboy Planet kindness in its early days: Myatt Murphy.
Variety reports that Platinum has picked up characters from Myatt's first mini-series, Two Over Ten, done before Fade From Blue appeared on the scene. Adapting one character for a project called Unleashed, the story is described in Variety as "The Fugitive meets Firestarter, (following) a man with an uncontrollable affliction that causes things he touches to explode."
It looks like the actual mini-series will not be adapted. Rather, it established a concept for superpowers to run amok in the world and ended on an extremely open note. (Yes, recently Graphic Depictions columnist Rob Sparling gave it a less than glowing review, once again proving that the surest way for a project to reach success is for us to trash it.)
At any rate, we're very happy for Myatt's success, and look forward to our annual standing in the center of the convention floor conversation.