Sparks Is Coming!
Groundbreaking Indie Comic Book Becoming Indie Film!

From Indie Comic to Indie Film
At last it can be told...
Writer/Director/Independent Filmmaker/Man Who Never Sleeps Christopher Folino (Gamers) officially announces his latest film, Sparks!
Based on the superhero noir comic book series, also written by Folino with art by JM Ringuet, the film shot for 14 days in early January and is currently in post-production at Sideshow Productions.
Chase Williamson (John Dies At The End) stars as Ian Sparks, a super-powered young man with a dream that swiftly turns dark. In his quest to find justice, Sparks turns his back on the superhero life but finds that fate -- and evil -- has other plans for him.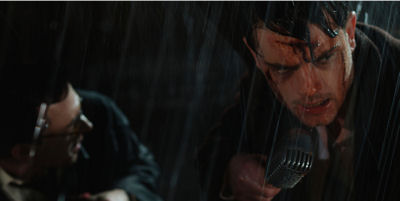 Chase Williamson brings the hapless hero to life.

Rising star Ashley Bell (The Last Exorcism) joins Williamson as The Lady, the mysterious and sexy super-heroine who holds Sparks' heart. But every good noir needs a woman with a shady past, and the Lady may end up haunting Sparks more than helping him.

Rounding out the cast are some fanboy favorites, including Jake Busey and Clint Howard. Two veterans of cult classics provide key roles: Clancy Brown (Buckaroo Banzai, Superman: the Animated Series, Carnivale) as the mysterious Archer and William Katt (The Greatest American Hero, Pippin, The Man From Earth) as the villainous Dr. Matanza.

No word on distribution yet, but the website for Sparks has just gone live, with a variety of stills from the film.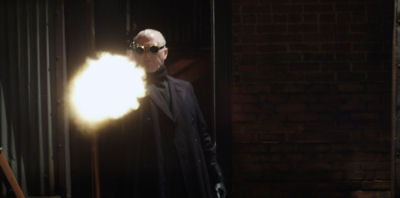 William Katt as the vilainous Dr. Matanza.
And yes, full disclosure: I edited the original comic book series with Folino, which prompted an invitation from him to spend a day on the shoot and get in an appearance as, appropriately enough, a reporter.
I'll be putting together a piece on the behind-the-scenes of the movie in a few days, but for now I'll say that there really is something thrilling about seeing actors bringing comic book panels to life -- especially panels you'd pored over again and again.
This isn't the first time Folino has adapted Sparks to a new medium -- almost immediately after paper publication, he launched Sparks as a motion comic for iTunes, months before the Big Two jumped on the bandwagon. Perhaps he's showing the way again, this time for creators to bring their personal visions to the screen without studio interference.
Check out coverage of Sparks' earlier incarnations here...