Comic-Con 2015:
Ash Vs. Evil Dead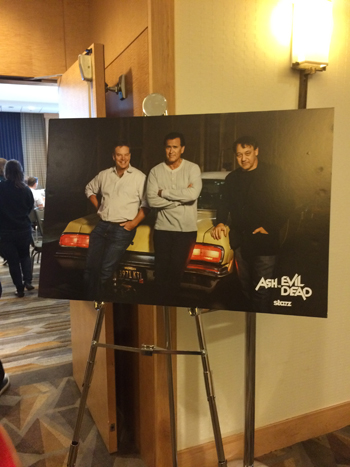 "So these are the famous roundtables..."
The voice cut through the steady chatter, instantly recognizable and bringing twenty or so writers to a second of awed silence.
Bruce Campbell had entered the room.
We were all gathered at the Hilton to talk with Campbell, executive producer Craig DiGregorio, actor Lucy Lawless, and the Raimi Brothers, Ivan and Sam, about STARZ' new series, Ash Vs. Evil Dead. At my table, a writer from Geek Nation mentioned this was the only event he was covering -- his excitement over this series was too great. And he gave us all a good look at his arm, tattooed with Campbell's face.
And when we looked over at Campbell, how could we not be fans? As he's well-dressed like a '60s bachelor with a hint of cad, it's hard not to think of his hilarious Old Spice commercials. Yes, there's a swagger to him, but it's good-natured and earned, a persona that he plays up and gives us a little insight into in conversation -- "my old man was in advertising." Campbell understands that he sells. With a smile on his face, he sits down and begins selling.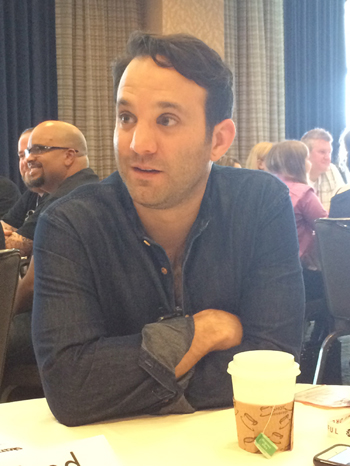 DiGregorio, whose had no little experience writing for "menchildren" in Workaholics, Drawn Together, and Chuck, called Ash Williams the first real character to commit to never growing up, to absolutely staying true to his youthful convictions. Of course, he's still living in a trailer and working in a superstore.
And though Campbell clearly still loves the character, he admitted he's a "pain in the ass" to play because of all the blood, mud, and strain of being in a horror film. Later Lawless told us that even as a young man filming Evil Dead, Campbell had a rough time of it.
But still, it is impressive that he and the Raimis can return to a character created more than thirty years ago. "We love Ash," said Ivan Raimi, the producer/writer, and brother Sam, the director/writer/editor, agreed.
No one thought Ash would have the cultural impact that he does, and while Sam Raimi marveled at all the cosplay at Comic-Con, he was even more floored that people dress up as the character he created with Campbell.
"We just wanted to make a movie good enough for the drive-ins," he mused about the original Evil Dead film.
"I walked out on it after five minutes," said Lawless when she sat at our table. But it clearly had a resonance, though more so after the second film in the series, Evil Dead II: Dead By Dawn, a more comedic take that set the tone for a franchise that up until now really has been just three films, but encompasses videogames, comics, and action figures before now about to conquer television.
"It's a sad commentary on our culture," joked Sam Raimi, who also would not confirm whether or not we should consider Evil Dead II a remake or a sequel -- though since almost exactly the same things happen in both films, it's probably the former. It's also better.
But it's a franchise long plagued by questions like that due to rights and ownership. Though many people hold the third film, Army of Darkness, in high regard, the series cannot reference it directly, because the Raimis don't own the rights to it. When Ash references his past in the series, it's officially only from Evil Dead II.
Though DiGregorio promised, "anything you would want to happen, can happen."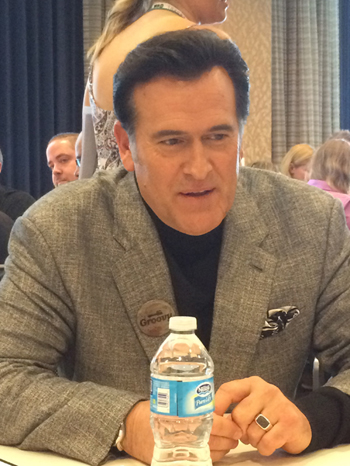 Ultimately everyone involved is excited about the show, and grateful to STARZ.
"We wouldn't be here without them," said Campbell sincerely.
As for why they came back, Campbell put it bluntly. "We had to give the fans what they want.," and he admitted that the more serious remake directed by Fede Alvarez wasn't quite it. (Though in the panel the day before, Raimi teased that he wanted to blend the two together, "but I should have asked Fede before I said it.")
What we want is something scary, but clever, and Campbell knows that, too. "Torture porn isn't scary; it's just shocking and disturbing," he said when asked about how the bar has been raised in the intervening years.
They all promise something more, and, obviously, they've learned a lot in the intervening years since they went out into that first cabin in the woods.
You can listen to the complete interviews on our podcast, and look forward to the first episode of Ash Vs. Evil Dead on STARZ on October 31. For more pictures of the hour, click here. And a special thanks to Dread Central for driving the conversation.
Ivan and Sam Raimi sorting out their identities...