Comic-Con 2012:
The Disney Store Gets Us Vinylmated!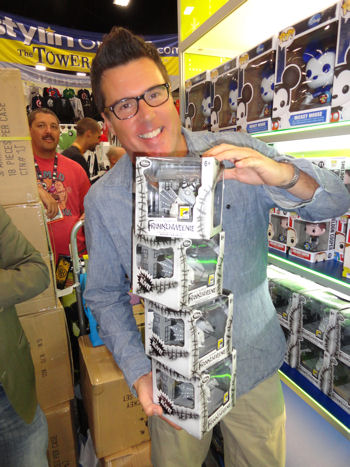 In hindsight, I feel taunted by John...
In the madness of Comic-Con, you always have the chance of stumbling across something new, even when you've noticed the booth for a few years. So it happened last year when the Disney Store decided to throw its weight over to the Funko Booth. Up until then for me it had been that place where "…oh, yeah, they have bobbleheads."
Then I talked to John Balen, the head of product at the Disney Store. Enthusiastic about his job, his passion for collectibles was infectious. Of course, we talked on the first night of Comic-Con in 2011. It's easy to be bubbling with energy on Preview Night. Surely this excitement would wane after thousands of people had passed by.
Nope.
This year I talked to John on Friday of the Con, and once again he had me sold on some things that I had no idea I would consider cool. The big piece – and I'll admit that I foolishly did not snag one for myself, was a Convention exclusive "Sparky" from the upcoming Disney/Tim Burton film Frankenweenie. Limited to 1,000 pieces, the vinyl collectible featured Sparky as "Sparkysaurus."
Oh, John said it was possible that left over product might be available online at the Disney Store. Really? Did they have anything left over from last year? With a sheepish grin, John admitted, "we did not, sir."
And no, when I went back after deciding that I had to have a Sparkysaurus (these things happen), they were sold out. These things happen.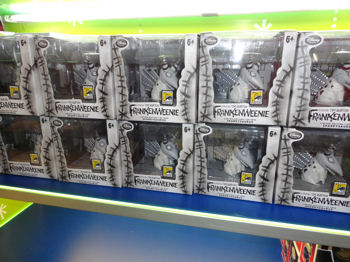 I was a FOOL!
So Funko might have made its name originally with bobbleheads, but through their partnership with Disney, they have hit upon an even more wild line of products that I see exploding everywhere – Vinylmation.
John explained that this year for the first time they premiered Vinylmation figures at Comic-Con.
Ordinarily exclusive to the Disney Store and the Parks, these vinyl collectibles vary in size from 3" to 9". Though a few side lines feature the shape of monorail cars, the majority of the Vinylmations are… well, let John enthuse: "It's a great Mickey form that we use for stylized art treatments and artistic expression."
This year they debuted exclusive 3" figures in a series called "So Tasty," based on foods you would find at a carnival… or perhaps at the back wall of a comic book convention?
Suddenly something clicked into place. I had seen people walking around with '50's style paper restaurant hats. That was for "So Tasty?"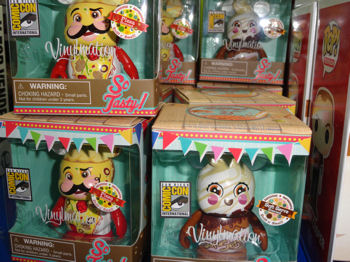 Pizza and Soft-Serve. Somehow very Disney..
John laughed, "Exactly! We've got some fantastic designs here that feature great carnival snack foods. We've released two a day, and the two today are the pizza and soft-serve ice cream. They're not only fun decorative collectibles, but they are scented to the flavor of their individual food."
Skeptically, I challenged, "But who opens the box, John? WHO OPENS THE BOX?"
(Okay, I admit that I got an Electro-Mickey last year and yes, I opened the box.)
He was quick on the defense. "You can (still) get a whiff." Then we laughed as he went on. "They're pretty fun and pretty amazing." (For a look at all eight, click here.)
If you've seen the Vinylmation figures, then you might notice that they don't always seem tied in to specific properties. Last year's line of Electro-Mickeys picked up ideas from fifties American science fiction movies, but also seemed as much influenced by Mexican luchadores. At the parks, there are lines related to specific rides. But where would you come up with something like "So Tasty?"
John answered, "It's really about artistic expression, not necessarily about commemoration and character art, although we do a lot of those and we loves those projects. But it can be anything. Some of our most successful are abstract art designs that tie into no particular franchise or property but really just look terrific. It is the Mickey Mouse form, so you've got that Mickey vehicle that tells the story of the artwork."
He went on, "For Comic-Con, we had so many ideas, such a burst of creativity. We actually (already) have a "So Tasty" line in stores and online, but I think the design team worked during lunch. I'm not sure. They created an additional eight style (just) to bring to Comic-Con."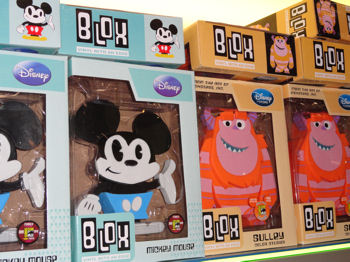 These are pretty cool.
Then he showed me new product that veered away from the standard round cuddly figure – I had already seen Pop! Vinyl, which Funko uses for a variety of licensees. But new was Blox, which reminded me a lot of something you might see around "It's a Small World." That's not a bad thing; I just mean that it's a throwback to stylized '60s art from Disney.
"We adopted it for Sully (from Monsters, Inc.). We did two color waves. They were actually rejected color waves from his early development. He could have been orange! He could have been green, before he became the blue and purple polka-dotted monster that we all love."
So yes, Pixar fans will know what this is and have to have it.
"Absolutely!" John laughs, then paused. "…if we have any left over, they could be available at the online store."
Try your luck, or find something else that you didn't know you needed. But once you see them, you get that feeling…