Comic-Con 2013:
Random Comics Finds
For Fanboys, one of the best parts of Comic-Con is poking around at publishers and tables and coming up with something new you've always wanted to try or maybe never even thought you would. Every year I come back home with at least one bag full of books, some given to me to try and some because I wanted to know -- is THIS the series that will get me hooked?
So as I'm recuperating and finding a few minutes here and there to work through this year's pile, I thought it might be good to remind readers that you can't have Comic-Con without comics, and I'll write shorter reviews to make it timelier. If I can, I'll link to these books on Amazon, but of course, if you live near a comics shop that might carry them, support THAT SHOP! (My recommendations in SoCal -- Earth-2 in Sherman Oaks and Northridge, and in Northern California, we of course recommend Illusive Comics & Games in Santa Clara.
Banshee: Origins
Publisher: IDW
writer: Jonathan Tropper
artist: Mike Henderson
Serving as a prequel to Cinemax's series Banshee, this graphic novel got special treatment from IDW. As in, it's a pretty solid book that they just handed out on the streets, mostly near the installation for Banshee the series outside the Omni. IDW's website does tout this as an expanded version from an online offering -- but really, I'm surprised they haven't tried putting it in stores.
You might think that if they were just giving it away, there must not be all that much to it. And there's where Cinemax had clearly learned from other studios' past mistakes. Usually TV prequel comics giveaways are short throwaways, a tease at best. But series co-creator Tropper gives us a solid backstory to the television show.
Never actually having watched the series, I can't know exactly what is being set-up, if there are foreshadowings to things that happened in the first season or whatever. But a good graphic novel should stand alone, and let the reader know everything they need to in order to enjoy the story.
What we get here is a well-told, if occasionally predictable, crime thriller. There are heists, there is the Ukrainian mob, and at least a few colorful and original spins on all the things you could call. It's tense and dark, with at least three characters I'd want to spend more time reading about. (I'll assume they're on the series -- or should be.)
It's also well-drawn by Henderson, who has a gritty style that reminded me a lot of Barry Kitson, though the inks feel darker and heavier.
Banshee: Origins is available through IDW's online store, and Comixology as a digital download only, though of course some copies might be available through eBay.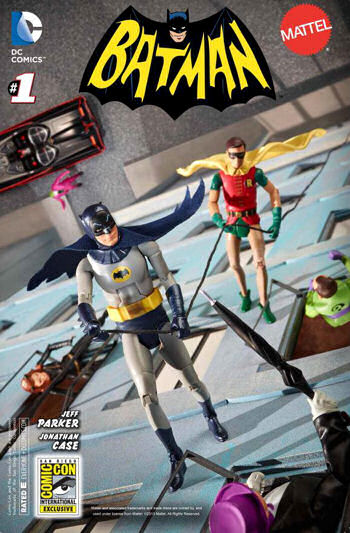 Batman '66 #1
Publisher: DC Comics
writer: Jeff Parker
artist: Jonathan Case
Another book that had been available digitally, Batman '66 #1 came out in print at both Comic-Con and in stores nationwide. But of course at the Con, we paid about $6 extra to get a copy with the new Mattel action figures on it. It was worth it.
Reading Jeff Parker's take on the 60s Batman series is like the ultimate TV reboot. Of course none of the original actors could transport to an alternate 2013 (sadly, many of them have passed away, not just aged). But this book feels like that's what happened.
Parker sets it on a bright sunny day in Gotham City, with millionaire Bruce Wayne and his ward Dick Grayson attending a city celebration in the park. The celebration takes a sinister turn when that quipping quisling The Riddler invades. Thus begins a madcap plot involving modern art, 3D printing, Catwoman (maybe) trying to go legit and, of course, Frank Gorshin's Riddler.
It's both out of time and not, which has been a specialty of Parker's mainstream comics career. Give him overdue credit for X-Men: First Class, one of the best titles Marvel produced in the aughts, updating yet still rooting the X-Men firmly in the sixties, and absolutely the reason Fox thought of their movie version. Then there was Agents of ATLAS, another sadly overlooked series using rather time-locked characters in Marvel's history. So DC has Parker at last and if this isn't the book he's been born to write, I want to personally thank him for taking the time to do it anyway!
Matching Parker perfectly is Jonathan Case, who doesn't just capture the likenesses of the actors but also their body language. Batman and Robin are stolid; The Riddler moves like Gorshin -- I stress again an actor who took the job absolutely seriously and thus made it the most memorable.
Okay, so maybe we don't get the DVDs just yet. In the meantime, DC Comics is giving us new episodes of a sort, and that will do. Oh, man, is it doing...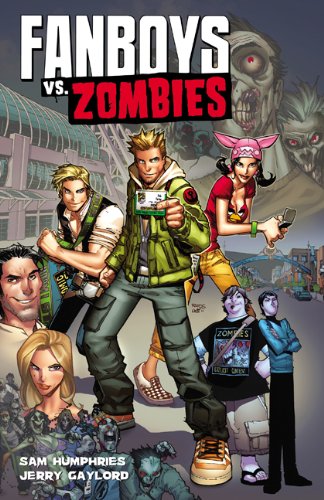 Fanboys vs. Zombies vol.1:
Wrecking Crew 4 Lyfe
Publisher: Boom! Studios
writer: Sam Humphries
artist: Jerry Gaylord
This is a series whose concept was so ripe, so ready, that it's hard to believe it took this long. I'll admit it, I had just started putting together my own take on this idea when Boom! announced this book a couple of years ago. So I pouted.
I'm sorry.
This book is a helluva lot of fun.
Because of course the zombie outbreak is going to happen at Comic-Con. No question. It might not exactly happen the way Sam Humphries suggests, but his macguffin involving energy drinks, tropical diseases and convention hall food seems more plausible than the bite of a Sumatran Rat Monkey.
And if you understand that reference, then of course you should be reading this book. Because it isn't just parodying zombie movies, but everything that we love (and yes, sometimes hate) about Comic-Con itself.
Though the zombies trapped in the Convention Center are flesh hungry, they still reflect on their original goals. So survivors wade through raving publicists asking not to blog this, while still other victims are trying to upload pictures of undead cosplayers. And there's one lone zombie trying to hand out his free comic... well, that sent Coke Zero through my nose.
Humphries has set up a crew of twenty-something fanboys, and though, yeah, I'm a little older than that demographic, they seem exaggeratedly believable in archetype. (Most are in better shape than my age was, but hey... it's a new world.)
These are kids that communicate in an argot of text-speak and movie references, and find it hard to talk about what's really going on in their heads emotionally. Naturally, a convention-based zombie apocalypse would be the time to break through that, except... there's no time! Luckily, they're also all steeped in the tropes of comics, horror and action movies, so they know what rules they're fighting by... and when no rules apply.
This trade paperback flies by, and that's not an insult. It's just a page-turner as the protagonists, drawn by Jerry Gaylord in a style reminiscent of designer Humberto Ramos, try to get to the roof. As I finished the first volume, I immediately regretted not going ahead and buying the second at the Boom! table. For one thing, I need to know if Comic Book Resources' head honcho gets out alive...
*May we suggest, of course, Illusive Comics & Games in San Jose or Earth-2 in Los Angeles?