Comic-Con 2005: Day 1
No Sex, Please, We're Fanboys...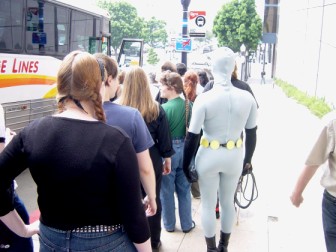 Just your average morning commute...

After a giddy night of updating and squelching the urge to shove a pillow down one's roommates snoring throat, the morning came too soon.

Far too soon.

Despite the huge attendance at Preview Night, today didn't seem much more crowded than this time last year. Though the floor did seem to have a lot more children than usual (and hey, that's okay), today turned up the noise, the heat and the flesh level.

Yes, we finally found some true booth babes. Of course, the awful thing about being a true fanboy is that they were actually more distracting than enticing.

We started out the day talking to Monty Mickelson at Sideshow Collectibles. They're a company that has one of the most dominating convention displays, but for good reason. For years, fans have known that they may pay a little more for a Sideshow product, but it will be worth it.

Monty informed us this morning that Lucasfilm knows it, too. After successfully producing a series of statues based on Star Wars characters, Sideshow entered into an agreement with Kenner and Lucasfilm to take over the creation of new 12-inch fully poseable action figures. Though, really, with the detail that Sideshow gets into their work, the stuff is almost too beautiful to play with.

After spending too much time drooling over dream items like a life-size Terminator (every house needs one), we moved on to wander the floor and see what swag could be found. Upper Deck wins my favorite give-away for Green Lantern t-shirts to promote their new Green Lantern Corps expansion deck for the Vs. System card game. I still don't quite get the game, but I love the shirt. It goes very well with the power rings DC has been handing out.

While Mish'al wandered in and out of some panels and hung with the 501st Legion, today turned out to be a good day for me to check out some of the independent stuff. I spoke to Sean O'Reilly of Arcana Studios, which has been getting some attention for their book Ant. Their catalogue runs a lot deeper than that, though, and we'll be exploring that a bit in weeks to come.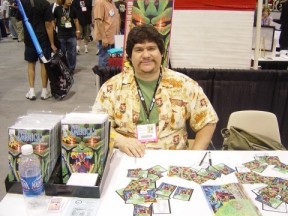 Clark Castillo offers a good book
that will let you feel good about buying it.

My wanderings also took me to the most socially conscious independent book launching at the Convention, Feed America's Children. This effort from writers Clark Castillo and Mel Smith leavens its important message with some decent superhero action and a little introspection, despite a blunt title. Set in a superhero universe already in progress, the book is far more assured than many independents out there.

Each page is drawn by a different artist or art team, and the talent contributing may surprise you. The proceeds go to food programs all across the West Coast. At the Convention, the book sells for $3; at a comic shop near you, it will retail for $4.99. If you are interested in picking this up and feeding hungry children, check out Wildcard Productions' table at N19. For more information, go to their website.

Attracted by the sight of die-cast metal Batmobiles that I'd wanted since I was a child, I learned that Corgi Toys is about to branch out into statues and metal figures. Later this year they will launch a line of figures based on Marvel characters, but they feel most confident about a property created and controlled by soft-spoken but enthusiastic Londoner Francis Lee -- so confident that they've put him and his Tales of Midnight front and center of their display. Francis eagerly shared his successes, which have led him to a huge global fanbase. Now he's set to conquer America, and why not start in San Diego?

One publisher that always catches my attention is Penny-Farthing Press, mainly because every book they produce ends up getting me hooked. Though you may not know them, they attract solid talent, from old-school giants like writer Len Wein and cover artist Jim Steranko to the up and coming Joshua Dysart. While working on Captain Gravity and the Power of the Vril, Dysart landed a gig on a little Vertigo book called Swamp Thing. If you stop by the booth at the Con, you can get the final issue of Captain Gravity a full two months before the rest of the country, as well as pick up all the great stuff you probably missed. Tell them Dave McGaw sent you.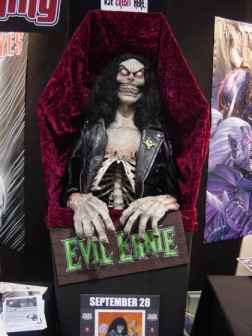 He has more lives than The Family Guy...

For the first time since Mish'al left the country (or was he pushed?), we made contact with Devil's Due Studios and met Josh Blaylock. In addition to a successful relaunch of the G.I. Joe franchise, Devil's Due has dipped a toe into superhero waters and will soon be reviving some of Chaos! Comics' key properties. Look for Untold in 2006, a tale of the early days of the Dracula legend. A Devil's Due rep would also like me to remind you that they are NOT Dreamwave.

No trip to the Con is complete without a journey up the street to Dick's, a restaurant where the wait staff all act like, well, jerks. True to the already strangely laid back atmosphere here this year, our lunch party was treated with mere incivility.

Mish'al and I hooked back up at Master Replicas, where I found the useless item I would most like to own for the year: a Rocketeer helmet replica. Alas, I did prove that my head is too big, something that should come as no shock.

As we spilled outside before the dreaded sweepers could be activated, we witnessed the spectacle that could end everybody being laid back: a Padres home game. Yes, every day of the Con, the local baseball team plays a home game at the fabulous Petco Park. Streets are blocked off, and we have to be wary of a confluence of sports fans and comic fans.

Thankfully, Kane and the Rock are coming to protect us.

Check out the bonus photo gallery!