Episode 13:Thunderbirds Are GO!

February 26, 2015
How Much Awesome Can You Pack into this British Nostalgia Gem?
Welcome back to Fanboy on Kickstarter, the column that tries to clue you into the can't-miss fanboy fantastic opportunities in the world of crowd sourcing. I only publish when I can find products that meet two simple criteria 1) I've actually invested in the project and 2) I think it's a unique, valuable, and inexpensive project for Fanboys to similarly fund. For more information, check out the archive!
It's been a while, we've all been busy, and... well, you know. But when I saw this latest Kickstarter offering I dropped everything and put this notice together for you. Because I care about you and don't want you to feel the incredible disappointment you'd no doubt feel if you missed it. You've got a while to get in on the project, but don't wait, do it now! (If it appeals to you of course. Really, I expect you'll love it but if you're going "Thunderbirds?" by this time, perhaps you should more carefully evaluate...)
Really, have you never experienced the awesomeness of the original Supermarination version of the Thunderbirds?
OK, now that you're initiated, lets get on to the game!
The Thunderbirds Co-operative Board Game by Matt Leacock
Funding Ends March 28, 2015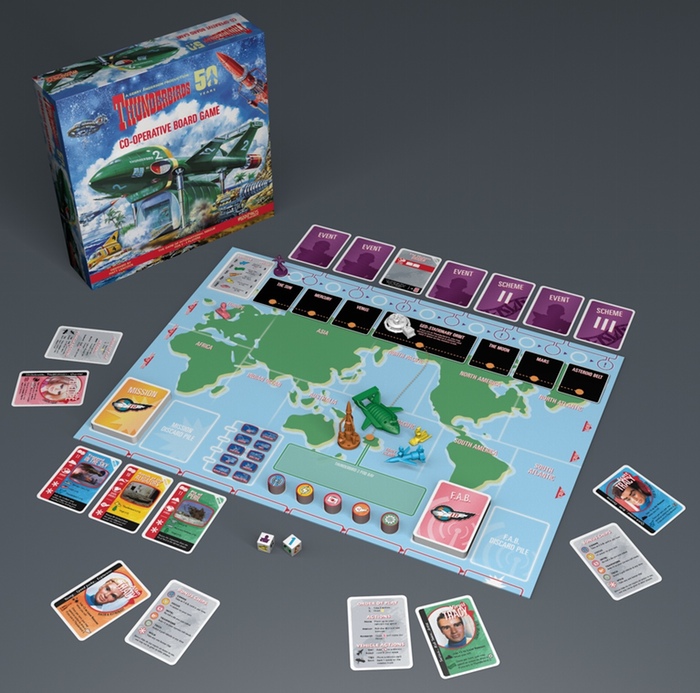 We love board games. One of the greatest, most influential games to be produced in the last decade has to be Matt Leacock's Pandemic, which really legitimized cooperative boardgaming. In Pandemic, players work together, moving about the globe, to fight and cure diseases before a fatal global pandemic can occur. Panedmic players should feel right at home with Thunderbirds, another cooperative game where International Rescue, AKA the members of the Tracy family, speed about the globe and space rescuing and preventing disasters.

This Kickstarter is already funded, and all we can say is look at those already unlocked stretch goals: extra disaster pack, Brains and Tracy Island, Parker and FAB 2, Tin Tin and Ladybird Jet, Pod Vehicles, Tracy Brother Pins, and several more that are easily in sight given this project's trajectory.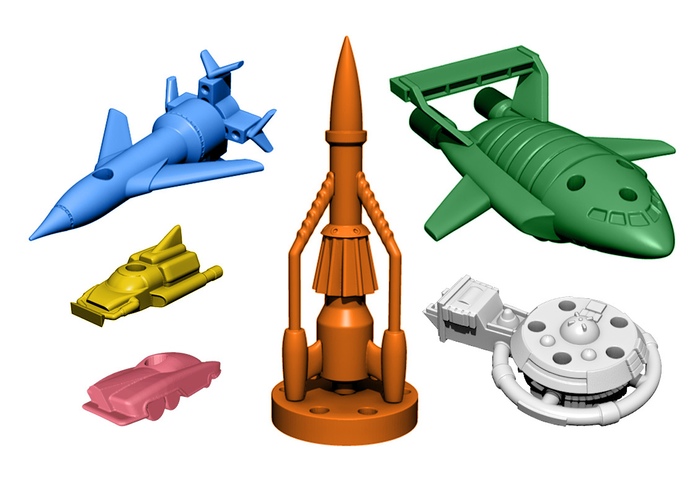 The game itself is beautiful and a bit nostalgic. The graphics harken back to the TV series as well, but the board and layout feel right at home with the simpler asthetics of boardgames of the 60's and 70's. Of course most of those games were simple "roll and move" but after watching several playthrough videos of game prototypes, this is far from the ages 5 and up kind of stuff that ruled media-connected games of fifty years ago. This looks amazing.
And if you're not a gamer per-say, but are so intrigued by the quality of these not-final plastic pices, you should be happy to hear that you can actually fund this game without the game, just for the plastic pieces in a number of add-on bundles. So yes, you can just grab the bits and play with them in your sandbox just like you used to as a kid. Or still do, we're not judging.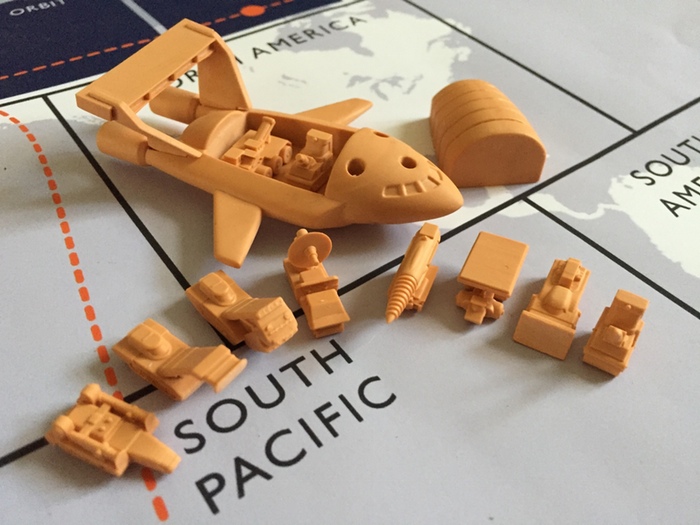 Yes, that picture above means that not only does funding get you the awesome Thunderbird 2, but an array of 'pods' to equip it for various rescue missions! Does it get any better than that? Of course it does, but let's let the team tell you all about it...
OK, now that we've sold you on that, let's look at the stats, because that's what we do here!
Name

The Thunderbirds Co-operative Board Game
by Matt Leacock

Summary

The Thunderbirds International Rescue experience all packed into one cooperative game with more figures than we really have a right to get.

Sweet Spot Donor Level

Pledge £40/$62 plus shipping the game and base game upgrades. (To be honest we're going for the £65/$99 level which includes expansions, but we'll admit that may be outside of the casual gamer/fan's budget.)

Funding Status

Totally blown past the £20,000 goal, currently sitting at £95,000 with 30 days to go. This will likely blow out all the existing stretch goals, so we may see more of those later (my prediction, not their promise).

Background

Chris Birch, Modiphus launched in 2012 and ran the hugely successful Achtung! Cthulhu Kickstarter in 2013 followed by the Mutant Chronicles Kickstarter in 2014.

Links

Kickstarter page
https://www.kickstarter.com/projects/modiphius/the-thunderbirds-co-operative-board-game-by-matt-l/description


So if you're a fan of Thunderbirds or Pandemic, you should definitely check this one out!
Thunderbirds are GO!
That's it for this episode. Again, send us your feedback and your own Kickstarter picks via the Fanboy Planet Facebook page!
Note: For simplicity's sake, these articles typically refer to delivery conditions and pricing within the US. Most Kickstarter projects handle world-wide delivery, which you can review on the individual project pages.