Episode 2: Pairs and Weird Crime Theatre
March 4th, 2014
Fanboy on Kickstarter, here we are again!
As we continue our Fanboy on Kickstarter articles, I renew my goal to clue you into some of the prime Kickstarter Fanboy opportunities. I scour Kickstarter for projects that will appeal to the Fanverse in the area of comics, games, media and gadgets. For more information, check out last week's column!
This week, we've got two mature Kickstarter projects to look at, both will fund within the next two weeks on March 14th and 17th, prime opportunities for you to jump on board if you're quick!
So let's take a look.
Pairs
Pairs is a quck and easy "Classic Pub Game" from veteran games designer and Cheapass Games founder James Earnest. A quick yet endless card game for 2 to 8 players:
| | | |
| --- | --- | --- |
| Name | | Pairs: A New Classic Pub Game |
| Summary | | This deck of cards and a playing surface is all you need to play Pairs. Played in rounds, players don't actually win other than avoid losing. |
| Sweet Spot Donor Level | | One Deck: $16 for your choice of multiple game designs ranging from fantasy to fruits. OK, if you can't decide, $10 more will get you two decks, and they look like they'll make great gifts. Similar price escallation includes more decks and even other games! |
| Funding Status | | Current funding at $100,000 of $12,000 goal. Closing in on ten times their of goal with ten days to go at the time of this writing. Stretch goals primarily unlock additional optional deck designs, accessories, media downloads and print and play games. |
| Background | | James Earnest, Founder and Designer of most of the Cheapass Games product is an accomplised and respected designer. This is his 4th Kickstarter project, all of which have been successful. |
| Links | | Kickstarter page http://www.kickstarter.com/projects/cheapassgames/pairs-a-new-classic-pub-game |
The short and sweet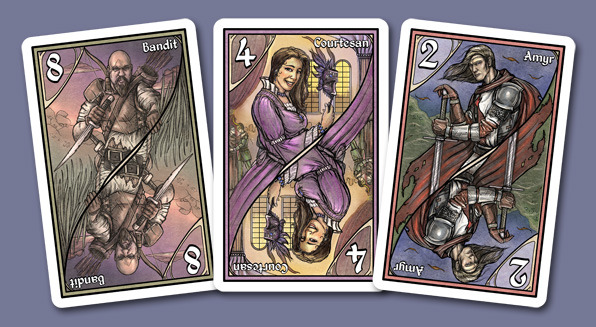 Pub games are typified by quick and easy to play rules, short games, and lots of people of steadily declining mental prowess. Pairs includes a wide number of players, from 2 to 8, and an ability to have people join and leave the game in progress. You can actually read the rules and play the beta (providing your mother let's you at the sharp sizzors) right now, so we'll avoid repeating all the specifics of play (you can easily read the two pages of rules in just a few minutes.)
Or we could let James teach you right here:
That deck design above is based on a the Kingkiller Chronicle trilogy by Patrick Rothfuss, which sounds just awesome. Check that out as well!

So the first two deck designs are decided, but more are a mystery that will be unlocked with further stretch goals crumbling.
Overall, looks like a great game, flexible, and for a variable number of players. You won't want to miss out here, so get your funding in before March 14, 2014!
Weird Crime Theatre 130 Page Giant!
Right up front, we'll point out that this is our first recommendation that hasn't already funded. They stand a good chance, but if you're interested you should jump on now and let your friends know they should too.
That's one good thing about Kickstarter though, it's easy to let your friends know to help a project you like be a success. For example, you can just send them the link to this article! In any case your risk is not high because if a Kickstarter project doesn't actually make it to it's funding goal you aren't out any money. That's right, no risk.
So let's look over the stats for Weird Crime Theatre.
Name

Weird Crime Theatre by Kumar Sivasubramanian

Summary

Sleazy office shmoe and 17-year-old schoolgirl barbarian vs. bigfoot, mummies, poets, blow-up dolls, robots, stoners, Glenn Miller, etc! Art looks great and the story mixes humor with an anime sensibility that... well, it's kind of complex.

Sweet Spot Donor Level

CONTEMPT OF COURT Level: 1. $10 Australian dollars which translates to about $9 US. Get the book in PDF form. 2. Your name will appear in the Special Thanks section of the book.

Funding Status

About 5,300 pledged of $8,500 goal, again in Australian dollars but that's not a big factor. The question is can they make a little over $3000 in funding over the next two weeks? As we said, you could help them at no risk to yourself. And, cool comic book to read on your computer or mobile device.

Background

Kumar Sivasubramanian (the writer) is an Indian-born Canadian currently living in Melbourne, Australia. He's written for Dark Horse Presents, and translated over eighty volumes of manga including such series as Blade of the Immortal, Summit of the Gods, and Knights of Sidonia.

Mulele Jarvis (the artist) has worked on Full Throttle stories in Dark Horse Presents and lettering on Trigun Anime Manga, Helsing, and Turok.

This is their first Kickstarter Project.

Links

Kickstarter page http://www.kickstarter.com/projects/464681193/weird-crime-theater-130-page-giant

The short and sweet
Why go for this? Because it looks cool and polished. Because it needs your help. Because, if you go for the higher level rewards (like actual printed books) they're sure to be short runs that might someday be collector's items. Let's check it out.
Our heroes. Granikos "Granny" Kinkade and Melissa the Conqueror

Yeah, that's actually Cerebus in the middle there!
Want to check out some pages? Here you go!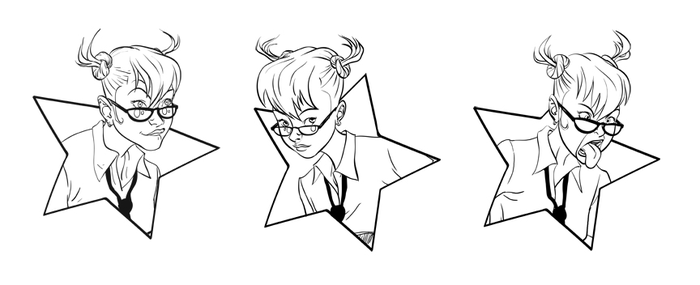 Sure to be a classic.
So, intriguing, slick, potential collector item, and no risk to you if they fail. WEIRD CRIME THEATER 130-PAGE GIANT!!! is your tip for this week. You're welcome.
That's it for this month. Again, send us your feedback and your own Kickstarter picks via the Fanboy Planet Facebook page!
Note: For simplicity's sake, these articles typically refer to delivery conditions and pricing within the US. Most Kickstarter projects handle world-wide delivery, which you can review on the individual project pages.