Journey To Arkham City...
Let's be honest -- in the history of Batman games, only one has really stood out as an amazing game experience that satisfied all levels of player, from erstwhile videogame editor Michael "Seen it, done it, already turned around and talked about it behind its back" Goodson to myself, Derek "the Lame Gamer" McCaw. Plus it drew in people who -- and I'm serious because I've heard a LOT of this -- just wanted to watch someone play the game.
That would of course be Warner Brothers' Interactive and Rocksteady Studios' Batman: Arkham Asylum.*
...which of course will be followed by a sequel. Before Arkham Asylum had been released, everyone knew this was going to be something special, and writer Paul Dini already knew what would happen next.
Warner and Rocksteady have released a new set of screen shots today to get us all worked up, and I've included a set they released a little while back just to make our experience as complete as possible. Reserve this game now, and pencil in a few possible days in each month that could possibly be covered by "Fall 2011," because it's pretty much all you're going to want to be doing when it comes out.
Click on the thumbnails to see the pics at full-size.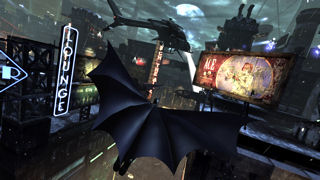 From Warner and Rocksteady:
Developed by Rocksteady Studios, Batman: Arkham City builds upon the intense, atmospheric foundation of Batman: Arkham Asylum, sending players soaring into Arkham City, the new maximum security "home" for all of Gotham City's thugs, gangsters and insane criminal masterminds. Set inside the heavily fortified walls of a sprawling district in the heart of Gotham City, this highly anticipated sequel introduces a brand-new story that draws together a new all-star cast of classic characters and murderous villains from the Batman universe, as well as a vast range of new and enhanced gameplay features to deliver the ultimate experience as the Dark Knight.
Batman: Arkham City will be available for the Xbox 360® video game and entertainment system from Microsoft, Games for Windows PC and the PlayStation®3 computer entertainment system in Fall 2011.
*Okay, Lego Batman came close, too...