PAX East 2010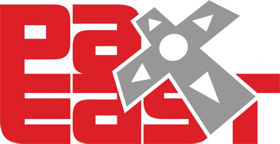 Ah, spring time. Time to emerge from the cocoon of winter, to step outside into the sun once more and enjoy the thawing of...

What? There's finally a massive gaming convention on the East Coast? Alright - back inside!

2010 will go down in history as the inaugural year of the Penny Arcade Expo (PAX) East. Held in historic Boston on March 26 - 28, PAX East 2010 was a gamer's paradise, showcasing some of the best of every gaming platform, electronic or otherwise. Much like the original PAX conference still held annually in Seattle (now referred to as PAX Prime), PAX East offered exclusive games demos, technology demos, developer panels, and more, and it was all targeted directly at gamers.
Unlike industry events such as E3 or the Game Developer's Conference, this one was for the great unwashed masses of gaming.
And boy did those masses turnout - the initial 50,000 passes sold out months earlier, and an estimated 60,000 people squeezed into the Hynes Convention Center in downtown Boston over the course of 3 incredible days.
So what did PAX East 2010 feature? The convention started off with a keynote from the artist formerly known as Wesley Crusher, geek god Will Wheaton, and comments from Penny Arcade founders Mike Krahulik and Jerry Holkins. Later that night, tech giant Nvidia officially took the wraps off it latest and greatest video cards, the GeForce GTX 480 and 470. Graphics nerds could finally breathe a sigh of relief, as the much hyped and much delayed cards, built on a brand new architecture, set new standards for image quality and speed.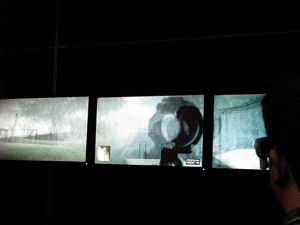 Of course, it wouldn't be an Nvidia announcement if they didn't hype their new 3D vision surround technology - it's not just playing games in 3D, but playing with multiple monitors to give you peripheral vision. While the technical constraints of a demo in a massive 3000 seat theater couldn't really do the 3D tech justice, after playing games with it on the show floor, I can say that I was truly impressed with the level of immersion that it added to the experience. Of course all of the other major hardware vendors were in the Expo Room as well, pushing their latest gaming technology.
Also on the Expo Floor - games! Unreleased games, new game demos, big name games, indie games, locally produced games - the sheer number was overwhelming and there was simply no way to play them all. There were huge booths from publishers such as 2K, Rockstar, Ubisoft, and EA. There was an impressive demo for Red Dead Redemption - think Grand Theft Auto in the Old West - as well as fully playable demos of highly anticipated titles like Skate 3, Splinter Cell: Conviction, and Prince of Persia: The Forgotten Sands.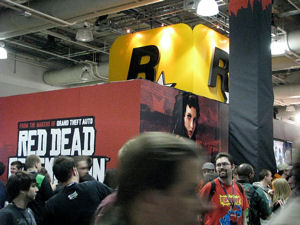 Perhaps even more impressive was the effort put into spotlighting the indie and local game designers that stand to benefit most from this kind of exposure. An entire area was set aside for the best independent games in the Boston scene, including the ridiculous (and ridiculously fun) AaaaaAAaaaAAAaaAAAAaAAAAA!!! -- A Reckless Disregard for Gravity.
Also spotlighted were some of the newest indie games created by small teams for download on the PC, Xbox Live Arcade or the Playstation network. Some of my favorites were Shank, Joe Danger, and Vampire Smile - a creative, gruesome, and totally kinetic beat'em up created by the one-man writing, art, and coding house Ska Studios.
If you wanted to give your thumbs a break there were dozens of informative panels where gamers could meet their favorite game designers and personalities, and learn about topics covering everything from how to design your own D&D adventures to the the social issues faced by gay gamers.
The panels in general were well put together, and my only complaint is that they were so popular that you usually had to line up an hour ahead of time to guarantee a seat. The popular G4TV show X-Play even filmed there, with a PAX East special set for broadcast April 1-2.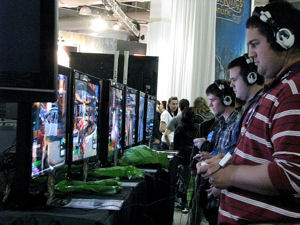 And in between all of this was a steady stream of PC and console gaming tournaments, the all-day free play rooms where you could borrow a PC or console and to play the latest and greatest games, the nerdcore concerts every night featuring acts like MC Frontalot and Jonathan Coulton, the classic arcade room, the Rock Band lounge, the handheld gaming lounge, and eight rooms dedicated strictly to tabletop gaming, all included for free with your convention pass. Even after three exhausting days, I still feel like I only scratched the surface of things to do.
Perhaps most importantly, I got to meet and discuss games with people who have the same level of passion that I have. I met people from all over the East Coast who made the trip to PAX East, and a number of others who came from as far away as (ironically) Seattle to share this experience. And, with Penny Arcade having already made the deal to return to Boston in 2011 and 2012 (and possibly 2013), the residents of the East Coast and beyond have plenty of gaming to look forward to in the future.
For more coverage of PAX East 2010, check back in to FanboyPlanet.com in the next few days for stories on the evolution of the world's most popular Superhero MMORPG, City of Heroes, a sneak peek at what's next in the Dead Space series, and the gaming rebirth (again) of Prince of Persia!