Lemony Snicket's A Series of Unfortunate Events

If you, gentle readers, want to read a review about an uplifting holiday movie sure to please audiences everywhere, this is not that review. You need to find an old article on Miracle on 34th Street. However, should your tastes run toward a literary adaptation that struggles to capture the spirit of its source material without being slavish to it, then you have come to the right place. The word slavish here means Harry Potter and the Sorcerer's Stone.

Instead, we speak of Lemony Snicket's A Series of Unfortunate Events, a film with a bold flavor. Director Brad Silberling (the word Silberling here meaning the director of Casper and husband of Judging Amy) and screenwriter Robert Gordon have condensed, cut and generally reshaped the first three books in Daniel Handler's series to mixed results. Though the film moves along at a brisk clip, it also reveals how episodic and, yes, though I can scarcely bring myself to type the word though I must, repetitive the novels are.

The characters barely have time to register here, other than the Baudelaire Orphans, whose story this is, and their nemesis Count Olaf (Jim Carrey). Even using three books, the plot plays out cyclically. The children meet a guardian figure (other than Olaf) willing to love them and be kind, even if they're quirky, and they shortly meet an ignominious fate at the clutching hands of Olaf.

True, they're broadly written anyway, more caricature than character in the first place. When Timothy Spall and Cedric the Entertainer pop in and out of the story, it's not jarring. But the children's guardians, Uncle Monty (Billy Connolly) and Aunt Josephine (Meryl Streep) only start to grab our attention before being cruelly, tragically ripped away by the evil Count's nefarious machinations. What takes a hundred pages in the books feels like only ten minutes on screen. The word nefarious means this is, after all, a star vehicle for Carrey.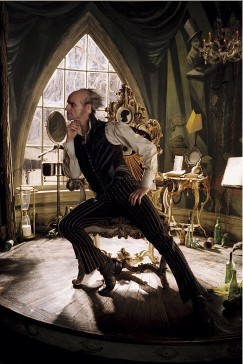 Yet the protean actor does not overpower the story, as he often has in other films. While Count Olaf is meant to be a terrible over-actor, Carrey takes a far subtler path than you might expect. In an early scene with his "acting troupe," Olaf goes wild, but Silberling wisely allows only brief glimpses, stolen glances as the Baudelaires ingeniously throw a dinner together from Olaf's horror of a kitchen.

Perhaps the element that would scare fans the most is the casting of the children. Have no fear, fans of Snicket, for Emily Browning, Liam Aiken and the Hoffman twins capture the tone of the characters perfectly. (I suspect, but can't prove, that the presence of the Hoffman twins also accounts for a surprising third act cameo.) Okay, so the baby is a little too precocious; she is in the books, too. Her dialogue has lost some of its wit in favor of out and out punchlines, a word meaning broad jokes to please the masses.

And please the masses it might. Silberling has to walk a fine line between the dark humor that children secretly love and somehow trying to hide it from the adults who may be shocked at just how macabre this story is. He and Gordon also have to try and translate a much-beloved and idiosyncratic sensibility to the screen, which for the most part, they succeed in doing.

Their opening sequence, for instance, is brilliant, as audiences accidentally stumble into a cheery animated film called The Littlest Elf, a character later given come-uppance in the real movie. Their reorganization of the plot, with one brilliant scheme of Olaf's of their own devising, also works very well to straddle the fine line of giving closure while still allowing for a franchise. The downside is that they also have to create a solution to the central mystery that the books haven't quite reached yet.

As you might guess, the production design also adds a lot to it, owing as much to Charles Addams and Edward Gorey as to the original illustrations of the book. Here again, the casting of Carrey is almost eerie, because there are moments when he looks like he could have stepped right out Brett Helquist's inkwell.

So Lemony Snicket's A Series Of Unfortunate Events does not make a bad beginning after all. But only the box office will tell if the series will go on.

Rating: