Harry Potter and the
Order of the Phoenix

Harry Potter has reached that awkward age. As hormones race through his body, he becomes surly and paranoid. For the first time, he learns that some of the trusted and pristine adults around him are just as human as he is. And boy, does he really want that Cho Chang.

Luckily for the summer, the franchise hasn't grown awkward. If anything, since Alfonso Cuaron showed us what could be done with Harry, it's grown stronger and more assured. Harry must be drinking a lot of milk.

Harry Potter and the Order of the Phoenix does take a pretty dark turn in both page and screen, but Rowling was headed there anyway in The Goblet of Fire. From the first moments, director David Yates imbues it with foreboding. On a bleak English playground, Harry (Daniel Radcliffe) gets the usual taunting from his cousin Dudley (Harry Melling). But this time, something's different, and when Harry loses his temper, the skies blacken and for the first time he and his cousin bond over mutual fear.

From there, Harry learns of the Order of the Phoenix, a secret society dedicated to combating Lord Voldemort. In the Wizard society at large, though, Harry has been branded a liar for claiming that the Dark One has returned. Ensuring that he and his friends - or perhaps an entire generation of Wizards - will be muzzled, the Ministry of Magic assigns Dolores Umbridge (Imelda Staunton) to keep a tight rein on things at Hogwarts.

Just because you're paranoid, Harry, doesn't mean they're out to get you. With these kinds of odds against him, it's easy to see why he'd forget the allies he actually has.

Relative newcomer Yates handles all this with flair that echoes the work of Cuaron but becomes its own project. Unlike the previous films, Yates takes the chance of juxtaposing the real world with the elements of magic, creating the most stirring of the flying scenes and making a strong comment on the ignorance of the normal world.

Yet his strengths really lie with the small moments, drawing some of the most believable scenes of the series - an underplayed confession of affection from Dumbledore (Michael Gambon), Harry's unconscious adaptations of Voldemort's (Ralph Fiennes) tics and the happy pink evil of Umbridge.

As Umbridge, Staunton nearly steals the film. Her bright smile covers a black heart even from herself. Earnestly destroying everything that Hogwarts stands for, bluntly considering Dumbledore's stewardship as "change for the sake of change," Umbridge may be even more chilling than Voldemort. Yates keeps her in bright pastels and surrounds her office with cat plates. As part of her efforts, she starts removing things like music and art, making sure that all the students can contemplate are their studies. Nice to know that in England as much as here, our culture focuses way too much on achievement testing and not enough on practical education.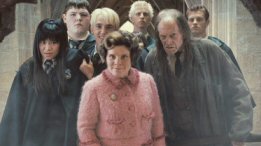 Staunton differs from J.K. Rowling's description in the novel, but that, too, is one of the strengths of this film. The producers have learned that their job should be to capture the spirit of Rowling's work, not slavishly follow the template of her novel. Again, Cuaron showed the way, but here Yates and screenwriter Michael Goldenberg really run with it without losing control.

They've pared the plot down to its bare bones, and it flies by, still retaining everything that's truly important. Without belaboring the issue, Yates and Goldenberg give us the tragedies and redemptions of students Neville Longbottom (Matthew Lewis) and newcomer Luna Lovegood (newcomer Evanna Lynch). They're the odd ones out, but they too have lost as much as Harry, so that when he trains in secret for a confrontation with Voldemort, we sense the urgency that these other characters join him.

Like Harry, we also get the sense that his treasured family myths aren't what he thought. Yates plants just enough seeds here to pick up again in The Half-Blood Prince, but not in a way that feels like a cliffhanger. Instead, subtle performances from Radcliffe and Alan Rickman capture the emotion in satisfying shorthand.

Once again, the producers lucked out years ago in their casting. Radcliffe has grown into a British Clark Kent, matched by Rupert Grint and Hermione Watson, indelibly becoming their characters. Surrounding them are some of the best actors alive, all willing to come back for brief moments here in their dedication to being part of this story. David Thewlis is almost in a blink and you miss him state here, yet the compassion of his character comes through.

The absences here make sense, too. After the first film, the ghosts of Hogwarts disappeared, but that has to happen in order for the darkness of the last films have weight. It's hard to feel real loss, from Cedric Diggory in The Goblet of Fire onward, if we know there's some way that death really isn't binding in the Wizarding world.

Harry Potter and the Order of the Phoenix stands pretty solidly. As a franchise, it just keeps getting better and better, even as it turns darker and darker. I don't know that there's a better metaphor for being a teenager.

Rating: