Anchorman:
The Legend of
Ron Burgundy

Journey back to a time before cable. There were far fewer than 57 channels, and we did not know that there was nothing on. If you remember living in such primitive times, when "…people believed everything they heard on television," then you know how much truth lies in Anchorman. For the rest of you, it may just seem goofy, and that's okay, because we like goofy.

Set in the early 1970's, the film has the look down pat. Bright polyesters carry the day, and if star Will Ferrell's perfect coif also has a synthetic look, it's intentional. News anchor Ron Burgundy savors his role as the most trusted man in San Diego, oblivious to the irony that he hardly knows what he's saying. In truth, he hardly knows anything. Though he loves his city, Ron labors under the impression that the name "San Diego" comes from the German, meaning something potentially unprintable.

It's a good time to be a man, and with his Action News Team, Ron enjoys his life. They've gone to the same party for fifteen years, he comments, and it never gets old. So why does his face crumble into his drink when he says it?

You know the way it goes, especially once Ron meets Veronica Corningstone (Christina Applegate). She serves as both his rival, trying to become the first woman anchor in America, and his one true love. He can't handle either.

The basic joke of the movie takes the concept of the boys' club that newsrooms (and many, many other places) were in those days and turns them into real boys. None of the team have any tools to deal with real emotion; even in their thirties, they still giggle insanely when you say "boobies." It's even doubtful that they have sex, though they're surrounded by willing women. The most roving reporter Brian Fantana (Paul Rudd) admits to is making out. It's no wonder that Ron returns every night to his swinging bachelor pad alone except for his best friend Baxter - "a tiny Buddha."

Once the film establishes its reality, it riffs wildly. Though Ferrell and Adam McKay wrote a script, director McKay obviously also let his cast improvise heavily. Even the scripted portions have a sense of the improv scene. If a pop song will carry the emotion, go ahead and sing it. (That also reminds us that the seventies had some really, really bad pop songs.) Throw in an animation sequence while you're at it. Anything and everything goes, but with a purpose.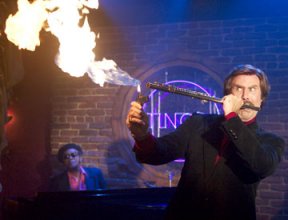 McKay's direction also betrays his improv roots, occasionally lingering on scenes just a bit longer than might be comfortable for audiences. But that's okay; if you don't like Ferrell's style of wringing every last bit out of a joke, you're not at this movie anyway.

Even if you're not a Ferrell fan, he's one of a group of comics that spreads the laughter around. Almost everybody gets a memorable moment, and often in opposition to their usual personas. For a change, Fred Willard plays a smart character. The dry style Rudd showed on Friends gives way to a swaggering innocence that plays well. Only David Koechner as sportscaster Champ Kind does a variation on his usual schtick - bad-dictioned motormouth - but since this is his highest profile (and best) movie role, only those of us who remember his year on SNL will care.

Though the role ends up being small, Steve Carell almost steals the movie. Playing the most ineffectual member of the Action News Team, weatherman Brick Tamland, Carell has a strangled delivery that makes the most out of every line.

Overall, Anchorman: The Legend of Ron Burgundy seems like it was a lot of fun to make. Thankfully, it's also a lot of fun to watch.

Rating: