Brokeback Mountain

Set against the rolling mountains and cloud strewn skies of Wyoming in 1963, Ang Lee's Brokeback Mountain depicts the budding relationship between a ranch hand and a rodeo cowboy who spend a summer tending sheep atop a mountain from which the title originates.

As reported to death in the media, Jack Twist (Jake Gyllenhaal) and Ennis Del Mar (Heath Ledger) fall in love with one another, igniting the screen with gay love that many believe the world is not ready for…yet.

For months, speculation has been building. With each trailer screened in theaters, chuckles and giggles were evident at the thought of Jake and Heath kissing one another, let alone falling in love. Unfortunately, this has become the story, trumping the fact that what has been unleashed into theaters is not just a testament to love, but also a tribute to humanity, longing, and remorse for losing the "one that got away."

Said pining has existed on screen for ages, the only difference is that this time it involves two men, instead of the more traditional, and conservatively acceptable, male-female combination.

This review isn't about political agenda pushing or pleas for tolerance, although one would hope an open mind would be easier to find these days. Instead, we must look at the merits of the film released, which underneath all of the hotbed discussion is something far more engaging and beautiful.

When introduced, Jack and Ennis are the picture of legendary cowfolk: quiet, stoic, and deeply contemplative. They embody everything we've come to expect from cowboy imagery, and when they take their places atop Brokeback Mountain, they engage in a two-man routine that is arduous and trying. One must pitch a pup tent nightly and sleep amongst the herd while the other maintains base camp, minding supplies and preparing meals.

The situation is rugged, but it is domestic in an oddly natural fashion. Jack takes to tending the herd initially, while Ennis prepares meals and orders supplies. As the days turn into weeks, these two slowly start to open up to one another over whiskey and a warm fire.

It is important to note that neither Jack nor Ennis are fully aware of what is growing between them. Their dependence on one another helps things along, but this is something far more endearing than mere camaraderie. When the bough finally breaks and Jack and Ennis finally succumb to desire, Ennis is the first to retreat into defense, insisting that what they share is a one-time thing, restricted to the sanctity of Brokeback Mountain.

A lesser film would have dwelled on this setup, being content focusing on the simple drama of a man who accepts this relationship, but fears ridicule and more should their love be exposed. Instead, Ang Lee's film dives deeper into the psyche of human melodrama, owing likely to the characterizations of Annie Prouxl's short story which served as inspiration for the film, and in turn taps into something so humanly universal that it transcends the boundaries of straight, gay and any other sexual preference.

Ennis and Jack go their separate ways following their stint on Brokeback, and each one dives into what they believe is best for one another. Ennis marries Alma Beers (Michelle Williams) and begins building a family in near desolation and poverty. Jack pursues his dreams of becoming a rodeo cowboy to little avail, and winds up ensnared by Texas rodeo darling, Lureen Newsome (Anne Hathaway).

As each man strives to do right by their respective others, the call of longing proves too strong for either to control, so they resort to frequent fishing trips in Wyoming, masking their romance and love for one another amongst the trees and streams of nature. Pointedly, Jack and Ennis cannot fully understand what is happening between them, and this lends to the idea that sometimes people just fit. It's difficult to find someone you click with, and when you are fortunate enough to the feeling of losing that special person is plaguing and haunting. Jack and Ennis found one another, but are torn apart from one another due to societal constraints.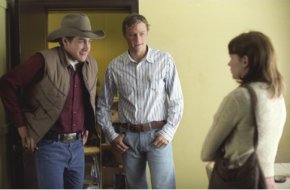 One aspect of the film that stands out amongst the longing is Ang's representation of wind in Wyoming, which billows and blows with a force that most of us West Coasters aren't accustomed to. Part metaphor for Jack and Ennis' relationship, the wind seemingly represents that which we cannot control, as Jack and Ennis each find themselves swept up in something they cannot explain, nor wish to.

Lee's portrayal of this doomed love is touching in a very humane way, moving to the core, and deeply affecting. Larry McMurty and Diana Ossana's screenplay makes sure to note the complications of this relationship from all angles, depicting the struggles of not only Jack and Ennis, but of the women in their lives as well. Ennis particularly becomes ensconced in troubled relationships with women, beginning with Alma, briefly with Cassie Cartwright (Linda Cardellini), and ultimately culminating in his ties to his eldest daughter, Alma Jr. (Kate Mara).

It's this detail that helps signify the importance and focus on human relationships, not merely the telling of a tale between to men who fall passionately, if fatedly, in love.

Rating: