Harold & Kumar
Escape From Guantanamo Bay

One wouldn't think to look to your typical stoner comedy for real social commentary, but for those of you who like a little thought with your guffaws, Harold & Kumar Escape from Guantanamo Bay may be the right mix for you.

Taking place only mintues after the end of the first movie, this sequel to the cult classicHarold & Kumar go to White Castle is a fun romp of a road movie with a lot of much needed societal lambasting. It's also got everything else you want in an R rated stoner flick: drugs, nudity and Neil Patrick Harris.

Harold & Kumar Escape from Guantanamo Bay (or H&K2) reunites middle class stoners Harold (The soon to be Sulu, John Cho) and Kumar (The college professor, huh, Kal Penn) as they decide to chase after Harold's recently realized sweetheart, Maria (The unquestionably hot Paula Garcés) who was on a path to stoner Shangri-La, Amsterdam. Unfortunately, this pair of bosom buddies can't get any trip right and after a paranoid geriatric passenger on a plane rats them out as terrorists, our heroes get sent to the pokey.

It's here they meet Agent Ron Fox (Semi-Pro's Rob Corddry) from the Department of Homeland security. Fox is a dimwit who surmises that the Korean Harold and the Indian Kumar are actually, "North Koreans and Al Qaeda, working together."

So like any other terroris…er… enemy combatants, he sends them to Guantanamo Bay. Its here where our heroes find themselves in yet another fine mess they need to get out of and the heat is on.

All you really need to know after that is that H&K2 is a fine sequel to the first film and, in the tradition of some of the best eighties comedies, continues the travels of a couple of watchable losers who make us laugh. The first H&K was a farcical frolic that bordered on being a cartoon. This sequel, however, moves into as much as a cartoon mode as it can without being animated by Disney. It's hilarious and over the top and to the untrained eye, it's as dumb as it is funny.

But what most might miss is the fact that like it's predecessor, H&K2 is a smart and playful commentary on social roles in America. In the first film, Harold and Kumar were two characters who, on first glance, were to be played as stereotypes for comic relief. They weren't the normal white guys going on a road trip, or the black guys throwing a house party, they were a Korean guy and an Indian dude about to get some White Castle Burgers. But more than that, it was just a guy and his friend, going on an adventure. It didn't matter what race they were, and that was the point.

In this film, more attention (some subtle, some obvious) is given to the different racial tendencies we Americans have. It points out stereotypes that some people still live by today and then shatters them, in a more realistic and much needed way. All the major ethnic and social groups are covered here, and the preconceptions that usually follow them around are skewered and slain.

That of course is a testament to writers/directors Jon Hurwitz and Hayden Schlossberg's fun and witty script that not only means to entertain but to make people aware that certain types of people may not be what they seem.

For example, Agent Fox is a way over the top caricature of a government official and is leading the investigation into H&K's terrorist accusations. Now if you were not hip to the spirit of the H&K movies, you might find yourself terribly offended by Agent Fox's interrogations. They're ignorant, they're extremely racist, and completely wrong and wouldn't exist in the real world, but it's under the guise of Fox's character that the writers can make the best points.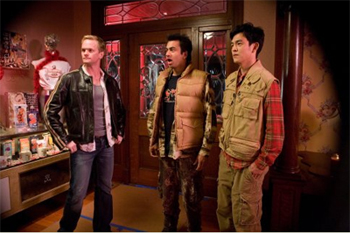 In the post 9-11 world, people's conceptions of the government, of foreigners, and even of each other have changed, and it's subtly illustrated here. However, by pointing out and exaggerating these misconceptions to the tenth degree, Hurwitz and Schlossberg, reveal just how silly misjudging someone might actually be.

Harold & Kumar 2 follows the same formula of the first film pretty much; however it provides a stronger plot rationale. The plot for H&K 2 is preposterous, yet it's the perfect vehicle for the story it wants to tell, all the while taking subliminal pot shots at all that is wrong with racism. Cho is strong as the straight man to Penn's troublesome sidekick and their chemistry is believable and real. There are also plenty of call backs to the first film to satisfy the loyal Harold and Kumar fans, as well as a lot of fun, new, raunchy laughs. Just be sure to stay after the credits for one last humongous laugh.

To talk any more of the film, would really give up too much of the fun parts of the story, but for fans of the franchise, this movie will satisfy. Non-fans may find some of the call back jokes confusing, but should have no problem enjoying this movie on its own. Harold & Kumar Escape from Guantanamo Bay is a fine achievement and addition to the Harold and Kumar mythology. It's hysterical and laugh out loud funny, and will definitely satisfy your comedy munchies.