Sparks
What happens when you take Watchmen, mix it with Sin City, and then throw in a little Casablanca for good measure? Hopefully something sparks. And in this particular case—you do indeed get Sparks—a noirish superhero film based on Christopher Folino's comic book series/graphic novel of the name (co-created by Greatest American Hero star William Katt).
Sparks tells the story of Ian Sparks (Chase Williamson, fresh off his cult hit John Dies at the End), a masked vigilante who discovers the very dark side to heroism. He becomes a mask-wearing crime fighter at a young age after losing his parents in a horrible car accident. While he has no actual super powers himself, he teams up with other costumed heroes he meets.
These heroes exist in a 1940s-era world where the existence of superheroes (called "supers") is normal. Most supers do not exhibit powers, although there are a few—heroes and villains—who do. The ones that do have powers were exposed to radiation some twenty years earlier by a meteor that crashed in Rochester, New York.
Ian teams up with sexy heroine Lady Heavenly (Ashley Bell, The Last Exorcism) and the two make a good team until the villain Matanza (William Katt) sets up a chain of events which spirals Sparks down a dark path of regret, loss of reputation, and self-destruction.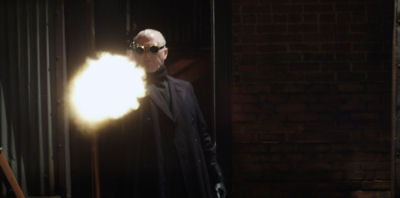 The film is a great accomplishment on many levels. Think about how daunting it is to make a big-budget superhero film that works both visually and structurally. Now try imagining making that same film with a very limited budget. Funded with credit cards. In twelve days. Co-directors Folino and Todd Burrows, working on a script by Folino, have pulled off something miraculous here.
Which isn't to say that the film is perfect. It's not. The story is at times a bit disjointed. There are sequences that took multiple viewings to fully grasp, a few involving a shape-shifter (or two) who shape-shifts into so many of the other characters that you're not sure which one in on screen. The Rochester 13 subplot, involving the survivors of the meteor crash, while interesting and intriguing, also tended to be confusing at times and took an extra viewing or two to fully comprehend.
Visually the film works—and yet doesn't. I am not a fan of green-screen technology and this film has a lot of scenes where the actors are obviously in front of a screen where fancy backgrounds (docks, city skylines, etc.) are digitally inserted behind them. I hated Star Wars Episode II: Attack of the Clones for using this exact technology.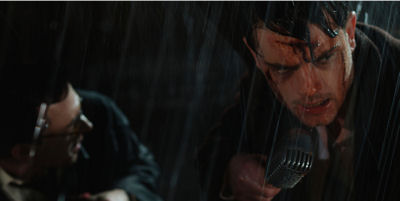 But to Sparks' credit, the same effect was achieved as Star Wars without having to spend hundreds of millions of dollars. This says as much about how good Sparks is as it does about how bad Star Wars Episode II is. In some ways Sparks get a pass because they achieved so much with so little.
The performances are all pretty strong. Williamson is good in the lead role. Bell is sexy and vulnerable. This might be the best Jake Busey performance (as Sledge) to date. The legendary Clancy Brown (Highlander, Shawshank Redemption) is once again fantastic as Archer, a cop with a connection to Sparks who later becomes his mentor.
Katt is creepy as Matanza, although I felt he was a bit underused. Katt was originally slated to play Archer until Brown came onboard, and he graciously took on the smaller part. I hope one day someone utilizes Katt's talents and he gets an opportunity to play larger and better parts as I truly miss seeing him onscreen.
One thing I cannot complain at all about is the film's music score, composed by Jacob Shea. It is top-notch and is equal to any big-budget Hollywood music score. Kudos to him and score mixer Daniel Kresco for delivering a musical soundtrack that elevates Sparks to another level.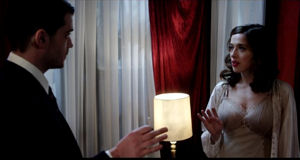 Sparks had successful film festival screenings both at the Cinequest Film Festival in San Jose, California and at the Omaha Film Festival in Omaha, Nebraska where it won best film in the OFF the Edge Category.
It has one more festival lined up—the Chicago Film Critics Festival where it will screen on Saturday April 13th at 7pm and Sunday April 14th at 2:30pm. Cast members William Katt, Ashley Bell, and Jake Busey will be in attendance and answering questions after the Saturday evening screening.
After that, the focus turns to distribution and getting Sparks a wide release. (and pay attention to Fanboy Planet for more news as it happens!)
Joe Vanourney is a freelance film and television writer. He has written for Comic Book Resources, Spinoff Online, We Are Movie Geeks, and Off to the Films.