Connie and Carla
So I bet you're wondering why, of all the movies that are out right now, why in the world would Fanboy Planet review Connie and Carla?
Well, the logical reason would be for David Duchovny, one of the co-stars. He's a well known actor from a realm that we're interested in, having played Mulder in The X-Files for so long. So anything he's in, we're a little interested in.
But to be honest, we needed a good dose of girl comedy and show tunes. And Connie and Carla provided both in decent amounts.
Written and starring Nia Vardalos of My Big Fat Greek Wedding fame, Connie (Vardalos) and Carla (played by the toothy but exuberant Toni Collette) are two Chicago girls looking for their big break in the dinner theater circuit, when they witness a mafia hit. Fearing for their lives, they make a break for the last place anyone would look for theater culture: Los Angeles. When they get there, they find their dream jobs, not to mention love, in a place they never would have thought it would be. They become drag queens, performing show tunes in a gay bar, and become the talk of the town. And that makes hiding a bit harder, and ends up getting them into trouble.
The story is actually three stories rolled into one, with one main storyline, and two smaller subplots. You'd think the mafia hit and subsequent hiding would be the main thread here, but it is actually quickly overpowered by the girls discovery of how much fun it is to double cross dress, and how good they are at it. A love story is also part and parcel to the plot, and interweaves with our transvestite tomboys in very humorous ways.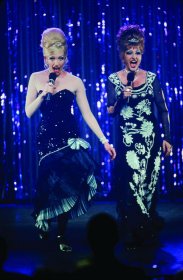 The story of "how do we keep the fact that we're women dressed as men dressed as woman" is by far the most entertaining and funny part of the movie, in part because of the "fabulous" way the girls start dressing. Their makeup and clothing are stunningly gaudy and their ploy for hiding the fact that their breasts are the real thing is quite funny. Watching Vardalos get fondled by a bunch of gay men to see how "real" her fake breasts is terribly funny, in a very wrong way. The few near misses for when their fellow drag queens almost find out that they're not really men are amusing, but a little overplayed.

The songs that they perform for their show are quite good though, and turns the movie into something like a short revue of some of the best Broadway musicals have to offer. Vardalos and Collette are both good singers, and they sing the numbers with a lot of joy, showing that they truly loved what they were doing, not to mention know what they're doing. There was a bit of dancing, and Collette shined at that, while Vardalos just managed to look stiff. Dancing isn't her specialty, I don't think. But the two of them pulled off ludicrous and glamorous with a great deal of humor, and I enjoyed it.

The mob hit is only really major in the beginning and end of the film, with occasional snippets speckled here and there to remind you that Connie and Carla are actually hiding while they belt out show tunes.

The love story is where our dear Mr. Duchovny gets involved, as Jeff the Romantic Interest. From the beginning when he makes his first appearance holding the door open for Connie, you know there's going to be something there later, and they actually have some chemistry together. It really gets entertaining when Connie starts dressing in drag, and realizing she's falling in love with Jeff, but having to maintain that she's a guy. It turns into a sort of male bonding, on a whole different level.

Overall, I found it to be a pretty fun movie, satisfyingly girly in its use of makeup, romance, and humor, and with enough show tunes to make Michael Goodson sing along happily. It's a bit stiff, and works too hard sometimes, but otherwise it's pretty fun afternoon popcorn fare.


Rating: