After the Sunset
I love a good heist movie. I love trying to figure out how the theft will occur, who is actually going to do it, and who's going to get screwed. And, surprisingly, After the Sunset manages to provide that mystery in a light, fluffy, sun-filled and skin-full manner.
Two of the world's most notorious jewel thieves, Max Burdett (Pierce Brosnan) and Lola Cirillo (Salma Hayek), have decided to retire, after their last big heist of the second of the three Napoleon Diamonds. They plan to live out their days on a beautiful Caribbean island, in the lap of luxury, with no distractions. But, as with most of the best laid plans, something goes wrong, as the biggest distraction of them all comes sailing into port, in the form of the third Napoleon Diamond, along with the FBI Agent Stan Lloyd (Woody Harrelson) who has been on their tails since their first heist, and this time is determined to catch them.
While not being the most daring or intricate of heist movies, After The Sunset still manages to make you cheer for the bad guys, while still wondering how exactly the heist is going to be pulled off, if it happens at all. There are even some points where you're left wondering who, exactly, is going to be pulling off the theft. Some great one liners dart throughout the whole movie, provided by every character.
Pierce Brosnan is at his scruffy best as Max, in yet another film where he forgets where the shaving cream is. But it is yet another film that will take him away from his 007 image (while also keeping away comparisons to The Tailor of Panama). While it isn't the cream of the crop, he embodies the role as fully as in any of his previous films. Max Burdett genuinely wants to retire, but temptation is as pervasive as ever, in the form of the only Napoleon diamond he hasn't held in his hot little hands.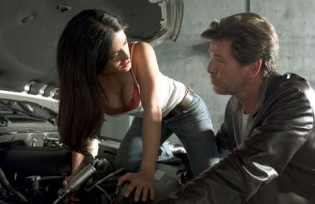 The skin-fullness of the film is provided by the curvaceous Salma Hayek, who seems very at home in the role of Lola. Lola just wants to settle down, and watch sunsets with Max, and wants to do it as a married couple; but that doesn't stop them from consummating their relationship as often as possible. She constantly asks about whether he's written his vows yet, and this little oversight of his turns into a much larger problem later on in the movie.

Woody Harrelson is delightfully comic as Agent Lloyd, who intends to catch Max at any cost. He's not a stooge, or incompetent; the only reason he can't seem to catch Max is that Max manages to stay one step ahead of him all the time. But this time, Agent Lloyd intends to keep Max in his sight at all times, and this leads to some delightfully comic exchanges between Brosnan and Harrelson. The two of them make a very odd couple, but their interactions are the focus, and truly the highlight, of the film for very good reason.

There are several other supporting characters, the most noticeable of which is the islands crime lord, Henré. I have to applaud the scriptwriters here, because Henré has some of the best lines of the film, describing criminal activities in ways that would make lawyers want to take notes.

Also, Naomie Harris is a strong police officer, trading barbs with the police chief (her ex-husband) and fending off the interests of Agent Lloyd. But her focus as a cop seems to stray quickly, and she seems to be there mostly to balance out Agent Lloyd against the partnership of Max and Lola. A very entertaining sequence involves the men talking to the opposite partner, Max to Sophie and Agent Lloyd to Lola, in an attempt to explain the other man's actions, so the ladies will forgive them.

Overall, this was a light and fluffy entry in to the heist category. Director Brett Ratner (Rush Hour 2, Red Dragon) does an adequate job of giving us a tropical vacation in November, with some major felony thrown in for fun. After the Sunset is an enjoyable film, but not something for the Movie Heist Hall of Fame.

Rating: