Dinner For Schmucks
The supposed idiots we see in Dinner for Schmucks are deemed so by corporate big-wigs who invite them to a lavish top-secret dinner, just to make fun of them. Real nice. It becomes quite obvious to anyone who's seen a movie or two (especially in the dumb schlub genre) that the real schmucks will eventually be revealed. Plenty of laughs come from the two leads here, but there's also a good amount of funny from a solid supporting cast (and some dead mice) that almost steals the show from them in this hilariously stupid yet somewhat uneven comedy.

The film follows Tim Conrad (Paul Rudd), an exasperated corporate executive looking to make that proverbial lateral move as he searches for some type of career significance. He finds his escape from cubicle gloom when a colleague who had the coveted "seventh floor " office is fired.
This is it! He must have this job no matter what (little does he know….) since he feels it will make life easier for him and his girlfriend Julie (Stephanie Szostak), who is busy running an L.A. art gallery. With the support of his fellow office lackey, Susana (Kristen Schaal, Trixie from Toy Story 3), Tim sets out to make a bold move at the next big meeting. Anything to get out of the office matrix and into a posh desk with a door and a window where he can elbow the ribs of the top brass.

Tim pitches an original idea amongst glaring corporate snobs named Davenport (P. J. Byrne) and Caldwell (Ron Livingston) and much to his surprise, the top boss, Lance Fender (Bruce Greenwood) actually hears him. Intrigued not only by Tim's courage but also his gumption, Fender calls him in for a post-meeting meeting.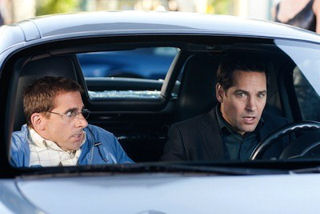 Fender informs Tim the impression he has made and that in order to ensure his place among their elite inner circle, he has to come to an exclusive, members-only dinner on Saturday. Sounds easy enough, maybe too easy. The catch is Tim has to bring a guest, not just anybody but the dimmest bulb he can find….for all to ridicule. These guests think they've been invited because they're extraordinary; instead, they're entrée getting roasted.

The fact that this doesn't go over well with Julie and that Tim knows the whole thing is just wrong should be an indication of how things are going to start unraveling for him. He should really just listen to that little voice in his head, stand his ground and back out of this dinner. He even tells Julie he will, that is until he runs (literally) into Barry Speck (Steve Carell) by accident which initially proves to be disastrous and eventually proves to be quite sobering. Sure enough, like pulling that lone dangling thread off your favorite sweater, anything that Tim once held dear is quickly in a pile of disarray.

It doesn't take long for Tim to find out that while he did indeed find a dim bulb in Barry, he also found a sweet, unassuming whirlwind of disaster capable of screwing up any moment in time. Barry gets along just fine on his own as an amateur taxidermist by night, working for the IRS by day, but interacting with others is entirely exhausting and hilarious to behold.

For Tim, meeting Barry is serendipitous. He sees Barry as the perfect candidate for Fender's collection of morons and once he showcases Barry in all his blind earnestness, well, he's sure to be the winner of the dinner. Plenty catastrophes befall Tim's world after meeting Barry yet as he gets to know his Saturday night date, the more he begins to regret accepting his dinner invite.

Dinner for Schmucks is both a remake and a reunion for its two leads who were previously together in, The 40 Year-Old Virgin and Anchorman: The Legend of Ron Burgundy, hilarious films each. Director Jay Roach (the Austin Powers and the Meet the Parents movies) has Americanized the 1999 French film, Le Dîner de Cons, or The Dinner Game, itself a black comedy based on a play. More broad than black and sweet than mean-spirited, this remake may not be as hilarious as those other films but there's a certain charm amid the absurdity of it all.

To be expected, Rudd and Carell are fantastic together, working off each other effortlessly. But this is Carell's movie all the way. He is a dead-on comic standout at every turn while Rudd phones in his usual well-meaning guy.

I was hoping to see something different from Rudd; instead he eases nicely into the role, trying to advance in both romance and career, while being kind of a douche along the way. On the flipside, Carell fully commits to a role that needs such convincing devotion in order to succeed.

Watching him portray Barry is a delight but it also reminded me that this character isn't far removed from people we know. Removed from society norms, Barry is the guy who continuously tries to help but the more he helps, the more he makes matters worse. It's hard to get too mad at guys like this when they really have no clue what they're doing but that doesn't make them any less annoying, or targets for ridicule.

As mentioned above, the two entertaining leads are surrounded by ample talent. Some may wear out their welcome as others deliver relentless comic chops but nevertheless they all contribute to a fun comic ride. It's no surprise that Zach Galifianakis is a comic dynamo as Barry's boss and rival, Therman Murch, but his mind-controlling powers are a riotous trip.

Then there's Darla (Lucy Punch), the nutjob stalker that Barry cluelessly brings back into Tim's life. Just like all these characters complicate Tim's life, Darla royally screws up a lunch meeting he has with a Swiss businessman (David Walliams) in one of many uncomfortably awkward scenes.

One comic standout is kinky performance artist Kieran (Jemaine Clement, from The Flight of the Conchords), a character who provokes laughs at first with such straight delivery but in the end resembles a low-rent Russell Brand.

Surrounded by these characters, Tim has no chance trying to make things right with Julie, let alone figure out what to do about the dinner. I didn't even know what to do about the dinner. It felt way too staged for laughs to me and since it was toward the end, I found myself hungry for dessert. One annoying blind dinner guest (I could swear he was played by Jason Segel and if he was, shame on him) came across as a grating sitcom reject. It was almost enough to make me lose my comic appetite.

As proved by his past work, Roach knows comedy but he could have pushed this one to the devilish edge instead of telling us to feel good for these morons. The sympathy Roach wants from us could have come more naturally instead we're taken on an uneven albeit gleeful ride of laughs and alarm.

Despite all this, he does compose what will potentially be one of the most adorable starts and finishes of any film so far this year. Roach delivers a very funny movie in which it is easy to find yourself laughing consistently throughout yet he tends to insert a bit too much saccharine as we make our way to a disappointing dinner.

(This review also appears on David's own website, Keeping It Reel.)