Christopher J. Garcia's
Best Science Fiction You Didn't See In 2004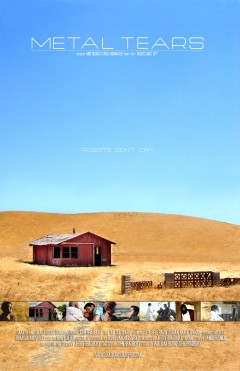 Touching science fiction without Robin Williams.

This year was a good one if you like science fiction. We got the director's cut of Donnie Darko, we're a year closer to the whole Star Wars thing being over for a good while, and The Life Aquatic with Steve Zissou. As far as Fantasy goes, you got great work like Lemony Snicket, another Harry Potter and a couple of strange little films in fests. As usual, the best science fiction and fantasy being made happened to come in either short form, on TV (Lost qualifies), or in the form of strange little festival films. Here, my loyal readers, is my personal top ten of little-seen science fiction and fantasy.

10) Apartment 206 by Gregory Zymet. What happens after a car crash kills two entirely different people? Apartment 206 posits that they both go to a small apartment with two TVs that allow them to watch in on the lives of the living while being trapped in a house with a constantly replenished supply of food and an endless expanse of darkness outside the door. This is a very good short that plays with some of the oldest forms of science fiction in a brilliant way. Check it out at http://www.apartment206.com/.

9) Metal Tears by Jerry Bradbury. Mike Resnick wrote a Hugo-nominated story called Robots Don't Cry. This 40 minute adaptation of that story displays solid storytelling here as we see a couple of salvage boys come across a service robot. I really liked this one the first time I saw and was more impressed when I watched it again. You can find out more here.

8) Timed Call by Matthew Macknamara. Where will failed dot-com-starters focus their attention on next? In this Australian short, the idea of making phone calls into the past is offered by a company, allowing a man to call his wife right before she's supposed to be murdered. It's emotional and very dark, but I really got into it. Possibly the best treatment of the subject I've ever seen outside of the pages of science fiction novels by the likes of Robert J. Sawyer and Robert Silverberg.

7) Parallel Parallel by Sean Becker. San Jose's own Sean Becker may be a genius. I'm not sure, but he's managed to make a few great little films including the brilliantly postmodern Dude, Where's My Scooter. Parallel Parallel was easily my favorite student short at Cinequest this year and it's well worth sniffing out.

6) The Big Empty by Steve Anderson. John Gries is in it, so it's gotta be good! One of the bigger surprises at the Sonoma Valley Film festival, you can read my review of it here.

5) Apotheosis by Janet Wondra. Another Cinequest 2004 film and one of the most haunting sound tracks of the year. Entirely whistling and I believe an upside down wastebasket for a drum, the short is a classic tale told in the old silent method. Great short about unrequited love and spontaneous human combustion. It's a fun little film made in 1998. You can read more here.

4) Madness and Genius by Ryan Eslinger. OK, not every science fiction film has to be all lasers and neutrinos. Madness and Genius is essentially a story about a professor and his unethically leveled student and their interactions about a theory of using sound to cure cancer and other stuff. It's incredibly subtle SF, and I'm betting the director wouldn't see it as Science Fiction at all. It's a cavernous film that has a haunting sense of emptiness to it. Plus, it's got Tom Noonan as the Prof, which gives it ties to Last Action Hero and Manhunter!

3) Danny Bot by Frank Lesser- OK, I've had others look at this and not enjoy it, but how could you not love a mournful version of Danny Boy sung to a Robot heading off to RoboWar? Probably the strangest short that will be in Cinequest 2005 in March, Danny Bot is hilarious and the Blog at www.dannybot.com is hilarious.

2) Broadcast 23 by Tom Putnam. Tom Putnam did a great short called Tom Hits His Head which showed at Cinequest 2003, and this follow up is even better. Having grown up on Leonard Nimoy's classic series In Search Of…, any tale that features a Sasquatch-like creature is holdin' aces, but this one is even better. Featuring great cinematography and even a moment of butt-Crisco-ing, Broadcast 23 is great fun.

1) Untitled 003: Embryo by Mike Goedecke. There should be a law saying that effects require a good story. Films like The Matrix can ride on effects alone, but when you combine a great story with amazing effects, you have an even bigger win. Embryo is one of those rare times when everything hits right. A great story of an agoraphobic who gets a package delivered that allows him to live his ultimate dream, but only for a price. Great story, a fun short that I could watch all day, a great lead actor, an appearance by Star Trek: Voyager's Ethan Phillips and the lovely Jennifer Barker all add up to a brilliant short. Read more at www.belief.com.