The Sonoma Valley Film Festival 2004:
The Best of Shorts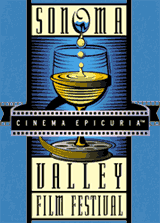 This year's crop of shorts at the Sonoma Valley Film Festival was outstanding. While smaller than most of the other shorts programs I am used to, but they made every short count. I should start by mentioning that I didn't get to see every short, as I missed the Student Shorts program, and missed a few of the ones that played before features, but these are the top of the crop as far as I am concerned.
The Spirit of Gravity by Victor Bellomo and David Pace
Photo manipulation in all its forms was big this year, and The Spirit of Gravity was one of the best. Essentially a music video, The Spirit of Gravity is an ecstatic piece of work, with Victor Bellomo singing the role of Friedrich Nietzsche in the song. It's got a very neo-1920s thing going on, and the animation is exuberant. How many times can you say that something inspired by Nietzsche is exuberant? Bellomo and photographer David Pace (who I once helped out on a photo shoot), both of whom grew up in Sunnyvale, CA, combine to make The Spirit of Gravity into a wonderful short. You can find more info at http://www.batnet.com/vbellomo/index.html.
Yin Yang by Adele Uddo
There has been a movement of short films that take traditional gender-based stereotypes and reverse them. It's a simple method, but when it's done right, it can be hilarious. Adele Uddo's Yin Yang does it almost exactly right and the result is an audience favorite. The lovely Adele sits watching Apocalypse Now (Redux, of course) while her would-be boyfriend and his compadre discuss the whole affair over chai. It's funny, brilliantly timed, and just a great little nine minutes.
Silencio Profundo by Gustavo Loza
Cuba is a very photogenic island. While we tend to see either the slums and standard communist dwellings or the beautiful seaside areas, we are seldom showed both. Silencio Profundo does both with cinematography that is almost as striking and heartbreaking as the story. A young boy tries to set out for America to find his father, who may be Robert DeNiro. On the trip, his best friend is lost at sea and the boy has to come to grips. Tragic, with fantastic performances all around. A fine international short.
Tahini and Tears by Shashwati Talukdar
Let's talk about weird for a moment. I would say the definition of weird is when a yoga instructor and her former student turned waitress end up obsessed with Victor Casablanca, a middle aged and Vespa crazy belly dancer at the restaurant, Tahini and Tears. The film was made in two weeks and written by playwright Olga Humphrey. Tahini and Tears is weird, fun, funny, and smart. Man, I wish I could be Victor Casablanca.
Dysenchanted by Terri Edda Miller
I first came across Dysenchanted while viewing shorts for the Cinequest Film Festival. It's an interesting concept: a bunch of faerie tale princess-types and one regular chick go to the same group therapy. Jim Belushi (Curly Sue, Destiny Turns on The Radio) plays the psychologist who helps them on their path. It's a star-studded short extravaganza, featuring Laura Kightlinger as Cinderella, Alexis Bledel as Goldilocks and Jamie Bergman (Son of the Beach) as Alice of Alice in Wonderland. Yeah, it's gimmicky, but it's funny. You can find a highly amusing website at www.dysenchanted.com.
Eternal Gaze by Sam Chen
Alberto Giacometti was an artist who did those statues that looked like elongated versions of Calista Flockhart. The work of Giacometti is sparse and effective, and a perfect subject for a short film. Sam Chen's 100% CGI Eternal Gaze is fantastic as art commentary and subtle fantasy. It's a great short, with beautiful animation and a wonderful score. As an art geek, I loved it. As a film nut, it was inspiring. As a computer nerd, I really wanted to know what programs he used. You can find out more at http://www.eternalgaze.com/.
And now, the Best of Fest
Best Music Video- The Fine Art of Poisoning by Bill Domonkos
This is easily one of the most Goth pieces ever to hit the silver screen. Ever type of animation you can name as employed to make this stunning piece of work. The music is Jill Tracy is as beautiful and haunting as the animation. The entire piece weaves together threads of Edward Gorey, Edgar Allen Poe, early twentieth century photography, and funeral music to form an amazing piece of cinema. I can't recommend this highly enough. For more, look at http://www.bdom.com/main/animation.html.
Best Drama- Tell Me Who Ruby Was by Carolyn Coal.
This is a piece of work, shot in beautiful black and white, that chronicles the final birthday dinner party of Ruby Wells, former child star. Paula Killen gets to play the tragic queen of the castle and is fantastic. Her performance is so dead on through Ruby's highs and lows that it's even more crippling when we come to the end. The film was shot in three days following three weeks of in-character, improvisational rehearsal. The actors and these rehearsals all came together to write the script in an organic way which explodes as every character is so fully formed that you are crushed as they move through the scene their host has brought them to. You can see Tell Me Who Ruby Was at atomfilms.com.
Best Documentary Short- Freestyle by Elena Elmoznino
I've said it before, I'm sure I'll say it again: find a subculture, get some cameras, and shoot the hell out of their existence. Freestyle does just that with a little world of Canine Musical Freestyle. You might have seen it on an episode of King of the Hill, but Canine Freestyle is a real sport where people dance with their dogs. The camerawork is wonderful, and there are more kooky characters than in a David Lynch / David E. Kelly co-production. The star is 15 year-old Michelle Cope, the Junior Champion who is adding a new level of athleticism and sass to the world of dancing with dogs. It is a hilarious short, and you can find out more at http://www.ccny.cuny.edu/cityvisions/freestyle/index.html.
Best Comedy Short- Out of Habit by Robin Larsen.
A Lounge short that would be called a Mindbender at some festivals, Out of Habit is a story of revenge as can only be dished out by nuns. That's right, take the story behind three-quarters of the westerns ever made, move it to Ireland (I think) and make the cowboy into a nun and you've got the idea. It's hilarious, brilliant and it has some great performances. John Astin (The Addams Family, father of Sam Gamgee) plays an old priest who turns a confession scene into a moment of true comedic bliss. Rachel Larsen as Sister Finbar is genius, as she walks a fine line as both actress and director in making the character into something more than a lady of the cloth out for blood. It's brilliantly paced and timed, and the ending is both satisfying and twisted. You must see this film, though it's ending its festival lifespan and there's no website!
Best In Fest- Bid 'Em In by Neal Sopata.
Repeating from its win at Cinequest, Bid 'Em In is still the most powerful piece of filmmaking I've ever seen. Mixed in with animated shorts, the style comes across even stronger. While watching it at Sonoma as the final film in the program, there was an amazing stunned silence that lasted almost ten seconds after the short ended. No question that Bid 'Em In is the animated film currently making the circuit. You can read more here.
Keep and eye out for more reviews of the fantastic Sonoma Valley Film Festival.