Sonoma Film Festival:
My Date With Drew

There is very little praise I could heap on My Date With Drew that hasn't already been heaped on it. If there is ever a documentary that deserves a Best Comedy award, it's this one. If a documentary can be Magical Realism, it's this one. If a doc can really be a date flick, it's this one.

My Date With Drew might be the perfect manufactured doc That's not a knock, by the way, but the type of doc that is in vogue right now, like Super-Size Me, where the documentary isn't giving an account of an event that's already going on, but of one that the creators are building for the purpose of documenting it. It's so good, so amazingly powerful in so many ways that it's easily the best movie I've seen all year.

The concept behind My Date With Drew is simple: in the 30 days before they have to return the camera to Circuit City and using the 1,100 bucks that Brian Herzlinger won on Taboo, they have to find a way to get Brian a date with Drew Barrymore.

Yes, THE Drew Barrymore.

You see, Brian has had a crush on Drew since the days he was in her fan club when he was 10. The concept, just one date with Drew, is a bound winner, especially the way the guys go about it. They start asking people and friends of friends to set them up with contact, and no one seems to come through. Brian meets with people like Eric Roberts, Corey Feldman and John August, the writer of Charlie's Angels: Full Throttle. The guys keep looking for new avenues, and at times it seems like they are doomed to fail.

Even at those moments, Brian's passion for the project and good nature keeps everything going forward and keeps us from bogging down in despair. His failures are simply bumps, his successes, no matter how small, are huge and set the standing-room only audience at Lounge on fire. Seldom have I seen a crowd react to a documentary like they were watching the final minutes of a close Super Bowl, but this one certainly did.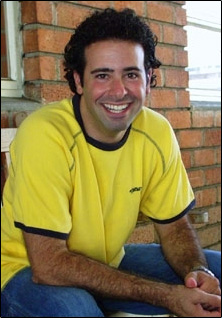 There are a lot of great scenes, my personal favorite being the look-alike date. You see, Brian is afraid that if he manages to get a date with Drew, he'll do no good, so he hires an actress who is dead-on Drew to go on a minor date with him. It's a very funny scene and the girl, who seems to just be enjoying the date with Brian, is amazingly Drew-esque.

The magical realism element is the amazing amount of coincidences that take place throughout the film. Drew's name and face will pop up where it's least expected, always there to urge Brian on. The final answer on Taboo was Drew Barrymore. There are Drew photos and quotes all over the place. He's not sure he wants a job at E! until he sees a giant banner with Drew. It's a doc, and these are all things that just happened to be there. It's the same theme as Magnolia, in a way, only done not to show the connections of pain, but the road one must take to arrive at one's dreams.

My Date With Drew is going to be coming to theatres, so keep your eyes open. There is no way you should miss a great film. If you like Docs, this one will show you what guys can do with a lot of passion. If you love comedies, this'll have you rolling on the floor at times. If you like Drew Barrymore, then you'll love this homage to her life and works. This is the documentary of the year, in my opinion.

Yeah, it's also a great date film. Trust me, if you're looking to score a little love, bring her here to see My Date With Drew.


.