Cinequest 2004: Comedy Shorts
The best thing about film festivals is the fact that you get to see things you would never normally get to see by buying a ticket at your multiplex. From surreal subtitled beasts from around the world, to little movies that just blow your mind, you can always count on something different from any fest.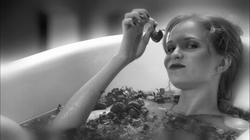 Cinequest, THE San Jose film festival, gives us a bunch of those films every year, and this year, they also manage to give us the single best collection of short comedies I've ever managed to find.
The key to any collection of short films is to find a way to hit as many different styles as possible without feeling scattershot. Comedy Favorites manages to do that brilliantly by mixing up a big kettle of varying comedic approaches.
The Babysitter, directed by Gideon Raff, is a sort-of coming of age story about a 10 year old girl and her high school babysitter. This is a weird film, with all sorts of single entendre and odd situations. The two characters, played with wonderful chemistry and charm by Jeremy Lelliott and Tierra Abbott, are both living a world that they can't fess up to, so they create an outward image that is far more interesting. A really funny, and really good short.
Strawberry is the type of film that you don't see enough of these days. It's a Woody Allen psychologist film, only made short and in Brazil. The story is that of a young man whose fantasies and realities lead him to taking a job as a mascot passing out flyers and to talking to a shrink. A bunch of coincidences lead him to dinner at the house of the shrink with wacky results. Funny and smart and sexy, and directed by Brazilian boy wonder Maira Lopez.
If there is any short this year that deserves to be viewed by the fanboy in all of us, it's Oh Yeah, directed by my fellow Santa Clara High alumnus Lon Lopez. It's a buddy cop movie where the loose cannon who plays by his own rules is the Kool-Aid Man. Yes, that giant, anthropomorphic pitcher. It's brilliant and won Wizard's annual short film competition. Really funny.
La Puppe is a spoof of Le Jette, the French "film" that served as the inspiration for 12 Monkeys. I can't do it much more justice than the director did when he wrote that La Puppe was "A newly reissued film from actor-writer-director Marty, the patriarch of the French New Wave Plush-Toy movement and still the leading inanimate object working in film today." Seriously, even if you have no idea about the classic Le Jette, this will have you laughing hard.
My favorite of the film less than three minutes long is Karma Wheel, the tale of two brothers on a ferris wheel-type contraption. Sibling rivalry plays out as they swing around and, of course, it doesn't end well.
Restive Planet is a World Premiere for director John Cregan. It's the story of a kid who helps his uncle Max get a place at a retirement home and decides to stay with him. It features Alex Rocco, Moe Green from The Godfather, and a really old guy that I am sure I've seen in a bunch of movies. It really make you laugh, especially when they sneak a Karate Kid reference into a Rebel Without A Cause referencing game of Chicken.
There is a great variety of foreign shorts too, all of which made me chuckle. Penalty Salmon, by Eiji Shimada, is the tale of a futuristic game that combines Iron Chef, Soccer, and Most Extreme Elimination Challenge. It's a fun watch. Dangle is a German film about a guy who finds a very important light cord. Spelunkers is another German offering that deals with the German recycling program. While the meaning will probably be lost on many viewers, there is enough madcap fun to keep it interesting.
The highlight of the program has to be The Climactic Death of Dark Ninja by Peter Craig. This film is genius, plain and simple, and is having its world premiere at Cinequest. It is the story of a group of teenaged filmmakers who are shooting the final scene in their Ninja film in the woods. All sorts of trouble, from heat stroke to color blindness to predictable fight choreography turn the shoot into a trial. It's hilarious, smart and just plain good.
If you are in San Jose, check out the Cinequest Film Festival. Comedy Favorites shows at 7:15 on The fourth of March, and again at 2:45 on the sixth. Tickets are nine bucks, but worth triple that for the amount of comedy packed into just two hour laugh-a-thon.