Batkid Begins To Begin Cinequest 2015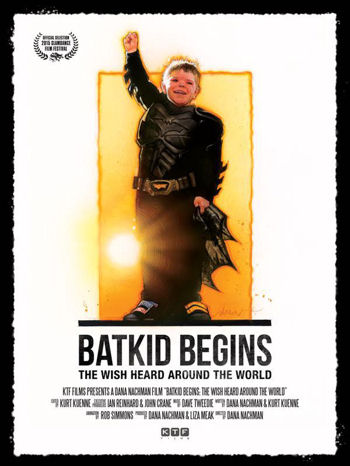 We've talked about it a lot. One day in 2014 when an ill little boy got his wish to be what everyone would want to be: Batman.
The documentary about Miles Scott's day and how it came to be just made its world premiere at the Slamdance Film Festival in Park City, Utah, as well as got the attention of Julia Roberts.
Well, if you're in the San Francisco Bay Area, where the events actually took place, you're going to get a chance to see that documentary sooner than later.
Announced this afternoon at the Cinequest launch party in San Jose, Batkid Begins: The Wish Heard Around The World will launch Cinequest 2015. It's the 25th Cinequest, a special year for this forward thinking film festival. And there could be no better way to open it than with the latest from documentary filmmaker Dana Nachman, whose earlier work has been featured there many times.
February 24 at the California Theater, you can see this moving documentary, and then attend one heck of an opening celebration.
Highlights of this year's Cinequest, in addition to Batkid Begins:
February 25: The Media Legacy Award to Anne Thompson, with a screening of Wild Tales.
Feburary 26: The Maverick Spirit Award to John Boorman, with a screening of his new film Queen & Country. Rumors of Zardoz cosplay are strictly that: rumors.
February 28: An Evening with Rosario Dawson. Believe me, people, she's one of us.
March 3: The Media Legacy Award to local film reviewer Richard von Busack, with a special screening of L'Atalante
March 6: This year's silent film will be The Crowd.
March 8 (closing night): 5 to 7, with guests Director Victor Levin and lead actor Anton Yelchin
We'll have plenty more coverage of Cinequest 2015, but we wanted to get this out there because of its direct connection to our audience. Enjoy, and GET YOUR TICKETS NOW!