Cinequest 2014:
The Man Behind The Mask
(El Hombre Detras De La Mascara)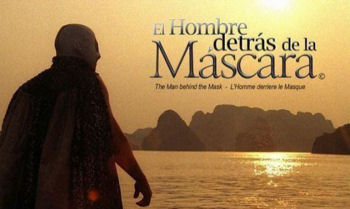 To understand El Hijo del Santo, you have to understand El Santo.
El Santo was the biggest star in the history of Lucha Libre, a major movie actor, largely in films where he would play a part-time spy, scientist, or monster hunter who also worked as a wrestler. He was the second biggest comic book character in Mexico.
There is no equivalent to El Santo anywhere in the world. He is Hulk Hogan, only when Hulk dies, there won't be hundreds of thousands of people lighting candles in front of his photograph around the world. He was James Bond, a holder of box office records in Mexico, and through the forts of K. Gordon Murray to re-dub and release them in the English-speaking world, an international phenomenon. El Santo was Batman, with a comic that often released more than one issue a week. El Santo was the embodiment of Lucha Libre, and as time has gone on, his legend has grown.
Now, what would it mean to be his son? That is the central question of the incredibly personal documentary The Man Behind the Mask, directed by Gabriela Obegon, who also happens to be the wife of El Hijo del Santo. The film starts off introducing us to the life of El Santo, not only as a character, but as the father of our hero. He is shown as a good father, maybe a bit distracted by his life in wrestling, but it is obvious from the beginning that El Hijo del Santo is his father's son, the most beloved of the legend's children.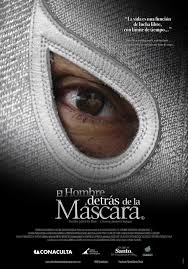 We are shown some incredible footage from the early days of Lucha Libre's existence. I've only seen a little of this, almost entirely as part of Santo films. The footage, both of wrestling and of family life, is an incredible document, and totally understandable.
I can remember my grandmother saying that the way you can tell a rich Mexican from a poor Mexican is how many pictures they have, and if any of those pictures move, then those are the REALLY rich ones! 8mm films and some video shows this point from where I am sitting, and while not all of it is in great shape, particularly the video, it's all rare gold.
When we hear El Hijo del Santo telling the story of his father, his mother, and especially his relationships with his brothers, you can tell that he is a man who is conflicted. The family holds the Santo ideal as the foundation for their family's identity.
While it's only touched on briefly, the family has had fights over the use of the Santo name, including the famous Santo Negro angle in 1993 which was the hottest in all of Mexico before lawsuits started flying. It is obviously a very loving and large family, but it is also one that is comprised of seemingly isolated individuals.
El Hijo del Santo is separated from the rest of the family; he is the one who got to be the second Santo. This is touched on briefly as well, but it's also one of the most powerful segments in the entire film.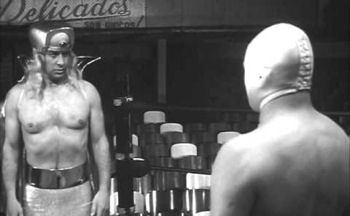 The use of rare footage, combined with intelligent editing and very well-done interviews, gives a visual style to The Man Behind the Mask that is completely compatible with the subject. There is a sort of framing device, a running feud Santo had with Hijo del Sicodelico and Angel Blanco, shown without explanation throughout the film.
We see at least three (and probably more like five or six) different matches between these folks. The Santo flying around the ring in those sections is not the Santo of 1993-6, when I'd argue he was top twenty in the world in the ring, but an older, more injured, still revered but a step-slower worker. He's good, but the polish isn't there any more. Of course, having to work with Sicodelico can't be much fun, either…
These seem to be a mixture of footage shot by Obregon and some televised footage. It's all edited in a way that makes it work with the general visual concept of the film, but it also goes another step and places the life of El Hijo del Santo in exceptionally crisp contrast. For everything that is the emotional, human Jorge Guzmán Rodríguez, we have to remember that so many more are connected to him as El Hijo del Santo, and many of those are really in reverence of El Santo.
The weakness of the film? Well, that's an interesting question. To me, it is the lack of attention paid to some of his career highlights. Nothing is mentioned of his feud with Negro Casas or Los Vatos Locos, both of which were among the best feuds of their day. They talked a bit about AAA and EMLL/CMLL, but not much context is given for what Mexican wrestling was when he came up, and when it exploded big time.
There's no mention of his time with the WWF as a part of their SuperAstros program, and while there's some nice footage of him in Japan, and of a European tour, it barely touches on the fact that he was such a great wrestler, or how he was so much better than his father ever was a worker.
Of course, I can also see that my knowledge of 1990s Lucha would also color my desire to see that covered by one of the most important players of the time and that the lack of a lot of that stuff doesn't actually hurt a film that is telling the story of a human/symbol.
While films like Gaea Girls, The Backyard, and Beyond the Mat focus on the toughness of the life of a wrestler, The Man Behind the Mask focuses on a man whose identity is one-part superhero, one part human. It's fascinating and beautiful to see the way Obregon has focused everything into a single documentary that brings us into El Hijo del Santo's world, and we find the original El Santo standing there staring down at us in so many different ways.
There are some absolutely amazing moments covered. Two of my favorites are a hotel room wrestling match between Santo and his son, who is dressed in Rey Mysterio mask and gear. It's an awesome segment, and it plays so well with all the footage we're shown of El Santo and his son in a ring for a television crew from the late 1970s and early 1980s. The other is the section about El Hijo del Santo's pushing of the El Santo brand. The number of branded and licensed items with El Santo's image on them is huge. It's one of the best examples of exactly how far Santo has pushed into the popular culture of Mexico.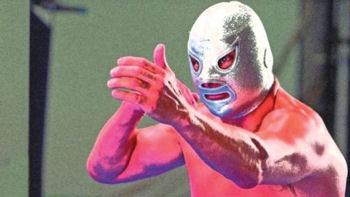 El Santo, I should say, because no matter how much better in the ring, or how loudly crowds chant "Santo! Santo!", it is always the father who is the Greater Star. It is no fault of the younger Santo; El Santo was simply the biggest name in the days when wrestling was first appearing on television, as well as being a big movie and comics star. El Hijo del Santo never quite managed that level of fame, largely because Mexico changed, but he is still an icon, and he still draws crowds.
In the history of wrestling, there is only one El Santo, just like there's only one Hulk Hogan, one The Rock, one Stone Cold Steve Austin, one Gorgeous George. Hulk Hogan probably came the closest to being America's El Santo, but he has never shown his human side to the public, which is something El Santo managed to do while still wearing his mask.
This documentary does so much to humanize El Hijo del Santo, and it really makes me wish this was done as a longer piece, because I wanted to see more, so much more, of the man behind the mask.
The Man Behind The Mask shows at Cinequest in San Jose, California on Thursday, March 6 at 6:45 p.m., Tuesday, March 11 at 2:45 p.m. and Saturday, March 15 at 2 p.m., all at Camera 12. Purchase Tickets Here.