Comic-Con 2010:
Paul Is Coming To Comic-Con...

What is Paul?

It's been years since both Simon Pegg and Nick Frost have come to Comic-Con together, but their hearts have never strayed far. There can be no better proof than the project they're finishing up right now, the science fiction comedy Paul, which sharp eyed Fanboy Planet readers may note Pegg mentioned two years ago when we interviewed him for the American DVD release of Spaced.

Sort of E.T. for geeks (no, that isn't redundant), the movie follows Frost and Pegg across the United States, ending up at Comic-Con. Except they didn't actually film at Comic-Con; they recreated everything in Albuquerque, New Mexico. That must be why my cousin keeps telling me I should just move there.

Official photos went online today, and it looks like it's possible that Paul did some filming in San Diego -- that's one accurate archway to the Gaslamp District if it's not the real one. Spot the flaws if you will, nitpickers. It really bothers me that I was initially bothered by not recognizing the room Frost and Pegg are supposed to be in. Clearly, I miss San Diego.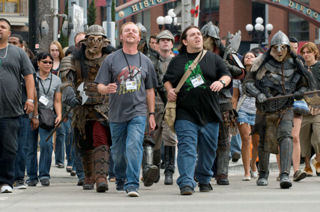 Yes, they return!

And so do they, because they'll both be there on Saturday!

Here's the release from Universal Studios:

Simon Pegg and Nick Frost (Hot Fuzz, Shaun of the Dead) reunite for the comedy adventure Paul as two sci-fi geeks whose pilgrimage takes them to America's UFO heartland. While there, they accidentally meet an alien who brings them on an insane road trip that alters their universe forever.

For the past 60 years, an alien named Paul (voiced by Seth Rogen) has been hanging out at a top-secret military base. For reasons unknown, the space-traveling smart ass decides to escape the compound and hop on the first vehicle out of town—a rented RV containing Earthlings Graeme Willy (Pegg) and Clive Collings (Frost).

Chased by federal agents and the fanatical father of a young woman that they accidentally kidnap, Graeme and Clive hatch a fumbling escape plan to return Paul to his mother ship. And as two nerds struggle to help, one little green man might just take his fellow outcasts from misfits to intergalactic heroes.

Paul is directed by Superbad's Greg Mottola, from a story by Pegg & Frost. Joining the comedy's cast are Jason Bateman, Kristen Wiig, Bill Hader, Blythe Danner, Joe Lo Truglio, John Carroll Lynch, David Koechner and Sigourney Weaver.

Though the movie will get released March 11, 2011, the cast will be appearing at Comic-Con on Saturday, July 24 in Hall H at 4:45 in presentation that will include Jon Favreau and company talking about Cowboys & Aliens.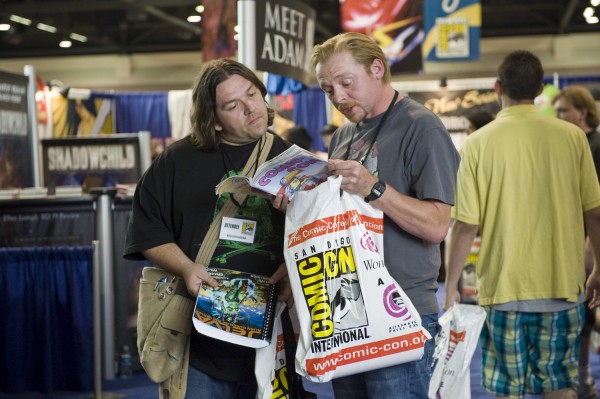 What's wrong with this picture? Only how few people are in it...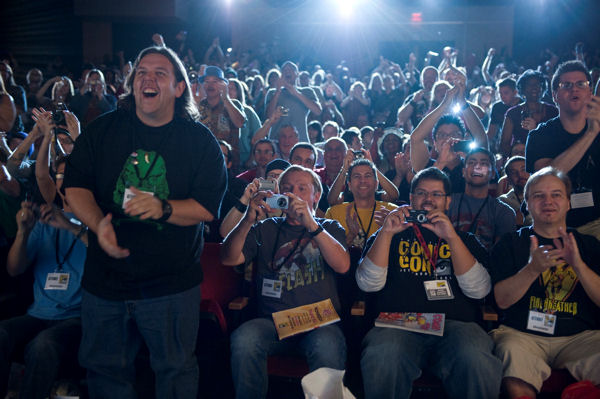 Now that's more like it...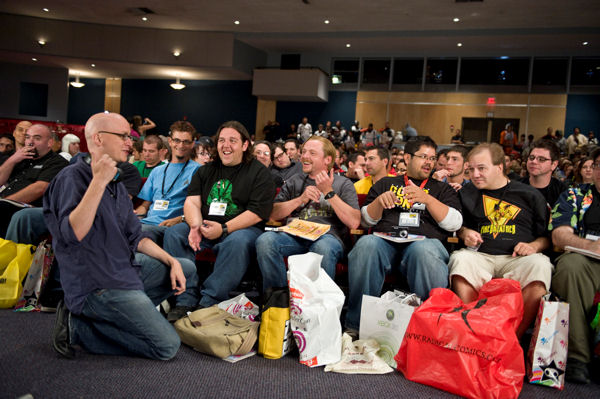 Director Gregg Mottola tries to guide their enthusiasm...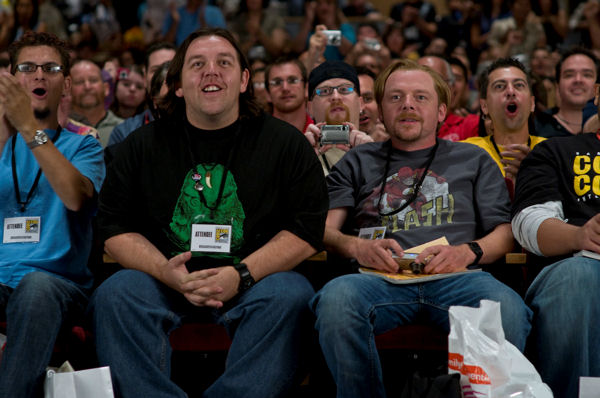 ...but they don't need to fake it, do they?