Comic-Con Unleashed on Reality Unleashed...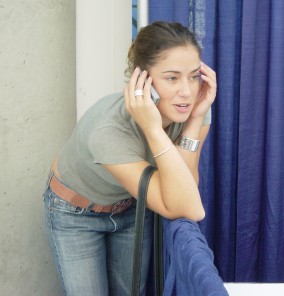 "I really can't talk right now. I'm mesmerized by this guy dressed as Alvin of The Chipmunks..."

Klingons and Romulans rub shoulders with Jedi. Over in Aisle 1500, a band of students from Hogwarts Academy ogle Xena, Warrior Princess. And without a team of lawyers okaying the measure, several Spider-Men freely stand side-by-side with Batman (one very dark, intense Batman, by the way, making the rounds on Sunday).

In the face of all this fantasy, the very thing that defines San Diego Comic-Con even when panels strip away some of the illusions, one question faced Creative Light Entertainment.

Does reality have a place here?

Three survivors of reality television spent Sunday trying to find out. Okay, one actual Survivor and a couple of Big Brothers, but you get the drift. Josh Souza from the first Big Big Brother, Kim Powers from Survivor: Africa and Erika Landin from Big Brother 4 were diving in the deep end of fandom, all for the first time.

They had come Saturday for a panel introducing a website called The Fishbowl and its first DVD, Reality Unleashed, but stayed to wander the floor the next day. They began tentatively, by standing around in the beautiful autograph area, with its tented ceiling allowing natural daylight, but not too much, to illuminate the area. It may have been the last time they saw the sun for hours.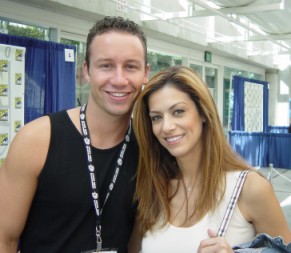 Two who have escaped Big Brother, but not fandom.

There we talked a bit about their experiences at the Convention. Only Erika had some inkling of what it was all about, as her brother is a huge fan. However, she was not prepared for the price tags on the back issues she had found. The most interesting thing to the striking brunette was all the costumes. Though Erika had familiarity with the subculture, Josh found it all really surprising.

"I've never seen Luke Skywalker standing next to Spider-Man," he laughed, eyes darting over to the table where Mark Hamill sat signing autographs. When pressed, though, he admitted that if fans accepted him, he would "…love to be a part of it."

Kim, too, found herself being won over by the experience. "It's easy to look around and think it's odd or freaky," she commented, "but the talent of some of these people just blew me away." One could assume that could mean just Jess Harnell, but let's take a broader interpretation.

Sure, all three played coy about knowing much about the Con, but both women readily responded when asked which super-hero they would want to be. "Wonder Woman!"

When Erika gave her answer, Josh grinned lop-sidedly. "I'd prefer you to be Catwoman."

As for the man from Big Brother, he enthusiastically said he would want to be The Thing. "I mean, what is he?" he asked. "No one knows."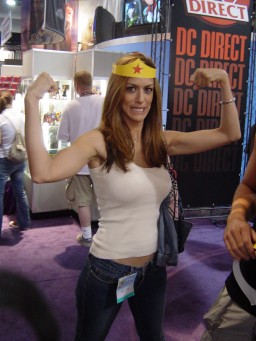 Erika auditions to be Wonder Woman.

I called him on it. "You've only seen the cartoon where he's a teenager, haven't you?" Josh laughed and got a faraway look in his eyes picturing those simple Saturday mornings wearing pajamas and eating cereal.

But that's what the Convention is for, recapturing old memories and making new ones. Since both Kim and Erika wanted to be Wonder Woman, Fanboy Planet determined to make the dream come true. Luckily, the DC booth had a ready supply of cardboard tiaras in honor of the DVD release of Wonder Woman - The Complete First Season.

We proudly traipsed through the crowd, unmolested as people dressed much more brightly got all the attention. Finally we reached the DC booth and presented everyone with tiaras. Strangely enough, Josh got his on first.

As they all wrangled the tiaras, somebody (it may have been me) started a chant that should have filled them with fear: "One of us! One of us!"

From the smiles on their faces, I think they were okay with that.