Comic-Con 2010:
Bela Lugosi's Tales From The Grave
An Interview with Co-Editor Sam Park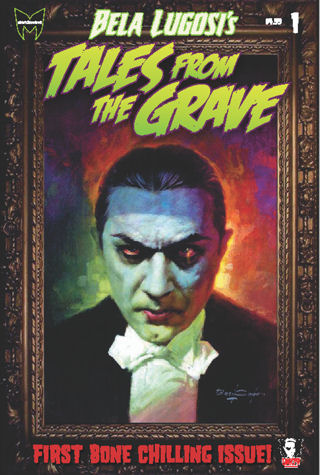 A stunning cover by the great Basil Gogos... it bids you welcome.
This fall, a new publisher will try its hand in the market with an anthology horror book, Bela Lugosi's Tales from the Grave (DIAMOND PREVIEW ORDER #AUG101080). Started by veteran comics artist Kerry Gammill and Kez Wilson, then joined by Gammill's cousin Sam Park, the company goes by the name of Monsterverse and carries with it high hopes.
But the Monsterverse isn't going to attack comic book stores with just an iconic actor's image; nope, they've got a star-filled line-up of creators contributing stories, and not just from the world of comics. Mick Garris, John Landis and Bruce Timm will all make contributions. (Full disclosure: it would be an all-star line-up if not for them letting ME sneak in with a four page story illustrated by the great Rafael Navarro.)
As the company will be at Comic-Con next week hosted by Vanguard Publications (BOOTHS 1709 and 1808), chatting with fans and generally building excitement, the time was right to talk with co-editor Sam Park (along with Gammill and Wilson) about what this book has in store for the discerning horror fan.
Derek McCaw: What sparked the creation of the Monsterverse?
Sam Park: Artist Kerry Gammill was bored and needed something new and creatively challenging to do. He had achieved great success drawing SPIDER-MAN (in MARVEL TEAM-UP) and POWERMAN/IRON FIST for Marvel and SUPERMAN at DC Comics. From there he moved to advertising/toy design and then later make-up effects design in Hollywood. He's drawn storyboards for animated and live films. But the one thing he had never gotten to do was a horror comic book. Let me explain. More than anything in the world Kerry LOVES horror films, especially the classic horror films. He had created his own version of a 60s horror film magazine online with the award-wining MONSTER KID.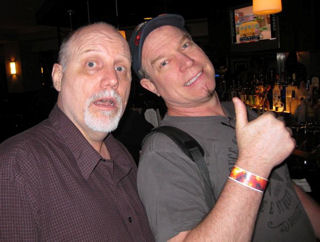 Cousins and monsterhounds Kerry Gammill and Sam Park
(photo copyright Kenneth J. Hall)

While Kerry enjoyed many of the contemporary horror comic books found on the market today he missed the "classic" attention to illustration and design of the past. So there was nothing left to do but for Kerry to create a horror anthology comic book. For this he needed a company and that's how MONSTERVERSE ENTERTAINMENT came about. Now it has mutated from a publishing company into a transmedia company with its tentacles in all sorts of projects.

DEREK MCCAW: How did you guys meet up with Bela Lugosi, Jr.?

SAM PARK: Kerry and I have been heavily involved with the classic horror community for decades and become friends with its network of experts and fans. Kerry and creator David Colton (front page editor for USA TODAY) worked together to bring David's Classic Horror Film Board (a highly respected forum for analysis and discussion) from its original AOL site to the greater world wide web now at the Yuki boards.

Among his many friendships from this "Monster Kid" world of horror enthusiasts was Bela Lugosi, Jr. When Kerry was ready to begin laying plans for creating a horror anthology comic book, he contacted Bela about the possibility of obtaining the rights to his father's image for use as our "host" to the horror stories. Bela was very happy to work with Kerry knowing how much respect he had for his father and his film work.

Along with that Kerry and the rest of us at Monsterverse are working hard to bring Lugosi back as a contemporary horror icon and brand because Bela Lugosi was and is such a compelling icon of horror. There has been nothing like him before or since.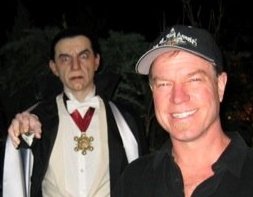 For a camera lens acts just like a mirror... poor Sam.
DEREK MCCAW:
For those who don't know you, Sam, what's your horror cred?
SAM PARK: Besides being Kerry's cousin? Ha! We grew up together loving horror films and comic books and sharing our thoughts and ideas about them. We joke that now we are doing exactly what we used to do as kids. We would get together and break down the good and bad points of the stories in the comics and movies that we gorged ourselves on and then many times create new stories from those discussions.
We share a unique lifetime of references and have a special shorthand for the genre and its touchstones that allows us to work very fast together, which is really important for our company during this early stage of development.
I also used to produce comic book conventions and know all the top creative people in comics and horror films. Beyond that I've been writing scripts in Hollywood for years. I've co-produced two horror films. One of my horror scripts, "The Need," was written based upon a short film by top screenwriters Juliet Snowden and Stiles White (writers of BOOGEYMAN and KNOWING, and the upcoming remakes of THE BIRDS and POLTERGEIST) and which Stiles is a producer on the project. You can watch the original short film here.
I have a new horror script going out soon, "RAVE'N HELL," that is my contemporary take on the masked-maniac-killer genre. I've gotten excited feedback on it from my small network of pals in the horror film community. Everyone wants to work on it! Who knows? It might even end up as a comic book from MONSTERVERSE.
DEREK MCCAW: We've been without Kerry Gammill in comics for so long -- what's he been doing and what's brought him back?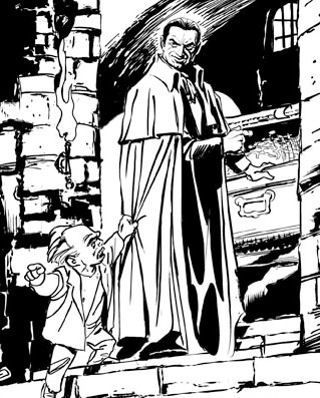 A sneak peek at one of Kerry Gammill's pages
from Bela Lugosi's Tales from the Grave #1!
(inks by Brian Denham)

SAM PARK: Kerry has re-entered the world of comics because now he can be the boss and have full control of the project. Another big part of this is the digital world we live in. Kerry has become very proficient with a Mac computer and is a superb designer working in the fast-paced world of advertising and Hollywood. All that on top of being a terrific artist and storyteller.

Today such a talent can wear many digital hats to achieve his vision in a comic book. In the past this would take a great many workers along with the incurred higher expense. So make no mistake, Kerry has stamped his incredible talent on the book from front to back.

DEREK MCCAW: With the comics industry being so hard, why start Bela Lugosi's Tales from the Grave?

SAM PARK: For Kerry it was make it now or he knew it would never happen. The stars aligned for us all and sometimes we think Bela really is directing this project from beyond the grave. We were shooting to have the first issue out in October. By some terrific coincidence the book hits the shops exactly on Bela Lugosi's birthday. You can't plan that kind of thing, that's Bela! Our goal is to create not just the best horror comic book on the market but the best book for the price.

DEREK MCCAW: How did you go about getting the big names you have involved in this project?

SAM PARK: A lot of it is that we are old friends with several of our wonderful contributors. Lugosi is our hook. Many were willing to work for the chance to help bring Lugosi back before an audience in a quality horror venture. As soon as director John Landis was contacted he immediately said yes. The same with artist John Cassaday and writer Steve Niles. That's how it has gone with almost everyone.

Plus because Kerry is involved many trusted the book would be of a superior quality. So far everyone is extremely happy with what has been produced for the first issue which has created an even greater excitement as we move toward completing issue two.

DEREK MCCAW: What's your vision for the future of this title?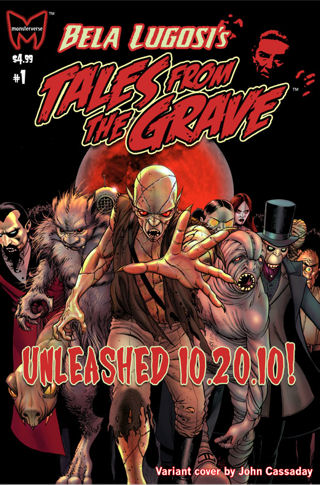 Variant cover by John Cassaday --
which retailers get for every five copies of the Basil Gogos cover ordered!

SAM PARK: We are working very hard to create a book unlike any that you've seen before with its edgy blend of artists and writers but highly grounded in super-solid storytelling. We preach story, story, story and layout, layout, layout. Once we get our writers and artists and editors all happy with those requirements on a particular story, it is showtime.

Our artists do not have to do a complete book over several months. This is their chance to shine and knock people's eyes out with the art on eight pages of shocking, scary and sometimes whimsical horror.

By sticking to that we hope the book can eventually create interest for threading those stories into other media such as film, TV, new media, etc. We are also looking into using Lugosi to host a sort of "showcase" series of one-shot issues featuring a full issue story by a major talent from the film or comic book world.

DEREK MCCAW: How does this book fit into a larger concept of the company called Monsterverse?

SAM PARK: MONSTERVERSE ENTERTAINMENT is a transmedia company. All our upcoming projects will start as comic books to establish the intellectual property but will be planned to work across various media such as film, TV, computer games, the internet, phones, eReaders, theatrical plays, etc. The Lugosi book will create the "big splash" for moving to the next stage of production and release of the next series of new comic book stories and new characters.

DEREK MCCAW: What can we look forward to from your booth at Comic-Con 2010?

SAM PARK: You can find us at the Vanguard table and ready with a big warm smile, a hug and a kiss. That and we'll be showing a partial preview of the Lugosi book. Bela Lugosi, Jr., will be there. So will assorted contributors on the book (depending upon their schedule).

We'll have a special Lugosi handout with stunning art by the legendary FAMOUS MONSTERS cover artist, Basil Gogos. It is gorgeous and it will have distribution information to alert your comic shops on ordering the comic.

There will be special Monsterverse posters by Kerry for sale. Art books on Gogos and Kerry's work and careers. We even have a special Monsterverse edition DVD of the so-terrible-it's-great THE NAVY vs. THE NIGHT MONSTERS sci-fi film with commentary by the director and our friend, genre film historian Tom Weaver..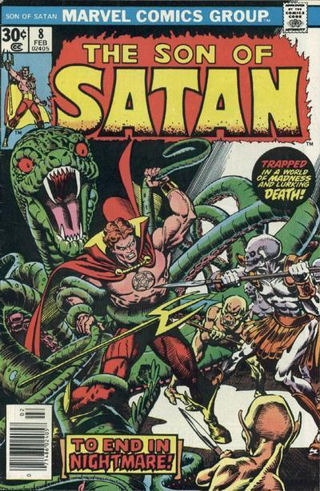 Available, by the way, in Essential Marvel Horror volume 1
DEREK MCCAW:
Searching back in your mental rolodex, what's your favorite horror comics story?
SAM PARK: Oh. There are so many. I loved everything Archie Goodwin did for Warren. Weezie Simonson did some great stories, too. Plus you had giants like Ditko, Toth, Colan, Crandall, Frazetta and so many other great artists.
But there is a story that has stuck with me over the years for being such a real surprise with both the story and art. Marvel's SON OF SATAN #8, written by Bill Mantlo and drawn by Russ Heath.
It taught me that any concept, silly as it may seem, can be elevated to something extremely poignant and compelling with good writing and a terrifically laid out story and art.
DEREK MCCAW: Any last thoughts for fans that I'm not covering in these questions?
SAM PARK: We have a terrific Los Angeles launch event for the book in October on Thursday, the 28th. We'll be having a Lugosi film/comic book night at the American Cinematheque in Hollywood at the Egyptian Theater with lots of our Hollywood and comic book contributors in attendance along with screening a couple of great (to be announced) films starring Lugosi.
This happens one week after the book debuts (on the 20th, Lugosi's birthday). Come celebrate Halloween with Monsterverse. You can find a good range of cheap hotels in LA near the celebration, unlike hotels in New York City or in other cities. It's going to be a blast and a great celebration!
Thanks to Sam for taking the time to answer the questions, and be sure to look for Monsterverse at Comic-Con, local horror conventions and perhaps mausoleums near you. You'll always see the most interesting Bela Lugosi tributes and costumes at these events.
And REMEMBER -- DIAMOND PREVIEW ORDER #AUG101080