8-Bits Into Space!
Matthew Ritter Revels In Nova Phase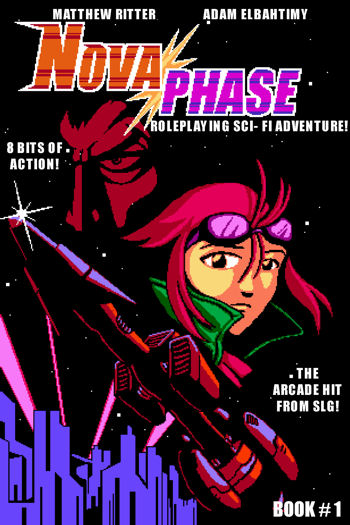 Maybe it works best on digital anyway...
About a month ago, Fanboy Planet reviewed a digital comic called Nova Phase, available on Comixology through the "imprint" of SLG. This month, Nova Phase should be available in hard copy in finer comics shops everywhere.
A bright, breezy space opera rendered in the style of an 8-bit videogame, Nova Phase feels like you're getting in on the ground floor with a writer who people will be talking about for a few years.
We interviewed series creator/writer Matthew Ritter about the book, and now is the time we can unveil his answers..
Derek McCaw: Nova Phase feels influenced by a lot of things to create something new. How long has it been running around in your head?
Matthew Ritter: This particular story? Only a little bit more then we've been working on it. The story was come up with after the project. So it first went 'artist and writer want to make project' 'art style was decided upon' 'story ideas were come up with'.
Not that stories like this haven't run around in my head forever. When I see a piece of fiction I'm inspired. If it's bad or good, it doesn't matter. I can't help but think about other stories or ways to tell stories along the same lines.
Derek McCaw: What went into the creation of Veronica Darkwater?
Matthew Ritter: Thinking about all the gruff-throated smoking cancer badasses you normally see in westerns working as bounty hunters and lawmen and outlaws, and trying to create someone who has that same role, but isn't in any way that person.
I did a little pixel art sketch up of a character. Adam (the artist) did an actually good sketch in line art. I wrote a short story to give a kind of personality to the figure, and then worked on a larger story from there.
Originally she had a sword on her, for some reason, I don't remember why. Probably because they're cool. It seems to have disappeared entirely though.
Derek McCaw: Was the book an instant collaboration with your artist, or did you search a while? And what made Adam Elbahtimy the right one?
Matthew Ritter: We've worked together before in some things. We like each other. I was interning at Dark Horse and said I wanted to try and pitch something over there. He said he would be interested. I knew he was a fantastic pixel artist, and I love pixel art, so we decided to go with that style. The project was made with him in mind, so of course he was the right one.
Derek McCaw: Why go for the 8-bit look?
Matthew Ritter: At first it was going to be a lot more... conducive to the story. It was going to be very obvious it took place in a video game. There were a lot more jokes along those lines, hit points, save states -- it was all a little web comic like. Not that there's anything wrong with those web comics, but they exist, a lot of REALLY good ones exist.
So, I started to drop those elements. I started to tell the story more straight, in the way that many people have noted, video game cut scenes have always done.No matter what the game is like, the cut scene almost always plays the world straight. Stops referencing the weirder game elements, and just focuses on telling the story.
Of course, if people don't end up liking it, it'll just be remembered as one of those weird gimmicks. I'd love though, for pixel art to just be a style, outside of video games, in the future.
Not saying that it won't always remind people of video games, but that's a tool, just like any other tool. Pixel art deserves more then to be shoehorned into one single thing. To be the realm of web comic artists who can't draw, and TV shows wanting to do a 'video game episode'.
Nova Phase is a story that is inspired by the cut scenes and games of old, and of course, anime and westerns, action movies and adventure books. It's about all of that. The art style is about all of that.
Derek McCaw: What's your favorite classic Nintendo game?
Matthew Ritter: That's hard. Impossible in many ways. There's the classic Nintendo game that impressed me most, Link's Awakening. There's the classics I never played until I was well into my 20s, the Megaman series.
Heck, I didn't even own a Nintendo, I actually owned a Sega Master System, which had some amazing games on it as well, like Ghost Busters and a pretty darn good port of Double Dragon.
Also, I have some weird tastes, like I'm a big fan of the master system Alf game. Alex the Kid was pretty awesome. There's just a lot of games from that era, and a lot of good ones. Who doesn't love Duck Hunt?
Not surprisingly, I started to really like games even more during the next generation of consoles, when they got characters and plot in a more steady way.
Derek McCaw: How has SLG been as a publisher?
Matthew Ritter: SLG has been great. They let me in their booth at Comic Con. They did the same at APE (Alternative Press Expo). They put up with my constant questions. They published the comic. That's the big one.
A lot of people rejected it, but Dan Vado over at SLG was willing to give the comic a shot, despite its obvious weirdness. Or at least, how little it resembles all the other books out there right now.
They're a good bunch of people, the editor Jef Bambas has had a lot of patience, and he's really made the book stronger.They're all great.
Derek McCaw: Is Nova Phase the most solid thing on the horizon, or are more projects happening for you in the near future?
Matthew Ritter: Nova Phase is the most solid thing, but there's other projects. A comic called Retropunk is supposed to come out through Markosia, but we keep running into delays with the art (that's not with Adam -- Adam is pretty good about that stuff) and there's a pitch I'm trying to get a few companies interested in.
I'm also working on a video game called Boon Hill that I got funding for through Kickstarter. It is not a Western, despite what the name might suggest.
Well, we suggest you all check out Nova Phase, and we thank Matthew for his time.